Your Chicago Bears Re-Draft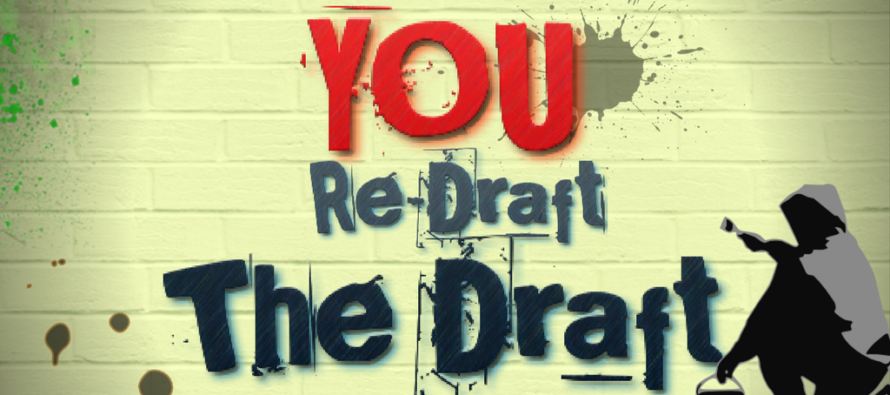 We asked you to re-draft the Chicago Bears draft and have received some good input. We're not done. Send us your picks and we'll post them here. The rules are simple:  No trades. Can't pick a player who went before the Bears' prescribed pick. In other words, the Bears original pick was No. 3, therefore Mitchell Trubisky is off the board, because he was selected at No. 2. We'll assume the Niners completed the Pace deal with some other GM.
Feel free to submit on our Facebook page if you want to add detail or tweet us @BearsBarroom
@MBalsley… you are on the clock!
Round 1: Solomon Thomas
Round 2: DeShone Kizer
Round 3: Carlos Henderson
Round 4: Eddie Jackson
Round 4: Julia'n Davenport
Round 5: Brian Hill
Round 7: Steve Ts'ikolovatu
Our Comment: Matthew Balsley begins the Solomon Thomas – DeShone Kizer one-two punch. Henderson was one of the speediest receivers in the draft. Would have been nice to see him and Markus Wheaton in a foot race.
@NTucc … you are on the clock!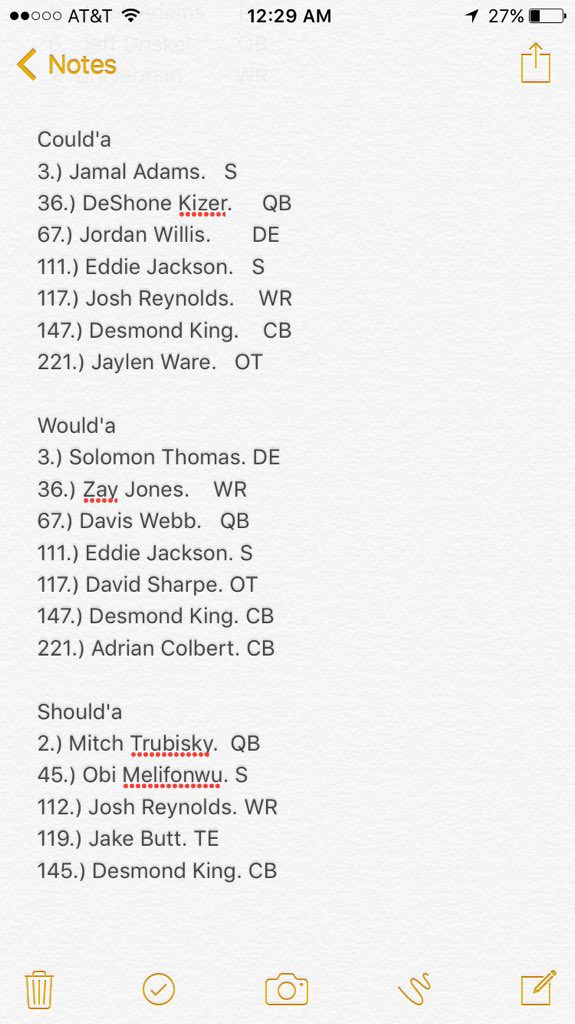 Our Comment: No if, and or but's… we love Nate Verducci's approach. He's got the bases covered.
@thegeorgeyou… you are on the clock!

Our Comment: George's first six picks are knockouts. The kicker is Gonzalez in round seven. Yuck.
@DRDLAW1 … you are on the clock!

Our Comment: Clearly, Thomas would have challenged Kyle Long for the Mr. Bear title. Curtis Samuel is a surprise at No. 2, but that 4.31 speed makes us slow down and consider. Chris Wormly and T.J. Logan are favorites at the Barroom. Grover Stewart is a likely "redshirt" candidate, but we like the potential.
@BearsBarroom 3-Jamal Adams S
36-Zay Jones WR
67-Davis Webb QB
111-Dorian Johnson OG
117-Josh Reynolds WR
147-Jordan Leggett TE
221-Zane Gonzalez K

— Midway Monster (@Jmuller402) May 4, 2017
Our Comment: Jamal Adams is Aldo Gandia's Aaron Donald. The impending defensive superstar who got away. We love Zay Jones, not so hot about Davis Webb. Johnson, Reynold and Leggett are all goo mid round investments for the offense… Zane Gonzalez… no gracias!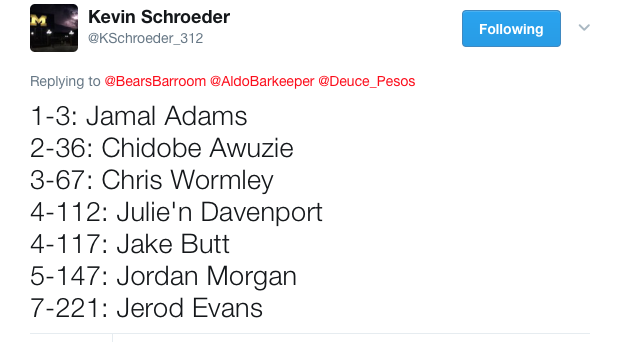 Our Comment: Another Adams pick. And why not? Adams is safely the best safety in the draft. A huge position of need for the Bears since the days of Mike Brown. Chide Awuzie is a corner who didn't get much mention in the Barroom and that was clearly an oversight by some of us. Kevin's first two picks help compliment the strength up front, which he makes strong with the choice of Chris Wormley. Davenport and Morgan are two developmental offensive linemen we like. Jake Butt is someone the Bears can wait on if he needs to redshirt a season because of injury and Jerod Evans is a longshot at QB, but with excellent coaching to fix his shoddy footwork could surprise.
We'll keep adding your picks if you send them in!
Check Out Shayne Marsaw's Re-Draft – CLICK HERE
Check Out Aldo Gandia's Re-Draft – CLICK HERE
Check Out Jose Cotto's Re-Draft – CLICK HERE
Check Out The Bears Hour Live team – CLICK HERE
---