Why The Bears Must Re-Sign Alshon Jeffery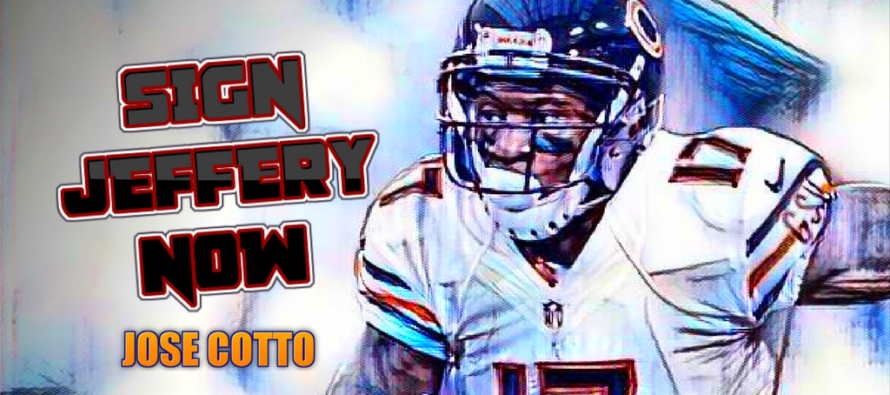 In what is now considered old news the Bears have elected not to utilize the franchise tag on star receiver Alshon Jeffery. The hot topics that are up for debate now are whether or not Jeffery should be re-signed, what is fair compensation, and is Antonio Brown's recent contract a fair comparison. I've made it no secret that I believe a 3 win football team with ample cap space should do whatever it takes (within reason) to retain talent that was drafted and developed by the organization.
Chicago elected to wait on signing Jeffery giving him all the leverage. Jeffery's agent can now negotiate with other teams which will drive up his price. At one point Pace was only negotiating against himself. Waiting until this point combined with a HUGE question mark at quarterback was bad for business.
There's speculation that the Jeffery camp is seeking $17 million per season. In comparison to Antonio Brown's $18.5 million it would seem the Bears are overpaying when you look at production between the two players. But, are they?
A widely ignored aspect of this is salary cap inflation. The aforementioned $17 million per season figure is being compared to deals signed by the highest paid receivers in the NFL in seasons past which does not account for any percentage the salary cap has increased since the deal was signed by said player. (That's another reason Pace prolonging the negotiations into 2017 was a mistake.)
Yes, using the tag comes at $17.5 million cost this year but negotiating a deal under the tag would be cost effective in the long run. The average annual salary is likely be in the $15 million dollar range and the salary cap inflation in coming years would then make it a more reasonable contract. Here are the top paid eight wide receivers in 2017 with adjusted figures accounting for cap inflation:
| | | | | |
| --- | --- | --- | --- | --- |
| | Avg. Salary | Signed | Cap increase | Adjusted value |
| Antonio Brown | 17,000,000 | 2017 | 0 | 17,000,000 |
| AJ Green | 15,000,000 | 2015 | 16.55% | 17,482,500 |
| Julio Jones | 14,251,209 | 2015 | 16.55% | 16,609,784 |
| Dez Bryant | 14,000,000 | 2015 | 16.55% | 16,317,000 |
| Demaryius Thomas | 14,000,000 | 2015 | 16.55% | 16,317,000 |
| T.Y. Hilton | 13,000,000 | 2015 | 16.55% | 15,151,500 |
| Doug Baldwin | 11,500,000 | 2016 | 7.55% | 12,368,250 |
| Keenan Allen | 11,250,000 | 2016 | 7.55% | 12,099,375 |
| 2017 Cap | 167,000,000 |   | | |
| 2016 Cap | 155,270,000 |   | | |
| 2015 Cap | 143,280,000 |   | | |
In his combine presser Ryan Pace stated the Bears would improve at wide receiver even with the potential departure of Alshon Jeffery. The receivers currently on the roster include:
Dres Anderson, productive college career but the 2nd year player has 0 career NFL receptions.
Daniel Braverman, appeared in there games during a lost season, recorded zero receptions. Coming off surgery heading into 2017.
Cameron Meredith, ascending player but is a work in progress as he continues to learn the position after converting from QB.
Ruben Randle, what year is it?
Eddie Royal, has missed 14 of 32 games since joining the Bears.
Kevin White, has missed 28 of 32 career games.
Call me a pessimist but that group doesn't inspire a lot of confidence. If Pace elects to fill the quarterback void with let's say Bryan Hoyer, do these players elevate Hoyer? We know for certain Hoyer is not the type of QB that will elevate them and to answer my own question: personally I don't believe they would make him any better. A rookie would face the same problem.
Another option, what if the Bears elect to keep Jay Cutler for 2017? Which is a possibility per Pace. Many fans argue that Jay was never given a fair chance due to issues on the offensive line, and lack of talent at skill positions. This group is not among the most talented he's had in Chicago…so let's explore some potential replacements.
In Pace's presser he eluded to filling team needs via free agency. I pulled available receivers from the Top 101 free agents listed on nfl.com via Chris Wesseling and Greg Rosenthal. Of note: Alshon Jeffery is listed as the No. 1 overall free agent on this list. Fans, and analysts who are fine with letting Alshon walk have scrutinized the number of games played, production, etc. I took the liberty of doing the same with the "top" free agents available.
Terrelle Pryor, Age 27 (9th) Converted QB (2015), recorded career highs in 2016, 77 receptions, 1007 yards, 4 TD's. Likely to receive 10+ million per season with just one season of NFL production.
DeSean Jackson, Age 30 (12th) missed 7 games in 2015. Rumor has it he will command about 10 million per season.
Pierre Garcon age 30 (23rd) productive move the chains type who has been fairly durable. Not a true No. 1. Rumored to be seeking 9-12 million per.
Kenny Britt Age 28 (31st) Britt posted career highs in 2016, 68 catches and 1,002 yards with very inconsistent QB play but most teams were keying on stopping the run vs the Rams. Britt has a concerning history of knee injuries.
Michael Floyd Age 27 (35th) talented player in prime but was released by Arizona in 2016 due to legal issues stemming from DUI arrest. Sentenced to 120 days (will serve 24).
Kenny Stills Age 24 (51st) regular on team's injury report with a variety of lower body/back injuries. Has not recorded 1,000 yard season (career high 63 receptions). Deep threat with limited game. Not a true No. 1 receiver. Rumored to be seeking 12 million per.
Kendall Wright Age 27 (57th) benched for 2016 finale (tardiness, missed meeting) also missed time with leg injuries. Appeared in just 21 of 32 games last two seasons. Wright had a breakout year in 2013 exceeding 1,000 yards and 90 catches but it has been downhill ever since. It is said he is a bit of a diva.
Cordarelle Patterson Age 25 (63rd) there is no doubting Patterson's athletic ability and prowess as a special teamer but as a receiver he is almost as a raw as when he entered the league in 2013. Patterson is a gadget player that requires manufactured touches.
Robert Woods age 25 (72nd) Two offseason surgeries in past 4 seasons. Regular on team's injury report. Possession receiver who is a complimentary player. Has never exceeded 700 yards in a season (65 catches career high).
Brandon LaFell Age 30 (83rd) LaFell is a veteran who has never recorded a 1,000 yard season. He is another possession type who doesn't offer special teams ability at this point.
How other "top" free agents stack up statistically vs Jeffery:
 

Games
Catches
Yards (Season)
per rec.
YPG
Long (Career)
TD (Season)
Alshon Jeffery
63

77

1155

15

72.2

80

6.6

Terelle Pryor
19
66
883
13.6
55.2
54
2
Desean Jackson
126
63
1120
17.7
70

91

5.84
Pierre Garcon
132
68
857
12.5
53.5
88
4.48
Kenny Britt
104
48
751
15.8
46.9
80
4.61
Michael Floyd
78
50
776
15.4
48.5

91

4.92
Kenny Stills
63
42
695
16.7
43.5
76
5.08
Kendall Wright
66
68
786
11.6
49.2
52
4.64

Cordarelle
Patterson

64
33
329
10
20.6
79
1.75
Robert Woods
57
57
688
12.1
43
57
3.37
Brandon LaFell
103
53
732
13.8
45.8

91

4.04
Signing any of these players or a combination of them will cost more than it's worth and likely leave the Bears with no true No. 1 receiver. Among teams without a prototypical No. 1 receiver are the Patriots, Seahawks, Lions, Rams, Chargers, Colts, Eagles, Titans, 49ers, Redskins, Browns, and the Ravens. Of those, the teams that can be considered to have a viable offense are those who have an established quarterback. This masks their roster deficiencies. The Bears do not have this luxury and thus cannot adopt the approach of running several two and three receiver types out every Sunday in hopes of one emerging.
The 2017 draft is littered with talented receivers but many also project as complimentary types. This is not the ideal year to create a void at WR 1 as you are unlikely to fill it via draft or free agency without overpaying. A team with as many needs as Chicago should look to minimize them not increase them when they have an abundance of financial resources.
Lastly, being that most have a "what have you done for me lately" mentality I would like to remind everyone of the four game stretch Josh McCown had while heavily targeting Alshon Jeffery weeks 10-13 of the 2013 season. In that span Jeffery recorded 32 receptions for 488 yards and 2 TD's including an 80 yarder. Losing a wide receiver that elevates quarterback play and dictates coverage will only stunt the growth of whoever Chicago's next young signal caller is. Did Chicago not learn from the Jay Cutler era? Get it done.
Let me know your thoughts on twitter @BearsBarroom and me directly @Deuce_Pesos
---
---