Bears Barroom Enters Waddle & Silvy Holiday Parody Song Contest
by Barroom Staff | December 5, 2017 10:52 am
The Bears Barroom has submitted the following song, Fire Fox Christmas, to the popular Waddle and Silvy[1] show for their annual Holiday Parody Song Contest. Wish us luck!
Follow Us On Twitter @BearsBarroom and Facebook [2] for upcoming details on how to win a CD with all 23 Holiday Parody songs the Draft Dr. Phil and the Barroom are producing.
All of these songs will be downloaded day-by-day on our podcast stream. Not getting the podcasts? Go here to Podbean[3], or iTunes[4] and subscribe to the Bears Barroom Radio Network. If you get your podcasts from GooglePlay click the Podbean link and they will hook you up.
Produced by:
Lyrics by 
Performed by 
Artwork by
Bears Barroom Present's Draft Dr. Phil's "Little Dumber Boy"[5]
Bears Barroom Christmas Song Release Dates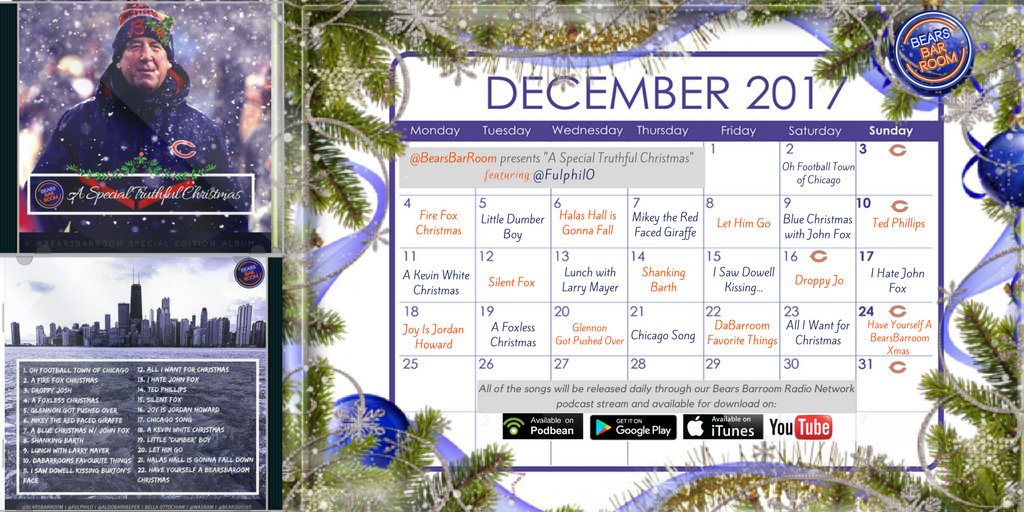 Endnotes:
Waddle and Silvy: http://www.espn.com/chicago/radio/show?showId=ws
Facebook : https://www.facebook.com/bearsbarroom/
Podbean: https://bearsbarroom.podbean.com
iTunes: https://itunes.apple.com/us/podcast/bears-barroom-radio-network/id1142255920?mt=2
Bears Barroom Present's Draft Dr. Phil's "Little Dumber Boy": http://bearsbarroom.com/little-dumber-boy/
Source URL: http://bearsbarroom.com/waddle-silvy-holiday-parody-song/
---