Victory!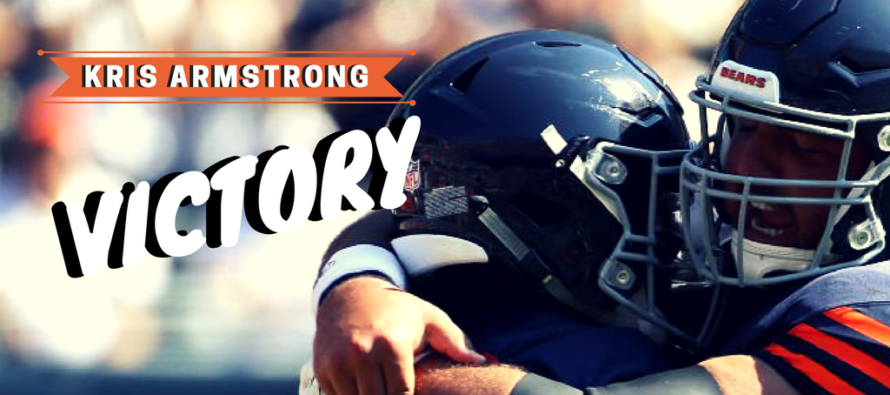 VICTORY!!! Hallelujah! Great win for the D and running game, and kind of special teams.
Am I excited by this win? Meh. I am super happy they won, super freaking happy. But. The Bears are a bad team. They are a bad team that could be a good team if they had a professional QB. Aside from Glennon and an awful head coach, they have talented players.
Let's start with the good stuff. The defense balled out, this is a legit top 15 D right now. Kyle Fuller is fulfilling my expectation of a solid year. Line was steady, controlled the line of scrimmage and didn't let Bell get lose – did a great job containing him. I am concerned that the D is not getting after the QB – three sacks today in regulation but really, Rapey was not under pressure for much of the day as the Bears rushed three and dropped into coverage.
#Bears pass rush is not getting there pic.twitter.com/j2YnQjxoMG

— Bears Barroom (@BearsBarroom) September 24, 2017
Where the heck is Floyd? He's covering receivers. He did have Rapey in his sights once and whiffed. Now, he's not the first guy to do that, but he must make that play.
Leonard Floyd has only one tackle today and zero QB hits. He has to get going. #Bears

— Thomas Gibbons (@ThomasGibbons_3) September 24, 2017
And how about Phee with the sack! If we can get production from him with limited snaps, this D can be top ten. I thought the ILB rotation was solid with Trevathon, Timu and Jones.
Special teams were so-so. McManis was outstanding with the punt block and nice tackling as a gunner. O'Donnell was pretty solid. The 47-yard miss from Barth was huge – you have to make that. The less said about Marcus Cooper the better.
Marcus Cooper ran a blocked field goal all the way back for a touchd…never mind

(Video via @_MarcusD2_) #PITvsCHIpic.twitter.com/AcRq0YZYvB

— Someone's An Idiot (@SomeonesAnIdiot) September 24, 2017
I'd fire him as soon as he set foot in Halas Hall on Monday morning.
And now, the Bears offense. It's fair to say that Jordan Howard is a fucking beast!
#Bears win and that run and emotion by Jordan Howard to win it was priceless pic.twitter.com/tGTGxhFsYW

— Bears Barroom (@BearsBarroom) September 24, 2017
He was clearly injured and was out there playing on guts and grit. He gets the game ball if I'm the coach.
And Mr. Chicken Salad. Wow! He scored the game winning TD, until he didn't.
One of the greatest finishes in #Bears history is spoiled by NFL refs poor call. pic.twitter.com/KcbDuYkY1b

— Bears Barroom (@BearsBarroom) September 24, 2017
The refs screwed us over twice- once on that OOB call and on the Howard non-fumble. I don't want to forget Cunningham, he came in a turned a quick pass into a 3rd Down conversion. The offensive line was awesome. They look so much better with Kyle Long out there and they looked much quicker today. I thought Grasu was playing well but there's no way he can snap with a broken right hand. They'll need to find another body to bring in. But I digress. Long, Grasu, Whitehair were getting to the second level on a regular basis. Props to Leno and Massie in the run game and Massie saved the day with a fumble recovery. Forgot about the TE's? Where were they? Aside from Shaheen's TD, I recall one Zach Miller catch and some awful blocking from Sims – that's about it from them.
And now for the reasons that the Bears are a bad team.
Mike Glennon and John Fox.
#TrubiskyNOW #Bears pic.twitter.com/dzPAKzGIBK

— Bears Barroom (@BearsBarroom) September 24, 2017
The key to the victory? Glennon did not throw the ball in OT. 15-22 for 84 yards FOR THE GAME. In a professional football game. In 2017. Unacceptable. Any type of pressure and he's lost. Now, I will give him some credit. When he has a clean pocket and five seconds in the pocket, he makes a nice six-yard throw. The fact that John Fox is still putting Glennon on the field is an embarrassment. It was once said that, "You Play To Win The Game." Fox is playing not to lose the game. If the Bears are serious about winning more than a handful of games this year, they must play the kid. #TrubiskyNOW
I'm looking forward to Draft Dr. Phil, Smart Man Shayne Marsaw and the barkeeper on their podcasts this week breaking down this VICTORY! Bear Down.
Kris Armstrong
Kris is an ex-jock who became despondent at an early age when she learned that she could not, in fact, become Dick Butkus. She is passionate about Da Beloved, Soroptimist International and her bemused and patient husband. Catch her on Twitter @krisarmstrong1
---
---
Related Articles
Bears Hour Live is our live weekly show we produce every Monday Night so fans can have a venue to
Bears Win! It's such a relief to be able to write that statement, as it's not been written enough this
Bears On Tap welcomes B.J. Reidell back to the Barroom to preview the Chicago Bears – Minnesota Vikings Monday night