Victor Cruz Agrees To Deal With Bears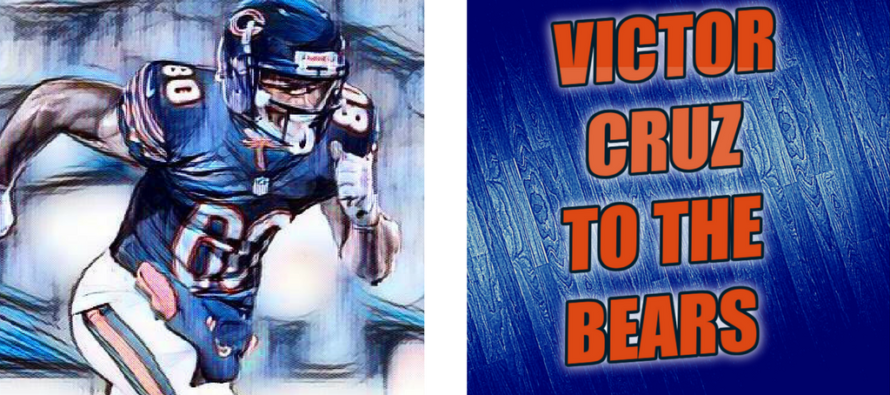 The Chicago Bears have signed former New York Giants wide receiver Victor Cruz to a one-year contract according to the team's website. Cruz is the third veteran wide receiver general manager Ryan Pace has signed this offseason in hopes of filling the lost production of Alshon Jeffery who signed with the Philadelphia Eagles.
Cruz immediately went to Instagram to alert his followers and provide a visual at how he'll look in navy blue, pristine white and burnt orange.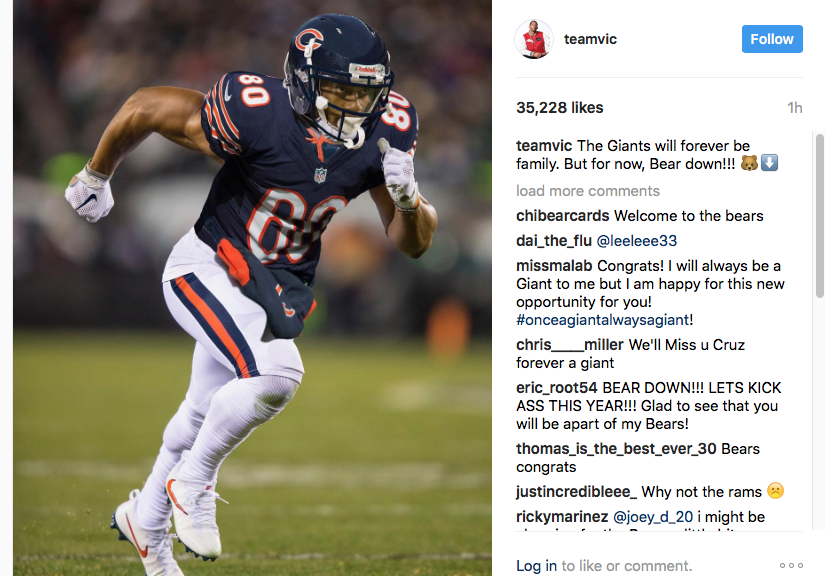 Two and a half years ago Cruz had major knee surgery stopping his ascension into one of the game's most electrifying receivers.
Undrafted out of UMass, Cruz signed with the Giants and showed promise when he caught 6 passes for 145 yards and 3 touchdowns in a preseason game. He made the 53-man roster and suited up for three games. When he suffered a hamstring injury he was put on season-ending IR.
In his first full season, 2011, Cruz caught 82 passes for 1,536 yards and nine touchdowns, including this NFL record-tying 99-yarder versus the Jets.
#TBT Victor Cruz 99-yard TD vs. the Jets in 2011 pic.twitter.com/kvyK4P30tm

— LWOS Joseph (@DeadassNYG) February 13, 2017
He capped off his tremendous Super Bowl winning year with a ten-catch, 142 yard performance against Vic Fangio's San Francisco 49ers in the NFC Championship game.
Cruz proved he was not a one-year sensation when he caught 86 passes for 1,092 yards and ten touchdowns the following season.
After three full seasons, Cruz averaged 80 receptions, 1,208 yards and 7 touchdowns.
Along the way, he became famous for his effervescent personality and his salsa dancing touchdown celebrations.
How many time will we see this in 2017 #Bears fans? Victor Cruz pic.twitter.com/3OzGP4v8Xe

— Jarrett Payton (@paytonsun) May 25, 2017
In 2014, though, in the season's sixth game, Cruz suffered a major injury, a torn patellar tendon, in his right knee. He missed the entire 2015 season.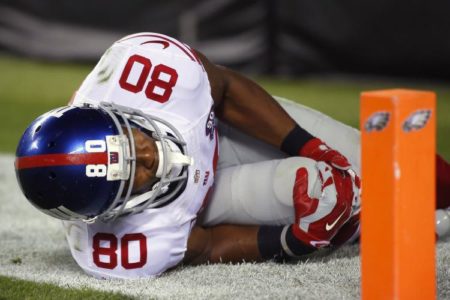 Last year his play declined and, as a veteran wide receiver, took a lot of blame for the infamous boat trip before the team's wild-card playoff game. Cruz and his fellow Giants' receivers went to Florida and were photographed on a boat. It was reported that the partygoers included a who's who of annoying celebrities including Justin Bieber, Lil Wayne, Khloe Kardashian, and Johnny Manziel. Days later the Giants were badly beaten by the Packers 38 to 13. Cruz and star receiver Odell Beckham were held to a total of seven catches for 58 yards by a less than stellar Packer secondary.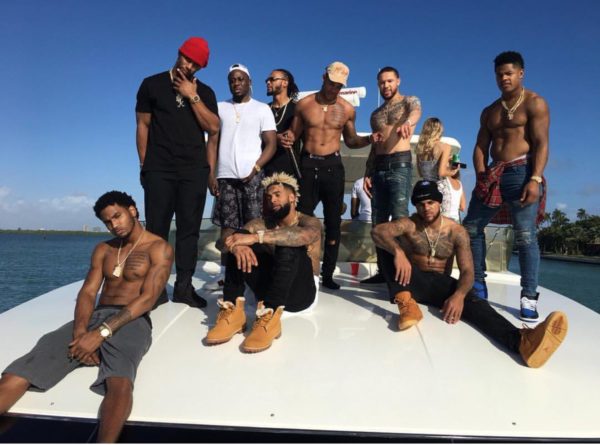 Cruz leaves New York with some bad blood between him and the organization. Recently he told a New York radio station that the Giants purposely suppressed his opportunities to catch the football last year. He finished the season with 39 receptions for 586 years and only one touchdown. In one stretch, from week eight to week 14, Cruz caught only five passes in six games. He was targeted 14 times.
"Halfway through the year I'm ballin,' the other half I'm not getting the ball. And, you're just like, 'what's going on?' It was like 'Okay, I see what's going on here. They don't want me here anymore.' A lot of people probably don't know this… let's say say I played well – was a 1,000 yard receiver last year it would have been been more difficult from a fan perspective to cut me."
Cruz was scheduled to make $7.5 million in salary and bonuses this season and would have counted for $9.4 million in the Giants' salary cap. He was released on February 13th.
When asked about the accusation, Giants head coach Bob McAdoo was not happy.
Ben McAdoo responds to the comments made by @TeamVic pic.twitter.com/2pGdUH8j8e

— SportsNet New York (@SNYtv) May 25, 2017
Interestingly, in the same interview, conducted before signing with the Bears, Cruz revealed that one of the team's he talked to was concerned about where his loyalties were:
"One of the teams – I got some inside information – they were like, 'Is he worried about selling sneakers now and worried about fashion."
Cruz has a sneaker line with Nike and a fashion line named, "Young Whales."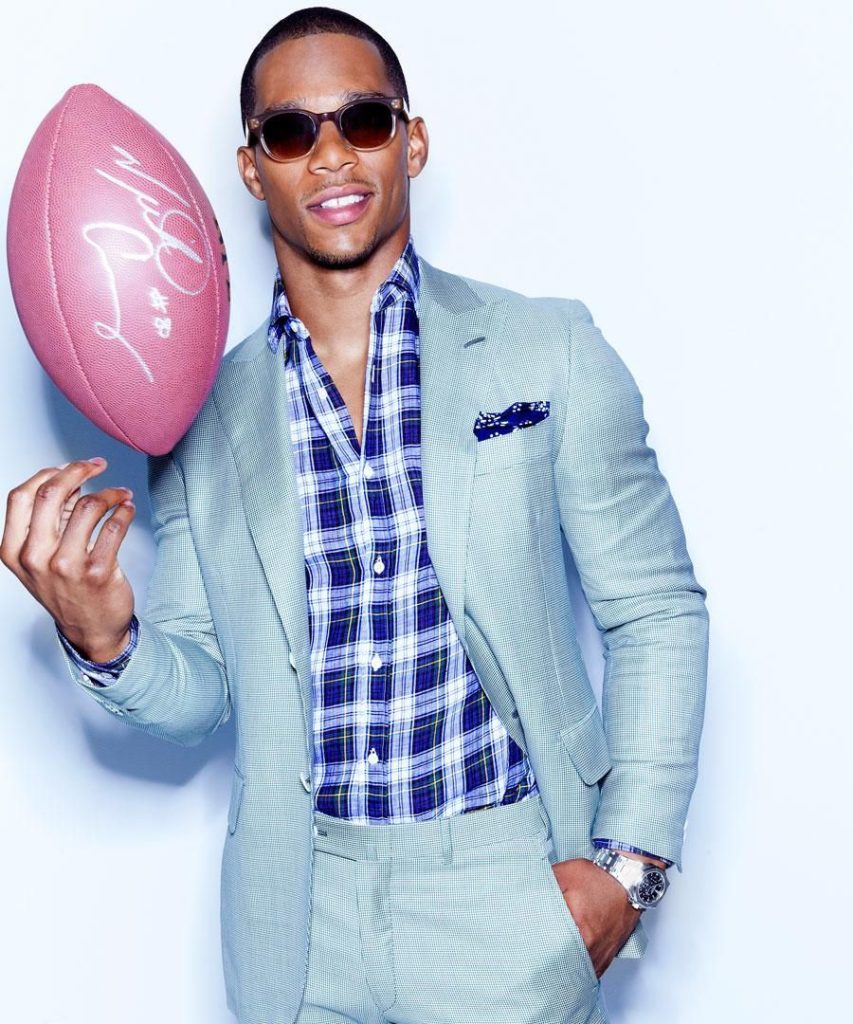 Cruz is also currently hosting an MTV show called The Challenge which airs on Tuesday nights.
It's not hard to speculate that it was John Fox who may have asked the question about Cruz's commitment level. The Bears' head coach is well known for desiring football players who are all in.
We'll soon find out if Cruz is all in and what he has left in his tank. He joins a crowded receiver corp… call them the dirty dozen… as the only one coming off a successful season is Cam Meredith, who still has much to prove.
Cameron Meredith
Kevin White
Markus Wheaton
Kendall Wright
Rueben Randle
Daniel Braverman
Josh Bellamy
Deonte Thompson
Titus Davis
Tanner Gentry
Jhajuan Seales
[graphiq id="aoakWJIWFzT" title="Victor Cruz Overview" width="640″ height="906″ url="https://sw.graphiq.com/w/aoakWJIWFzT" frozen="true"]
[graphiq id="jnKpm4oDRY1″ title="Victor Cruz Best Games of Career" width="600″ height="586″ url="https://sw.graphiq.com/w/jnKpm4oDRY1″ frozen="true"]
Aldo Gandia
Among my career highlights I have produced two films while in high school that received nationwide attention; leaned out of a helicopter over the Gulf of Suez at the age of 20 to shoot movies of oil rigs; won an Emmy award for a sports special and another for a kid's fitness show; and led a team of very talented creative professionals to produce break-through corporate communications.
---
---