Trubisky Now because …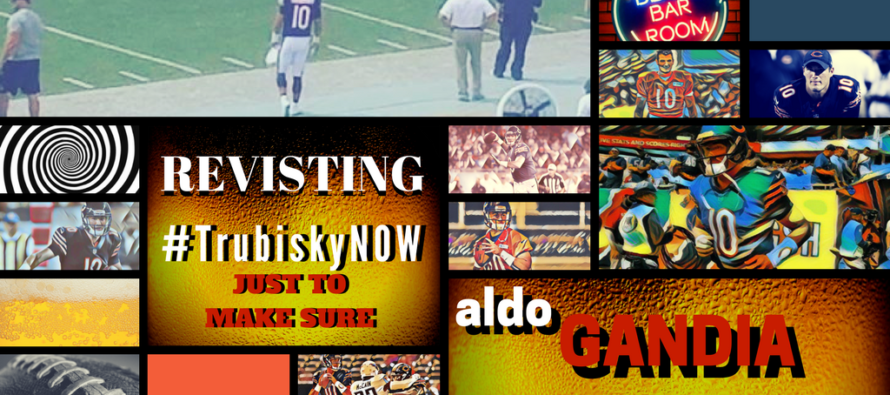 One of the ways I deal with stress in my life is that I write. It helps me organize my thoughts which are sometimes bouncing around in my head like Walter Payton bouncing off of Kansas City Chiefs "tacklers." Our #TrubiskyNow movement is important to me because I feel like we're being lied to every time the Bears address the current quarterback situation.
Actually, I know we're being lied to by Bears head coach John Fox and general manager Ryan Pace and I don't like being lied to. I'm sure you don't either. But, I'm the type of person who needs to step back and double-check my logic because emotion can sometimes overwhelm reason.
If you've been listening to our podcasts you'll find much of this is redundant. Much of this thinking comes from thoughts shared on our shows by Draft Dr. Phil Ottochian, smart man Shayne Marsaw and myself. Here's a clip of one of Phil sharing his thoughts last week on Bears Hour Live.
Have you heard @FulphilO – 'Draft Dr. Phil – on #TrubiskyNow ? Must listen to this 90 second rant! https://t.co/NwevVb5XOm

— Bears Barroom (@BearsBarroom) September 21, 2017
Here's What We Know
Ryan Pace targeted Mitch Trubisky after secretly scouting him and holding a super secretive dinner meeting with the quarterback after the college season ended.
Pace needed a bridge quarterback and instead of re-signing Brian Hoyer who openly admitted he would come back to Chicago under those circumstances Pace decided to target another quarterback. He did this not because he wanted to find a veteran who could be a starter for the next few seasons, but because he wanted Trubisky.
Here's What We Believe is 99% True
Pace so desperately wanted Trubisky that he went to great lengths to disguise his intent. He signed Mike Glennon and handed him a contract well above the market price. (Again, the guaranteed dollars betrayed this, but the national media and many local reporters never bothered to check the details). He said "No," to Hoyer's openness to return to the Bears because it signaled the Bears were targeting a quarterback in round one. Pace signing Glennon was subterfuge to insure other teams' kept their mitts off Trubisky.
The investment into acquiring Trubisky is the $18 million guaranteed to Glennon and the draft picks surrendered to draft Mitch.
Glennon was never a serious quarterback candidate to be the long-term answer for the Bears. Even if Glennon played like a Joe Flacco or someone with similar skills, Pace was (and is) convinced that Trubisky is headed to Tom Brady or Aaron Rodgers-like  status.
Here's What We've Seen of Glennon
In the three regular season games that Glennon has started we've seen a quarterback whose lack of mobility makes him a defensive lineman's dream. His chances of escaping a pass rush are about as good as the Bears winning the Super Bowl this year with him at QB.
Under duress Glennon's passing accuracy is abominable. The tall QB is respectable when the pocket is clean and his first target is open. When that target isn't open, Glennon fails in his progressions. He either forces a throw to a covered receiver or is too slow in the progression to complete a pass of note.
Glennon's 4th quarter against Atlanta looked good, but careful analysis reveals he moved the ball downfield against a prevent defense. He did make good throws in the red zone that his teammates dropped so, in fairness to Glennon, he could have beaten the Atlanta Falcons despite three awful quarters of quarterbacking.
Last Sunday against the Steelers we saw offensive coordinator Dowell Loggains dumb down the game plan to pee wee football levels. This in an effort to prevent Glennon from making mistakes like the one he made here when he threw an interception.
#TrubiskyNOW #Bears pic.twitter.com/dzPAKzGIBK

— Bears Barroom (@BearsBarroom) September 24, 2017
After the game, Glennon took blame for the pick saying the play design leaves it to the tight end, in this case Zach Miller, to choose whether to cut left or right. Miller chose right (the direction right). Glennon anticipated he'd chose left. Problem was that either left or right was never a good true option. Glennon should have progressed to another receiver. If he felt the pressure was too much he should have thrown it at Miller's feet.
We've been told by the Bears that one of the reasons Glennon is the team's No. 1 quarterback is because of his experience. He's not suppose to make these types of mistakes. Yet, he does them over and over.
Here's What We've Seen of Trubisky
Yes, his performance was against back-up players some of whom are no longer in the NFL. Nonetheless, what we've SEEN is a quarterback who has outstanding athletic skills and passing accuracy. Those two traits alone are better than what Glennon offers. When it comes to mobility, at worst, Trubisky looked like the Jay Cutler of the last three years who became much better at working the pocket. At best, he looked like he could progress to the type of pocket escapability that Aaron Rodgers possesses and is a big part of his remarkable skills.
Trubisky has the ability to escape the pass rush and rush for yardage. That's vital for a team in need of positive yards in passing situations.
We've also seen a quarterback who has an extraordinary ability to throw an accurate pass while on the move. Unlike Glennon, Trubisky makes his receivers better because he can buy time and help them escape coverage.
Draft Dr. Phil Ottochian has the coaching and scouting pedigree to properly dissect Trubsiky's plan and he does on his latest Doctor's Office video which you can see by CLICKING HERE.
Here's What We Know (Part II)
Two seasons ago in Green Bay Jordy Nelson was lost for the season with injury. Randall Cobb was suddenly exposed as being incapable of playing wide out. And, the team was saddled with promising, but undeveloped receivers and no pass-catching tight ends. Rodgers thrived (in most games) because he created time for the receivers to get open. Teams that did not keep Rodgers in the pocket were burned repeatedly by the Packer QB.
But, That's Aaron Rodgers!
I'm aware of that and I'm not pretending that Trubisky can duplicate Rodgers' performance. Yet, we've seen Trubisky is capable of escaping the pass rush. Glennon can not. Never will.
Here's What We Know (Part III)
The sad truth is that Glennon was handed the No. 1 quarterback job. There was never a competition for the job. That's wrong!
Here's What We Know (Part IV)
There was a paradigm that young quarterbacks needed to sit on the sidelines for a year or two before becoming starters in the NFL. This thinking even applied to first round QBs.
But, things have changed in the NFL. Rule changes afford quarterbacks more protection and time to throw and wide receivers an opportunity to escape coverage. Passing concepts have evolved to shorter throws with three and five foot drop backs. The seven step drop happens as often as a Virginia McCaskey sighting.
The thinking that Trubsiky has to sit and learn is out-of-step with the times
Here's What We Know (Part V)
Like Trubisky, Carson Wentz was chosen with the second overall pick in the draft. In his rookie year he started all 16 regular season games. He threw for 3,782 yards 16 touchdowns and 14 interceptions. Take Glennon's stats so far and extrapolate them over 16 games and we get, 3,280 yards, 16 touchdowns and 16 interceptions.
Here's What We're Asking
Isn't it reasonable to assume that Trubsiky has all of the same quarterbacking skills of Carson Wentz? Or, at least close? I think it's totally reasonable.
Was Glennon handed the job because Trubisky was doing poorly in the classroom? By all accounts the rookie has been absorbing information with the same ability Rogue does in X-Men comics and movies.
Is Glennon still the No. 1 QB because the early season schedule is against tough teams? Possibly. But, while the Steelers came into Soldier Field Sunday with a 2-0 record this was a very beatable Pittsburgh team. Their play the last two weeks was suspect. The Packers could easily be 1-2 if not for the Cincinnati Bengals playing like the Bungels.
Can't the Bears staff see that Glennon gives the team no mobility, poor accuracy when under duress and emits no confidence? If they do, then the act of not starting Trubsiky is treasonous.
In Conclusion
I'm convinced that my efforts, our efforts, to make the Bears aware of #TrubsikyNOW are warranted. He has superior skills, can handle the simple game plan and deserves the opportunity.
LOOK AT THE METRICS FROM SUNDAY'S STEELERS GAME
Aldo Gandia
Among my career highlights I have produced two films while in high school that received nationwide attention; leaned out of a helicopter over the Gulf of Suez at the age of 20 to shoot movies of oil rigs; won an Emmy award for a sports special and another for a kid's fitness show; and led a team of very talented creative professionals to produce break-through corporate communications.
---
---
Related Articles
This time of the year most of what happens at Halas Hall is devoted to scouting college for the draft and
Leading up to Week 17's NFC North title game between the Minnesota Vikings and the Green Bay Packers, NFC North
BJ Reidell the Executive Editor of NFCN Barroom made his weekly appearance on the Jimmy B and TC Show for