Time For The Anthem – Fire John Fox Now!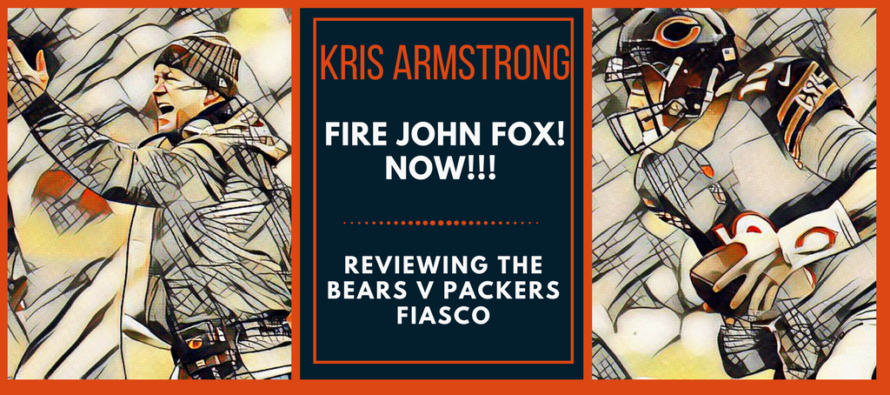 Fire John Fox, not a plan but an anthem. Coming off the bye week, Coach Fox did not have this team prepared to play. Again. For the third year in a row. This is completely unacceptable and Pace must make a coaching change.
Here are my game notes:
The defense was awful, can it be that they really missed having Trevathon in there calling the D? I think they did but that's an excuse. Hundley had a passer rating of over 100! The front seven got zero pressure except for blitzes. Leonard Floyd was held a lot but he should still be able to overcome a backup right tackle. The thing that bothers me about Floyd is that he's lackadaisical. I'd sit his ass on the bench next time he loafs. Hicks and Goldman were non-factors. Unrein was not good at all. Bullard was not that good either. Fuller got burned a couple of times, although I would point out that both passes were dimes – he still should have made plays. Additionally, he was not good in run support which was surprising as he's been really good all year. That touchdown by Montgomery should have been called back as Nelson was holding Eddie Jackson like a toddler – but of course, we all know that the Packers are never called for that.
Not to mention that POS Matthews shivving a forearm into Biscuit's head with no call, but I digress.
Connor Barth made all of his field goal attempts today in the wind and rain. What. The. Actual. Fuck.
Do you recall a column I wrote a few weeks back stating that the offense needs an enema? I was wrong. They need a complete colon cleanse, the kind you get before a colonoscopy. Dear Lord, can we stop running the ball on first and second down all of the fucking time? Even the broadcasters were making fun of the playcalls. Nine in the box on first and second down, run. Third and eight turns into a third and thirteen due to some ridiculous false start penalty. Sack. Capers threw a lot of blitzes at Mitch today and it kept the kid off balance. He sure looked like a rookie, notably on the roll out to the left in which he had Bellamy wide open, hesitated and got sacked. Mostly though it showed that our offensive line sucked. I had been brainstorming that we should dump Sitton, move Whitehair to LG and Grasu to C. I'm an idiot. Grasu sucks big cheesy balls and should be cut. And they didn't just suck in pass-pro, the run game was pretty ineffective as well.
However, blame for both of those things can be laid at the feet of Dowell Loggains and John Fox due to the predictable nature of the calls. No flow, no imagination, no feel for the game. On the positive side, once they opened up the playbook and actually threw the ball downfield, Biscuit looked pretty good. Trubisky's stat line is not awful. Statistically it's his best game of the year. I have some concerns that he's afraid to make a mistake and ends up aiming and not throwing, but the kid can sling it if given the chance.
Fire Fox? You bet your ass. I'd fire the entire staff. The horrible challenge on Cunningham's fumble (which clearly was not a fumble, he was down). The ultra-conservative play calls both offensively and defensively. Playing not to lose. How do you not have your team prepared to play your hated rival? There was no sense of passion, no sense of urgency, no sense of pride.
Well, Chicago Bears, your fans are tired of losing. Fire Fox and fix this mess. The only Bears thing I'm looking forward to is Phil's 100 Proof rant with Aldo and Shayne stoking the fire. But right now, I'm going to take a walk and cool off. Bear Down, barflies, Bear Down.
Kris Armstrong
Kris is an ex-jock who became despondent at an early age when she learned that she could not, in fact, become Dick Butkus. She is passionate about Da Beloved, Soroptimist International and her bemused and patient husband. Catch her on Twitter @krisarmstrong1
---
---
Related Articles
As I was listening on Monday Night to Bears Hour Live and interacting with fellow Barflies I found myself feeling
Editor-In-Chief of NFCN Barroom Aldo Gandia loves to asks questions. Some think it's his background as a television news reporter.
A little more than halfway through the 2016 season the Chicago Bears find themselves entrenched in the cellar of the