The Smash Bros: Adrian Amos & Eddie Jackson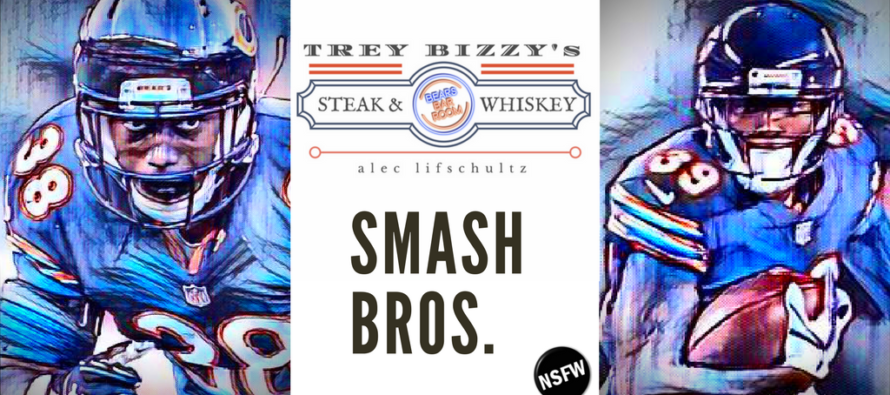 Hello Barflies and all Chicago Bears fans,
When strong safety Adrian Amos isn't on the field for the Chicago Bears I miss his presence like I miss a good steak on a Friday night after a long week of swinging the hammer.
The Bears miss his sledgehammer approach to safety, too.
It's not just his ball-busting hits, Amos is an under appreciated  cover safety, too.
Look back at Chris Prosinski's play when he started for the injured Amos against the San Francisco 49ers. He was absolutely horrible in coverage and run support. I haven't seen anything from Prosinski that says he's a serviceable starter or even a reliable special team player.
When Amos returned to the field against the Cleveland Browns it was such a relief and a big part of the reason DeShone Kizer and his offense had a miserable day.
The third-year player, chosen in the 5th-round of the 2015 draft continued his development and yet, outside of some knowledgeable fans and media members, no one seems to notice. Especially the national media. (Not even a daily dose of pussy would help some of the national media-types who don't invest any time into player evaluation.)
I've picked the safety tandem of Amos and Eddie Jackson to share  my thoughts because I'm tired of the terrible narrative that hovers over both of these young safeties.
Amos not only been playing like a pro bowl caliber safety in 2017, but in my opinion he played like an all pro safety. Adrian Amos is a hard hitting, play making, diamond earring wearing, rolex wearing, jet flying, limo riding, kiss stealing son of a gun!
In all seriousness though, Amos has been playing lights out since replacing Quintin Demps who broke his arm against the Steelers trying to tackle Le'Veon Bell. The main knock against Amos was not creating turnovers at the safety position for the Bears. That reality, though, led to a false narrative about his overall effectiveness as a safety.
He's started to turn around the reputation of not creating turnovers this season with a huge 90-yard pick-six against the Baltimore Ravens while also forcing and recovering fumbles in big moments.
Ravens threatening… Not so fast! Adrian Amos pick six. #DaBears pic.twitter.com/9jQ7RK7bgQ https://t.co/PfFmOfEplj

— HighlightHub (@HighlightHub_) October 15, 2017
Adrian Amos strips Blount. Bears ball! pic.twitter.com/I28dIuBsoA

— Kevin Marchina (@kg_holler) November 26, 2017
The fact Amos was overlooked for the Pro Bowl is a damn shame.
.@SmashAmos38 of the @ChicagoBears made PFF's list of top Pro Bowl snubshttps://t.co/NEQX5DNT0X pic.twitter.com/1wATDvTsgh

— Pro Football Focus (@PFF) December 22, 2017
Many in the Chicago sports media do not believe Amos is worthy of starting at strong safety for the Bears and I believe that is complete horse shit. He's a very strong and hard hitting tackler, just ask Viking running back Jerick McKinnon or Cowboys wide receiver Cole Beasley about it.
#DaBears Adrian Amos with one of the hardest clean hits you'll see…👀👀👀 pic.twitter.com/RpWzwrZSPB

— Bovada Official (@BovadaLV) October 10, 2017
I've taken to calling Amos' Dr. Jekyll & Mr. Hyde or Bruce Banner & The Hulk because the dude is a completely different person off the field. I follow him on Instagram and he's always in the car listening to Gospel music and just being a nice God fearing man. Then once he steps on the field and the whistle blows he's out there trying to knock players out of their pads.
Jackson, meanwhile, has far exceeded media "expectations" of a 4th round draft pick recovering from a broken leg. He quickly established himself as the best free safety on the roster and earned the starting spot in training camp. He has a knack for getting his hands on the football but he's not afraid of getting his nose in the dirt.
Yes. You are indeed mic'd up, @EJackson_4. 😏

Talk a listen to #DaBears rookie ball hawk. pic.twitter.com/xsxmXAJCzu

— Chicago Bears (@ChicagoBears) January 4, 2018
Aside from the broken leg, the knock on Jackson when he was coming into the NFL out of Alabama was that he wasn't a willing tackler and was more of a center field safety type. He quickly changed that narrative from my observation of his game film. The guy is a hard hitter and even feels gaps in the run game.
I don't understand why there would be much negativity about his play. We spent season after season waiting for the a safety like Eddie Jackson and when we get one the media slanders him. Jackson has two interceptions including a pick six, a forced fumble, and three fumble recoveries including one that he returned for a touchdown.
Should be an Eddie Jackson strip fumble. pic.twitter.com/tVc6c70ICS

— Kevin Marchina (@kg_holler) December 10, 2017
On the same date Eddie Jackson broke his leg last year, he set an NFL record for multiple 75+ yard defensive touchdown returns. An argument can be made that Eddie Jackson was the steal of this years NFL draft because there isn't another free safety having the season that he is having for the Chicago Bears.
Happy Tuesday #BearsFam! Eddie Jackson and the #Bears defense got me over here believing we could end up in the playoffs. pic.twitter.com/ry5pdtpsLS

— Producer 2 the Stars (@ChicagoGod) October 24, 2017
We've enjoyed solid safety play this past season largely due to the on field chemistry and understanding of the system by Amos and Jackson. I recently heard on the radio a discussion saying "The Bears need to address the safety position this offseason." I don't understand what's happening with the Chicago media.
I've taken to calling Adrian Amos and Eddie Jackson the "Smash Bros." because those dudes come for blood on every hit they give. I want all to know the truth: the safety position for the Chicago Bears is set for years to come and don't believe the media with their bullshit statements.
Alec Lifschultz
Commercial Carpenter by day, Avid Bears fan by night and on weekends. I'm a Chicago native that has been watching the Bears since I was a kid. I enjoy going over the game film and writing and tweeting about it from my own perspective and insight. You can find Alec Lifschultz on Twitter/Instagram @TreyBizzy
---
---
Related Articles
Can you recall a Chicago Bears draft that has been as vilified as Ryan Pace's third with the team? We've
About an hour after free agency started there was a frenzy of complaints leveled at Ryan Pace and the Chicago
Since there was no game this past Sunday, I'm taking some time to address the problems/complaints that I see the