Take My Fox, Please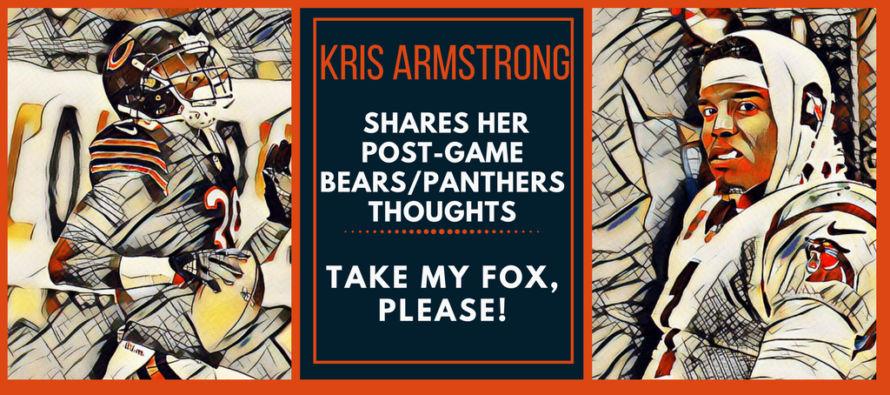 Winning is great. Winning ugly is still great. Yes, somehow less great. But, in many respects though, it was a beautiful victory. I really want to brag about the Chicago Bears defense. Damn, that was something special to watch. The Bears D is legit. Something has clicked for those guys with the front seven and the defensive backfield together – they are beasting out there and it's amazing. Really warms the cockles of my old Bears heart. Who do you call out for excellence? All of them. Hicks of course, Floyd, Trevathon, Fuller, Jackson. And, what about Jackson? Eddie Jackson. A 75-yard fumble return for a touchdown and a  76-yard interception return for a touchdown!
Eddie Jackson remind anyone of Mike Brown? #Bears pic.twitter.com/VxeSZAHOak

— Bears Barroom (@BearsBarroom) October 22, 2017

There were defensive highlights all over the place. Amukamara and Unrein played very well. As did McPhee and Bullard.
Oh, and a special shout out to Akiem Hicks' sack celebration – a salute to injured teammate Willie Young.
So far is all D🚧 EFENSE ALL WE NEED NOW IS FOR BRARS OFFENSE TO WAKE UP 🏈 START TO FINISH lets go Bears #CARvsCHI pic.twitter.com/KnNazWc51C

— ROUY R.Z. (@4uto26) October 22, 2017
My bold pick prior to the game was that Cheese Jones would get a pick six. He didn't but he did play really well overall, too, with his solid tackling.
Excellent effort all around. They are not perfect though, giving up some big third down plays but you also have to give credit to Cam Newton for those. This is a top ten D! I think we can all agree that the Monsters of The Midway are back!
Shout out to Pat O'Donnell for a good day – kept the Panthers on their side of the field and the ST guys did a good job limiting McCaffrey. Overall, the punt team had a very good day. How about Connor Barth? I really can't blame him too much for that missed 53-yard FG, it's his limit. It should have only been a 44-yard attempt but Trubisky took at sack on third down – you can't do that Rookie and you cost your team three points. On whole, it was a helluva lot better than last week.
El intento de gol de campo de Connor Barth de 52yardas NO es bueno 😏#Bears 7-0 Panteras #VamosOsos pic.twitter.com/C8gkc75Gsv

— Osos de Chicago (@Osos_de_Chicago) October 22, 2017
It should have only been a 44-yard attempt but Trubisky took at sack on third down – you can't do that, Rookie. And you cost your team three points.
But, on whole, it was a helluva lot better than last week.
And now, let us bow our heads and pray for our Offense. Dear sweet little, six-pound Baby Jesus, why can't we have nice things? From my viewpoint, they had one good play all day long. That was the seventy-yard pass and run from Tru to Cohen.
Mitch Trubisky the 🐐 pic.twitter.com/61rwQsFGeF

— John X (@48john) October 22, 2017
And since we won, maybe I'll give them some credit for a couple of first downs with a few minutes left in the game to ice things. But that's it.
You have to ask yourself, "What was the game-plan?"
Maybe this was John Fox at the coaches meeting, "Hey guys, we'll get two scores from the D, so don't worry about having a cogent offensive game plan!"
Great. If my stats are correct, Trubisky dropped back eleven times and was sacked four times. Some of that may be on Tru for holding the ball too long. And he admitted after the game that he ate the ball a couple of times to avoid forcing something. But in fairness, pass protection was unacceptable today. Folks rag on the tackles a lot but the interior line play was awful. Run blocking was also abysmal.
And then we have the play calls. Pedantic, banal, trite blah blah blah. It's so predictable that the D is waiting for it and the offense cannot get into any sort of rhythm. This is no way to develop a quarterback, folks.
How much of the offensive offense is due to Dowell Loggains and how much is due to Fox? My money's on Fox. It's the same O he ran in Carolina and the Peyton-less Broncos. It's Tebow time in Chicago! And that's a shame because Tru has skills. True QB skills. They must open up the playbook and let him play. We're 3-4 folks, and have a real shot at a winning season this year.
It's time to play to win and not play to lose.
Aldo, Phil and Shayne will continue to break down the game all week as they did today on Twitter. If you didn't follow them here's a taste of what you missed:
Phil catching a missed penalty on the Panthers…
Could've and should've been offsetting. The tackle has McPhee's facemask on the top here @BearsBarroom https://t.co/jGBD1O8ygI

— Draft Dr. Phil (@FulphilO) October 22, 2017
Shayne's spotting the oxymoron that is the Bears coaching staff.
#Bears have won the last 2 ballgames and yet John Fox is personally regressing your young QB. How sad. Only in Chicago. #Bears

— Shayne L. Marsaw (@wasram) October 22, 2017
And, Aldo noting Cam Newton's melting facial features…
1st quarter Cam … 4th Q Cam. #CARvsCHI #Bears pic.twitter.com/96Go90qF1V

— Bears Barroom (@BearsBarroom) October 22, 2017
While you're at it… give me a follow, too. You'll get some of this:
#FireFox 🤔 how about Fire Loggains? Starts with Fox though. Brutal, awful gameplan.

— Kris Armstrong (@KrisArmstrong1) October 22, 2017
Listen to Bears Hour Live tomorrow at 9pm CST. And stop by the chat room where many of the Barflies gather. Until next time, Bear Down!
Here's the link to the Chat Room… for you to Bookmark:
http://mixlr.com/bears-barroom-radio-network/
Kris Armstrong
Kris is an ex-jock who became despondent at an early age when she learned that she could not, in fact, become Dick Butkus. She is passionate about Da Beloved, Soroptimist International and her bemused and patient husband. Catch her on Twitter @krisarmstrong1
---
---
Related Articles
Blessed with a generous supply of choices for player of the week in week 12, the pickings in week 13
Phil Ottochian had a rap career long before he became Draft Dr. Phil. He's now dug back to his roots
Host Aldo Gandia gets a position-by-position breakdown of the San Francisco 49ers from "Better Rivals" podcast host and producer and