Bears On Tap – Senior Bowl Practices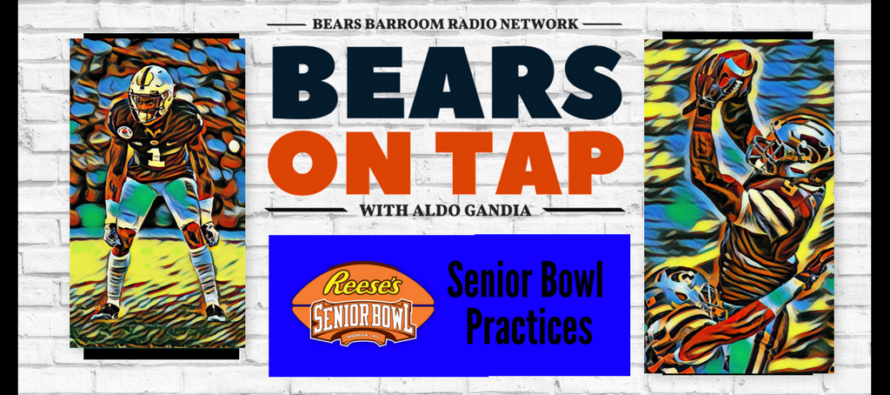 Bears On Tap is back after a hiatus. For the next few months we'll have two to three podcasts a month mostly focused on the draft. This week, Aldo Gandia took the show to Mobile, Alabama for the Reese's Senior Bowl practices. He sat down with Lorin Cox to analyze some players – mainly at wide receiver and cornerback – two positions of need for the Bears. Here's a rundown:
Opening Tease at 0:00 with Darius Leonard, Da'Shawn Hand and Uchenna Nwosu.
Lorin Cox begins at 2:36
Byron Pringle, WR, Kansas State –  4:46
D.J. Chark, WR, Louisiana State  – 5:45
Jaleel Scott, WR, New Mexico State – 6:06
Strength of this WR class – 6:42
Quarterbacks – 8:33
Type of WRs Bears need – 11:2
Cedrick Wilson, WR, Boise State – 13:06
Justin Watson, WR, Pennsylvania – 14:26
Michael Gallup, WR, Colorado State – 15:06
Allen Lazard, WR, Iowa State – 16:40
Tre'Quan Smith, Central Florida, – 18:13
Marcell Ateman, WR, Oklahoma State – 19:15
J'Mon Moore, WR, Missouri – 21:01
James Washington, WR, Oklahoma State – 21:44
JaMarcus King, CB, South Carolina – 23:46
Siran Neal, CB/S, Jacksonville State- 24:30
Christian Campbell, CB, Penn State  – 24:55
M.J. Stewart, CB, North Carolina – 25:26
Levi Wallace, CB, Alabama – 25:53
Darius Phillips, WR, Western Michigan – 26:49
Michael Joseph, CB, Dubuque – 28:00
WRs v CBs at Senior Bowl – 29:00
Coaches at the Senior Bowl – 30:10
Garret Dooley, OLB, Wisconsin – 32:00
Players suited for Bears – 33:30
Lorin's Wrap Up Thoughts, Gossip & Tease – 35:05
Patrick Woo on Chandon Sullivan, CB, Georgia State – 42:40
Marcus Davenport, defensive end, Texas San Antonio, on his strengths & weaknesses – 44:00
Marcell Ateman, WR, Oklahoma State, on what he's working to improve – 45:12
Aldo's Programming Updates – 14:15
---
---