Senior Bowl – Focus On Chicago Bears Potential Prospect Brett Toth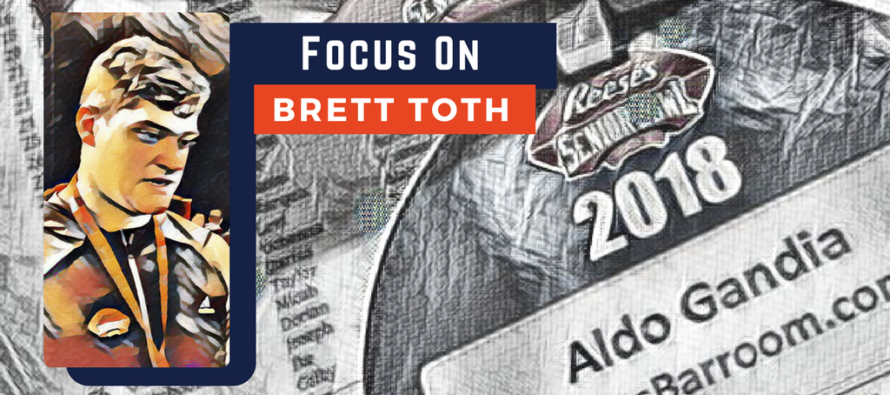 Brett Toth is a football player. Watching the Army grad block defensive linemen and linebackers at this week's Senior Bowl practices you can see that he has the traits to become a quality NFL offensive lineman.
But, Brett Toth is first and foremost a patriot. That's why he will delay his entry into the NFL by two years to fulfill a commitment he made at West Point to serve his country after graduation.
Toth, a 6'6″, 303 pound, 21 year old will be commissioned as a second Lieutenant and deployed as an engineer in the United States Army. Despite his love for football, it's a commitment he does not regret and is in fact proud of.
Army OT Brett Toth is the leader that every NFL Team looks for. In regards to having to serve two years before playing: pic.twitter.com/gifvDQJSuq

— Barstool Army (@ArmyBarstool) January 24, 2018
Toth told me that he met with the Chicago Bears twice – during last week's East-West Shrine game and on Monday night here in Mobile, Alabama. It's easy to see why the Bears have sought Toth out. Scouts salute Toth's run blocking skills. Pro Football Focus graded him the highest Impact Run Blocker (plays that a lineman executes a positively-graded block).
Army OT Brett Toth on this toss play. Finishing. pic.twitter.com/vnpEKxaDl5

— patrick (@PatDStat) January 24, 2018
Toth offered this self-assessement about his positives, "Playing in space, in open space. I'm good with my technique. I focus on my fundamentals and I'm coachable… I mesh well with other players to make their Pros better and I can compensate for their negatives, per say, if I am blocking behind them."
Bears fans can only imagine what offensive line coach Harry Hiestand, who will have two of his former Notre Dame pupils going in the first round (Quenton Nelson and Mike McGlinchey), could do with such a willing cadet like Toth.
As for his pass-blocking, Toth is the first to volunteer he needs to work at that craft, "I've not had a lack of exposure to the pro style offense, the pass settings, different zone blocking. I need a lot more reps."
Toth said he did more pass blocking at the East-West Shrine game than he did in his four seasons at Army. And, although he's been burned a few times in drills, for the most part Toth is proving to be a quick learner as his pass blocking skills.
Watching film from yesterday's practices, Miami (FL) end Chad Thomas here with one of the best rushes I saw against Army OT Brett Toth pic.twitter.com/4xC86qfsIM

— Shawn Zobel (@ShawnZobel) January 24, 2018
Toth won't let plays like the one above set him back and he credits his time at Army for that, "Most of my strengths come from where I went – West Point, as an institution. The discipline the drive to get your goals – don't let setbacks really (negatively) work on you."
New Paltz graduate & NFL Network draft analyst Charles Davis breaks down #ArmyFootball tackle Brett Toth pic.twitter.com/ew4PiooupL

— Sal Interdonato (@salinterdonato) January 24, 2018
As for Toth's military commitment and how that might impact his NFL career John Schmeelk at Giants.com writes that, "Toth hopes to use the 60 days of leave graduates from West Point are granted after commencement to attend offseason activities for whatever teams selects him."
For a short time the Pro Sports Policy allowed athletes from our three government-funded military schools to bypass their obligation if they signed a professional sports contract.  But, the ruling was rescinded by the Department of Defense a year ago. You might recall Air Force wide receiver Jalen Robinette was expecting to be drafted on Day 3 of the 2017 NFL draft, but was called on draft day with the news his pro career would have to wait two years.
Some twitter draftniks have speculated that Toth could become a Day 2 draft pick, but that's unlikely unless the DOD does an about-face on their Pro Sports Policy. More likely is that Toth will be a Day 3 pick and become a future combat lineman for a lucky team.
Senior Bowl – Focus On Chicago Bears Potential Prospect Alex Cappa
Aldo Gandia
Among my career highlights I have produced two films while in high school that received nationwide attention; leaned out of a helicopter over the Gulf of Suez at the age of 20 to shoot movies of oil rigs; won an Emmy award for a sports special and another for a kid's fitness show; and led a team of very talented creative professionals to produce break-through corporate communications.
---
---