Scouting LSU Safety Jamal Adams
by Danny Shimon | February 23, 2017 8:51 pm
One of the strongest position groups in the 2017 NFL Draft is at safety. If the prospects live to expectations, there should be at least a few players who will go on to have long successful NFL careers.
Sitting atop of that list is LSU safety Jamal Adams who heads into the pre-draft process as the top-rated safety on many teams' boards. After posting back-to-back 60 plus tackle seasons for LSU as a freshman and sophomore, Adams entered his second year as a starter at safety for the Tigers in 2016,
Adams, whose father was a former first-round pick of the New York Giants, was voted a team captain. He was a leader of a defensive unit that surrendered only 16 touchdowns all season, and finished top ten in the nation in total defense. In what turned out to be his final season in Baton Rouge, Adams posted 76 tackles, with 7.5 going for a loss to go along with one interception. After the season the honors poured in including being named a First Team All-America and First Team All-SEC in 2016.
Here is my scouting report on LSU Safety Jamal Adams: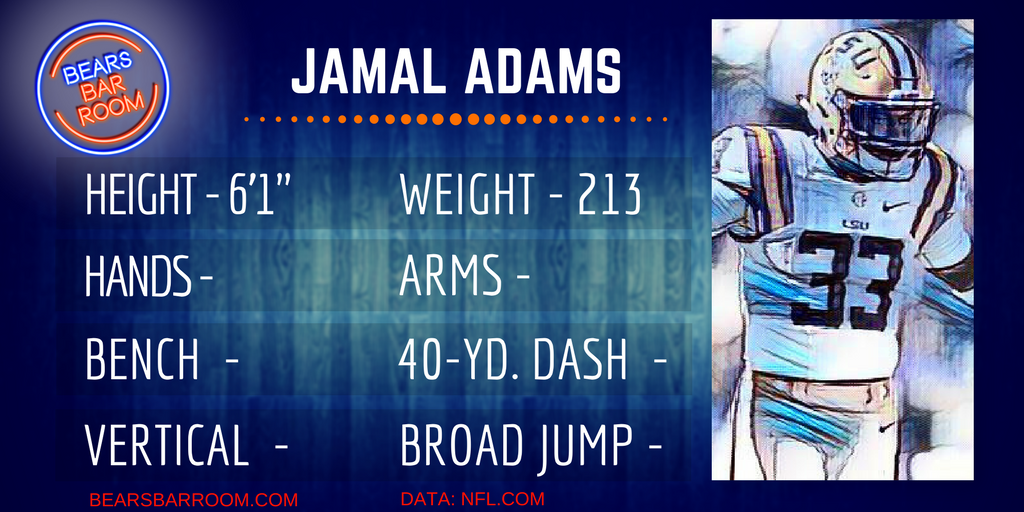 Strengths:
Adams is a well-built physical safety with good speed and strength who excels at or near the line of scrimmage. Adams possesses good size with long arms, and is highly athletic. He has good instincts as he can quickly diagnose what the offense is attempting to run, and will quickly attack it closing in with an outstanding burst.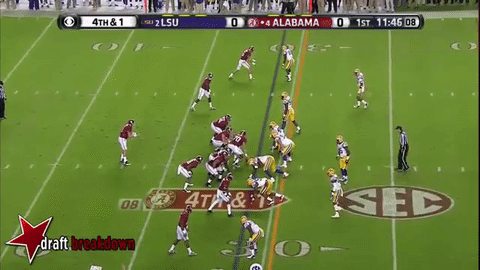 [1]
He is an aggressive run defender able to chase down ball carriers and make plays sideline-to-sideline, delivering explosive hits with terrific timing, and anticipation. He provides a physical presence in the middle of the field and at the second and third levels of a defensive unit.
He can flatten off the edge and chase down a ball carrier from the backside, or come downhill to set a hard edge and funnel the action back inside. With his ability to wrap up and tackle ball carriers at or near the line of scrimmage, Adams can give the opposing offense the impression that there is an extra linebacker on the field.
While in coverage, he is solid as an off-coverage safety quick to diagnose then plant-and-drive downhill with quickness to wrap up, and secure the tackle. With his speed, he displays good range with the ability to go from inside the hash marks to either sideline and provide over-the top help. He can cover tight ends in the slot and has no qualms roughing them up at the top of their routes.
Weakness:
Adams aggressiveness out on the field can lead to him taking bad angles while in pursuit or when looking to close in on a ball carrier which led to missed tackles and an inability to finish. Those bad angles also allowed runners to separate from him or easily turn the corner and head up field.
In coverage, Adams does not appear to make many plays on the ball. Finishing his career with only 5 interceptions (4 in 2015) and 14 passes defensed in 37 games with 26 starts.
Realistic Expectations:
One of the more highly-touted prospects in the entire draft Adams could be the first safety to be drafted in the top-10 since Eric Berry was selected fifth overall by the Kansas City Chiefs back in 2010.
Overall, Adams projects as more of an in-the-box safety who is versatile enough to drop back into coverage and help defend the back end of the defense. When assessing his instincts, size, and aggressive nature it's indisputable there are not many defensive secondary prospects who look more NFL ready than Adams. He plays with a swagger and confidence that energize his teammates and provides a presence to the back-half of the defense.
Adams can be a difference-maker on a defensive unit looking to shore-up one of their safety positions. His ability to play both the run and pass, along with special teams, will allow him to see action early on as a rookie and develop into a four-down player.
How Adams Impacts the Bears:
In drafting Jamal Adams, the Bears would shore a safety position that has been a revolving door since Mike Brown left the team back in 2008. They would get a physical player who will come down support the run and provide a presence in the their secondary. Adams would also help cover tight ends and offer over-the-top support on the defenses back-half. Adams would provide defensive coordinator Vic Fangio a fast-athletic safety with instincts and explosive play-making ability that could be used at all three levels of the defense.
Improving the Chicago secondary, to go along with an underrated and improving front seven, would go a long way in helping the Bears get more wins next season.
Endnotes:
[Image]: http://gph.is/2eK5Jpr
Source URL: http://bearsbarroom.com/scouting-lsu-safety-jamal-adams/
---