Scouting Alabama Defensive Lineman Jonathan Allen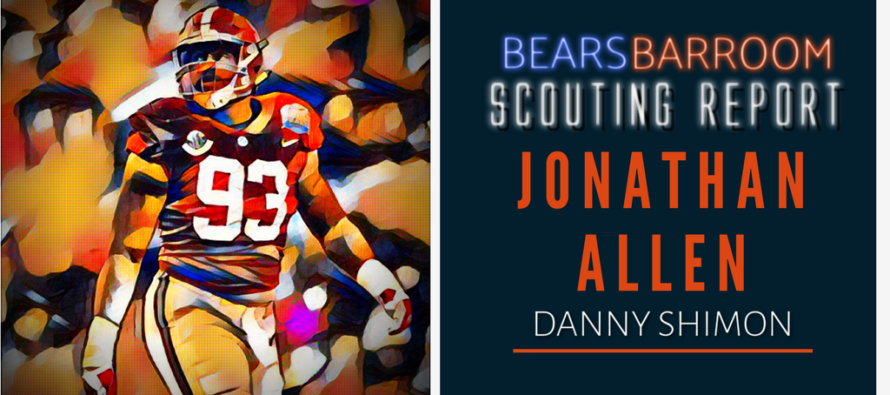 Danny Shimon continues his series of scouting potential players the Chicago Bears can draft with the overall third pick of the 2017 NFL Draft.
A former five-star recruit, and 2012 Virginia Football Player of the Year, Jonathan Allen has been one of the linchpins up front for Nick Saban's Alabama Crimson Tide defense the last couple of seasons.
In his final campaign in Tuscaloosa, Allen was named SEC Defense Player Of The Year and a unanimous All-America after recording:
16 Tackles For Losses
15 Quarterback Hits
10.5 sacks
3 forced fumbles
For his career, Allen finished with 28.5 sacks which places him second all-time in Alabama's school record books behind Derrick Thomas.
Heading into the 2017 NFL Draft Allen is one of the more highly regarded  defensive prospects and is being pegged as one of the handful of impact players who will contribute immediately as a rookie.
Here is my scouting report on Alabama Defensive Lineman Jonathan Allen:
Strengths:
Possesses solid size, with a firm build, and good arm length. Sound technician in terms of hand use. Possesses the instincts to quickly locate the ball, along with the strength to hold his ground and dominate at the point-of-attack. He is a thicker-bodied defensive end who is versatile and can slide inside to play tackle and still be effective. He has strong hands and can stack and shed blockers at the LOS or 2-Gap. Able to extend his arms and deliver a strong punch into the offensive lineman's chest knocking them back and get them retreating.
Follow Alabama's Pro-Day Coverage at https://t.co/zMjmkfzH8h! Jonathan Allen out here puttin in work https://t.co/k4GZDOGYJS pic.twitter.com/IRI9CPICHb

— BamaInsider.com (@bamainsider) March 8, 2017
As a pass rusher Allen will use an array of pass rush moves (like a swim, rip, or straight bull rush) to collapse the pocket or prompt the quarterback to shuffle his feet causing him to delay releasing the ball. Allen is also very good at running games or stunts up front with his defensive line mates, and can loop around the outside to come in and get to the quarterback.
Allen is just as effective pass rushing from the inside as a defensive tackle, utilizing his quickness and strength to eat up blockers (drawing double-teams) or split a center and guard combo block to knife through to the quarterback.
Plays with a nonstop motor hustling through the whistle. Very good production in one of college football's better conferences facing some of the nation's better athletes.
Weakness:
Is not a quick-twitch athlete and does not possess an elite first step off the edge. Lacks lateral agility to make many plays outside the tackle box. Demonstrates just adequate counter rush moves to offset blocking after initial pass rush is thwarted. History of injuries, had labral tears in both shoulders. At the Combine it was reported by NFL Insider Ian Rapoport that Allen has mild arthritis in both shoulders. Allen talked with reporters about the condition:
"The shoulder feels good. Every doctor said if there's a problem, it's after football, way after football. I have no concerns with it at all… They said I have some arthritis in my left shoulder. It's not really a problem now, but it might be a problem 15, 20 years down the road so I'm not worried about that right now. I'm worried about playing good for whichever team I go to."
Realistic Expectations:
Overall, Allen projects as a starting defensive tackle in the NFL. He possesses an outstanding combination of instincts and strength, projecting as a very good run defender. His ability to use his hands to disengage coupled with the variety of pass rush moves he employs, along with his competitive toughness and nonstop motor will allow him to generate a pass rush up the middle and collapse the pocket. While certainly capable of lining up as a base end, Allen does not possess the elite play speed or first step quickness to be an effective pass rushing defensive end. The combine physical raised some red flags regarding past shoulder injuries. So, his medical history will need to be thoroughly checked and cleared prior to the draft.
How Allen Impacts the Bears:
For the Bears Jonathan Allen would line up as a 5-technique defensive end and solidify a defensive line that would also include Akiem Hicks, and Eddie Goldman. While Allen does not project to be a consistent double-digit sack artist he would add more juice to the Bears pass rush upfront with his play strength and ability to rush the passer, helping to collapse the pocket.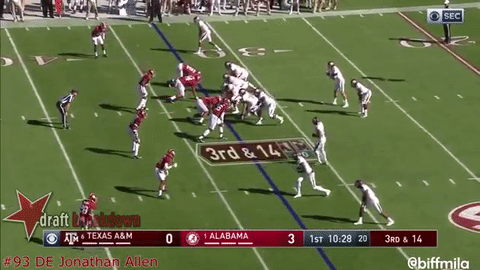 Allen does not possess the prototypical 3-4 defensive end size and that gives me pause when projecting him in the Bears scheme. While strong at the Point-Of-Attack Allen can get engulfed by double-teams if he is not protected by his defensive line mates. However, defensive coordinator Vic Fangio has utilized similar sized ends in San Francisco with the likes of Justin Smith and Ray McDonald. Both former Niners were in the 6'3" – 6'4" range and weighed around 270 – 280 pounds which is similar to Allen.
Danny Shimon
NFL Draft Columnist for http://Todayspigskin.com NFL writer for National Football post and NFCNBarroom
---
---