Reaction To Ryan Pace Trade For Trubisky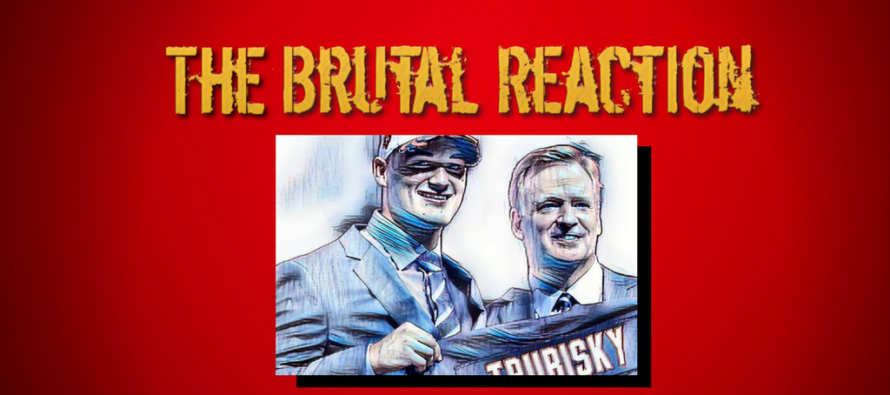 Updated with a Heath Evans comment 4/29 at 4:13pm CST
When the announcement came that Chicago Bears general manager Ryan Pace traded four draft picks to move up one slot for Mitchell Trubisky the sports world freaked. I myself went through a bizarre set of feelings. I always want to be fair to the Bears organization, but this was too shocking. Trading so many draft assets, in a draft loaded with talent, seemed against everything Pace has preached. So, I did what came instinctively for me… I made a video and illustrated my feelings with pictures.
I really didn't do seven shots. (Not in that short of a time span.) The video was meant to bring you a laugh and express my shock, bewilderment and anger.
The anger was stoked by the immediate trolling by practically all sides.  The Bears made the trade with the San Francisco 49ers. So what do they do. They trolled us.
Following a trade with the Bears, the #49ers selected Stanford DL Solomon Thomas with the 3rd overall pick.

📰 https://t.co/JuCLvGgtTn pic.twitter.com/Mr4QO3JAkP

— San Francisco 49ers (@49ers) April 28, 2017
Bears fans were angry. Some reasonably so…
Ryan Pace: "Trubisky>Watson, 2 3rd rounders and a 4th rounder." That is a rough take. Of course, hindsight could prove otherwise. But…

— Craig Dudley (@cdudley90) April 28, 2017

some not…
@TheBearsWire Pace only picked Trubisky because he's white. Watson is way more qualified but Pace didn't want a Black man to be the face of his franchise

— sean rogers (@fatsrogers) April 28, 2017
Even more than 24 hours later, Trubisky was getting a rude greeting from Chicago sports fans and people from coast to coast (deservedly) bad mouthed Bears fans.
If you boo Mitchell Trubisky at the Bulls game one day after he goes No. 2 in the NFL Draft, then you are an asshole.

— Jesse Kramer (@Jesse_Kramer) April 29, 2017
I liked a @YouTube video https://t.co/dMggCNs2gd Bulls Fans Boo Mitchell Trubisky! Celtics Win 4 Straight! Celtics Bulls Game 6

— [Tony's #1 Fan] (@OvieKovy) April 29, 2017
chicago fans are fucking dumb, why tf would you boo trubisky!?

— irv (@FuccIrvin) April 29, 2017
The instant reaction from the national media was not favorable. At ESPN.com, Bill Barnwell wrote that there's almost no precedent of a player so inexperienced turning into a franchise quarterback.
"… virtually every future Pro Bowl quarterback wins his college job early in his career and starts for a few years before leaving for the NFL. Most first-round quarterbacks start 30-plus games, and even the ones who leave after a couple of seasons start 20-plus contests before hitting the pros."
Alex Kay at Forbes.com hit the Bears for what he perceived was overpaying for Trubisky.
"… the real value of this swap lies in the value of the extra picks the 49ers picked up for their troubles. According to a common draft-pick value chart that many NFL GMs utilize, the Bears gave up an estimated 2,782 points of value in exchange for 2,600. San Francisco improved the draft capital of the No. 2 pick by around 7%. For moving back a single slot and still getting a player that the franchise more than likely coveted…"

20 minutes after the trade was announced Steven Ruiz of For The Win at USA Today.com proclaimed it the worst trade of the 2017 draft:
At best, he turns into a Ryan Tannehill-level quarterback. At worst, he's Blake Bortles. You don't give up that much draft capital for low ceiling/low floor prospect, no matter what position he plays.
Michael Wilbon (yeah, I hate him, too) went off on his Pardon The Interruption show. I couldn't find the clip, but here is Wilbon on Rich Eisen's podcast practically repeating his PTI rant without all of the histrionics.
How did #Bears selection of Mitchell Trubisky go over in Chicago? We dialed up @RealMikeWilbon for Windy City perspective and it's perfect. pic.twitter.com/0VJ6nOX09u

— Rich Eisen Show (@RichEisenShow) April 28, 2017
Adam Rank of NFL Network posted this rant…
Then there was this comment by Heath Evans that got personal…
Wow. Heath Evans on #Bears QB Mitchell Trubisky

"I question whether he'll ever turn into anything that results in a starting QB…". Listen pic.twitter.com/9BATilfsrX

— Eric Galko (@OptimumScouting) April 29, 2017
I could share hundreds of photos, audio and video clips that demonstrate how people felt about Ryan Pace's decision.
Even Ryan Pace's wikipedia page was altered to reflect discontent.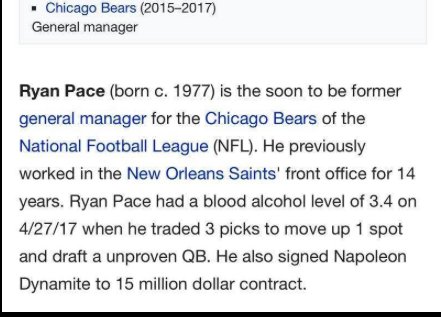 In moments like this I've learned it is best to let things sink in before making an evaluation for the record. Evidence of that is what I posted above. How stupid are some of those comments.
I'm collecting my thoughts and will have them ready for you very soon.
In this post, I want to leave you with this…
Mitch Trubisky's coach had a heartfelt message for him after he was drafted to the Bears second overall. #NFLDraft pic.twitter.com/URg2YTufhB

— LeadingNFL ™ (@LeadingNFL) April 28, 2017
Aldo Gandia
Among my career highlights I have produced two films while in high school that received nationwide attention; leaned out of a helicopter over the Gulf of Suez at the age of 20 to shoot movies of oil rigs; won an Emmy award for a sports special and another for a kid's fitness show; and led a team of very talented creative professionals to produce break-through corporate communications.
---
---