Ryan Pace 2015 Draft Do-Overs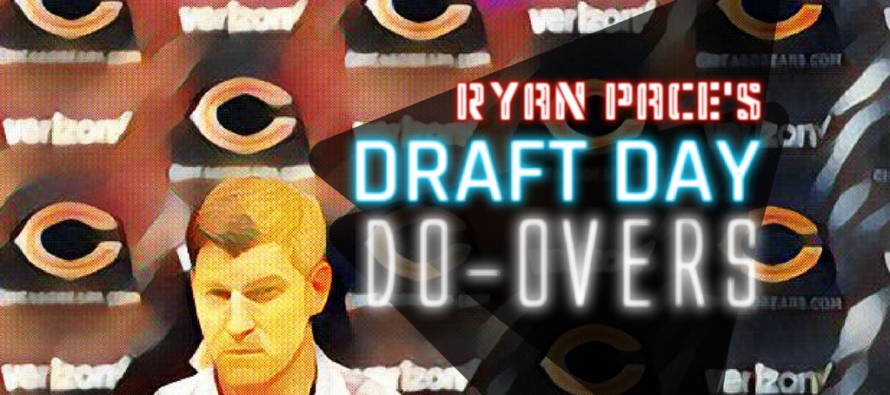 Sometimes when I can't sleep I'll think about things I wish I could do over. The boss I should have said, "take this job and shove it," the woman whose phone number I should have never asked for or sold the stock that has more than doubled its price in the year after.
Do-overs.
All of us wish we were granted a few.
Those people that say, "never look back; just look forward," are full of shit. We all do it. Hopefully we learn from our mistakes and don't dwell on them too much. And, sometimes it fun.
I promise not to dwell on Chicago Bears general manager Ryan Pace's draft do-overs and hopefully have a little fun.
2015 NFL Draft Do-Overs
Just 114 days into the job Pace was conducting his first draft. He inherited a team that had a whopping talent deficiency on defense, malcontents in the locker room, and a quarterback who was benched in favor of Jimmy Clausen in the 15th game of the season and would have remained there for the final game of the season had his replacement not suffered a season ending injury.
Additionally, Pace had brought in Vic Fangio who was going to transform the defense from a 4-3 Cover-2 to a 3-4, also known as a "30-front" D. Personnel wise the Bears were not nearly equipped for the conversion.
A lot had to be done and, except for EDGE rusher Pernell McPee, Pace didn't really help himself much with his new free-agent signings.
Pace had stated from his first news conference that the draft would be the main vehicle for player acquisition. Here's who he drafted and whom we think he should have chosen with the immense help of 20-20 hindsight.
1st Round – Kevin White, WR, West Virginia
Do-Over: Vic Beasley, OLB, Clemson
Perhaps the signing of McPhee was the determining factor of choosing White over Beasley. Pace was not going to risk having Brandon Marshall infect his locker room and therefore sought an immediate replacement. Imagine if Pace had signed Jeremy Maclin instead of McPhee (and Eddie Royal!). The Bears would have started Alshon Jeffery and Maclin and had Beasley laying the seeds for a successful sack career instead of the injury riddled veteran McPhee.
2nd Round – Eddie Goldman, DT, Florida State
Do-Over: None
Hard to argue with the selection of Goldman. Going into 2017, Goldman could make a leap into Pro Bowl-caliber nose tackle.
3rd Round – Hroniss Grasu, C, Oregon
Do-Over: David Johnson, RB, Northern Iowa
Pace was determined to reshape the offensive line to a more athletic group. Grasu, though, was far from ready for NFL action when he was thrust into a starter's role because of injury. His follow-up season was ruined be a season-ending injury. The jury is out on whether Grasu can be a viable NFL starter. Meanwhile, Johnson has become one of the NFL's best running backs. Last season he led the NFL with 2,118 all-purpose yards.
4th Round – Jeremy Langford, RB, Michigan St.
Do-Over: Stefan Diggs, WR, Northern Iowa
Langford showed promise in his rookie season with the kind of speed out of the backfield the Bears had not seen in years. But, Langford breaks tackles as often as Pee Wee Herman wins body building championships. Diggs had a solid rookie season and last year left no doubt that he's legit. He finished 2016 with 84 catches, 903 yards and three touchdowns in 14 games
5th Round – Adrian Amos, S, Michigan St.
Do-Over: La'el Collins, OL, Louisiana St.
Amos has made Pace proud with his play, but Collins is a special player who would have certainly been a first round choice had he not been linked to a double homicide a few days before the draft. Collins was innocent and, according to MMQB.com, those who spoke with him prior to the draft could detect it after talking to the distraught man.
Collins' representation, Chicago-based Priority Sports and Entertainment, didn't do the Bears any favors by threatening to withhold their client from playing in 2015 if Collins was drafted after the third round. But, Pace should have called their bluff. Collins' agent admitted it was a ploy to get his client to go un-drafted. After the third round, salary analytics show an un-drafted free agent can make more money after his rookie year, if he plays at a high level, which was certainly expected of Collins.
6th Round – Tayo Fabuluje, OT, TCU
Do-Over: David Andrews, C, Georgia
Fabuluje was a flat out bust and Andrews has had the success Pace expected of Grasu. Andrews is every bit as athletic as Grasu and arguably more football smart (remember Grasu couldn't master the playbook in his rookie season). There were concerns about Andrews small physical frame, but he earned an offseason award for his strength and conditioning and started every game as Tom Brady's center in 2016.
Conclusion
This exercise only proves how difficult it is to draft. There are a lot more player personnel failures than successes. It also begs the question why didn't Pace address defense with his first pick as Bears general manager. The Bears were coming off back-to-back seasons of historically bad defenses.
Football is won up front. Beasley would have been a purer building block for a young GM.
If scouts weren't sold on Beasley then, at least, they should have looked at Marcus Peters. The cornerback has been a playmaking defender, one the Bears have lacked since Peanut Tillman's prime.
In round three, I suggested running back Johnson over Grasu, but would not have minded seeing Danielle Hunter who ended up going to the division rival Minnesota Vikings. Chosen 17 picks after Grasu, Hunter has 18.5 sacks in his first two seasons as a pro and he's not even a starter.
Of the Bears six picks, four were offensive players… and none a quarterback from a GM who initially said it's a good idea to draft a quarterback every year.
The good news is that Pace's 2016 draft was stellar. The headline, though, is that Pace needs to follow that draft with one that's even better given the draft capital he possesses. If he doesn't, George McCaskey might be thinking about do-overs, too.
Our Latest Podcast is a Fast=Paced 30 Minute Look At Some Draft Day Trade Scenarios
Aldo Gandia
Among my career highlights I have produced two films while in high school that received nationwide attention; leaned out of a helicopter over the Gulf of Suez at the age of 20 to shoot movies of oil rigs; won an Emmy award for a sports special and another for a kid's fitness show; and led a team of very talented creative professionals to produce break-through corporate communications.
---
---