Rambling Ruminations of a Bears Fan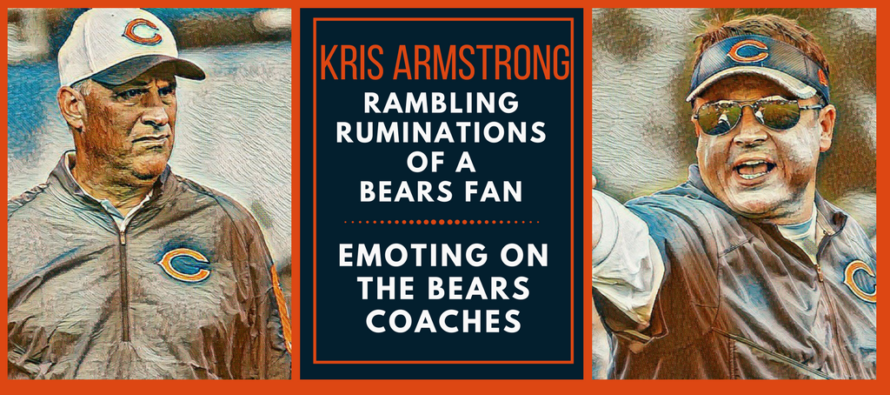 I'm a reasonably well-informed fan and I've been giving thought to a few ideas since the debut of Trubisky. Thought he played well, made some really elite (yes, I said it) throws and the one doozie that was picked. Trubisky looks like an NFL quarterback. Hope springs eternal.
Most of my ideas though, are about the staff. The one thing Pace got a lot of credit upon arrival was for assembling a seasoned, winning staff. So, let's get started with a short review.
Special teams coach Jeff Rodgers is doing okay I guess this year. Punt and kickoff coverage both have been good. Megapunt is finally playing well. Could we find a new FG kicker please and thank you? Granted, I was ready for Robbie to leave after blowing a couple of games, but he's been the proverbial Good as Gould since leaving. Barth leaves a lot to be desired, one just doesn't get that "clutch" vibe from him. An upgrade at the position is required.
Does anyone else question Vic Fangio as defensive coordinator? I find him to be totally overrated. So much of his rep is built on what he did with the Niners but good grief, you'd have to be Tuckeresque to not have a good D with those players. We do have a top ten D this year, and he should get credit. But why can we not stop 3rd and long? Entering Sunday's action the Bears are ranked 25th in allowing 3rd down conversions. Unacceptable. Why do we give up ridiculous explosive plays? Why can we not create turnovers? Why, for the love of Mike, can we not cover tight ends? Stop dropping Leonard Floyd into coverage so much, let him rush the passer FFS. You can't count on no-knees Pernell McPhee and Sam Acho to get home. As an aside, I would like to point out, and I may do this in every article, that Kyle Fuller has been ballin', as I predicted this off-season when everyone was yelling BUST. Suck it, haters.
Dowell Loggains? I'm on the fence. I think he has the potential to be a quality coordinator, but I've never seen this team get into a groove. Instead what I see are randomly excellent play calls. Poor play, inopportune penalties, a general malaise. Is it due to the predictable nature of the calls? Oh, look – three tight ends, I think they may run the ball… Or perhaps he just has no rhythm as a play caller. I've been really puzzled by their personnel packages when clearly, Howard should be in the game and getting the ball. My goodness, you have Jordan Howard in the backfield, Dowell. You've got to ride what brung ya my man. Also, stop calling Tarik Cohen's number so much. The kid shouldn't get more than 15 touches a game or you're going to break our favorite new toy.
Last and certainly least, Foxy. The Barroom staff and barflies agree that John Fox needs to be fired sooner rather than later. Ok, he's a football guy and has the respect of his players. But the team is 10-27 under him! This is not and has not been, an untalented team. What it has been though, is a poorly coached team. There have been bad personnel decisions, abysmal play calls, poor clock management and the list goes on. I damn near blew a gasket during the Minnesota game when they had a delay of game penalty after a timeout! WTF? A high school coach should be fired if that happened, but Foxy was yukking it up on the sideline. My goodness man, you should have a had a play called and ready to go even if you wanted to try and fake them out first. That, by the way, was stupid the Vikes aren't the Washington Generals and you had a rookie quarterback playing his first game. Grrr. Fox's team has not been prepared to play and they have been outcoached at almost every turn. While all of Bear Fandom was relieved to see Trestman get the boot, Fox has been a downgrade from even those dismal seasons. I expected him to come in and bring professionalism and victories to this club and I was wrong. Wrong, wrong, so very wrong.
So, what's next? This season will play out and we will be lucky to win six games at the rate we're going. If we're not going to get wins, then we must see player development and I absolutely do not expect to see much of that under this staff. The coaching and training staffs need to be let go on the day after the regular season ends – period. Who's the next coach? No idea. But Aldo, Shayne & Phil have some ideas about that, so be sure to follow them on Twitter, subscribe to the podcasts and read analysis and commentary here at the Barroom site. We are in this together, Bears Fam. Keep the faith and Bear Down!
Kris Armstrong
Kris is an ex-jock who became despondent at an early age when she learned that she could not, in fact, become Dick Butkus. She is passionate about Da Beloved, Soroptimist International and her bemused and patient husband. Catch her on Twitter @krisarmstrong1
---
---
Related Articles
Before the kick-off to the Chicago Bears first 2017 pre-season game at Soldier Field against the Denver Broncos there were
SKOL Brew No. 8 — Poking at the Barkeeper's Nerves Vikings Fanalysts Austin Belisle (@austincbelisle) Robert Reidell (@RobertReidellBT) Austin
(Third in a series) Voting for the NFL Pro Bowl has come to an end with official rosters set to be announced on