The Great Rookie QB debate.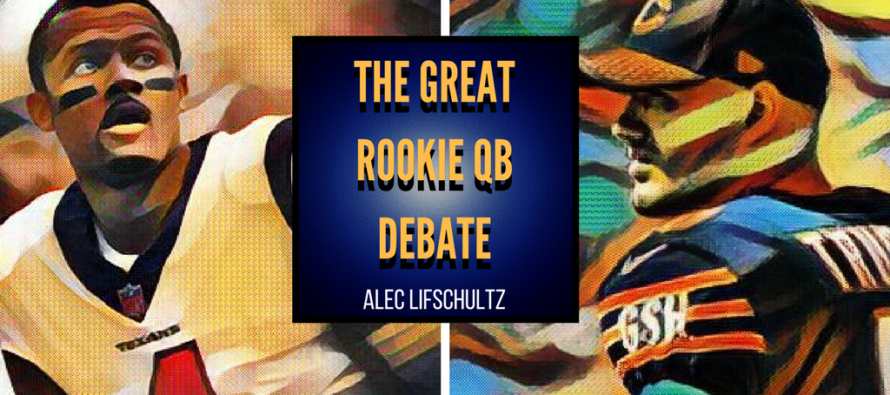 (This post was written before Thursday's news that Deshaun Watson tore his ACL in practice and was likely to have season ending surgery.)
Hello Bears fans,
Sunday's match up with the New Orleans Saints yielded an interesting outcome. Our beloved Chicago Bears fell just short to the Saints 20-12. The defense showed up as always making great plays and holding the Saints to just two touchdown scores for the game. Drew Brees was nullified to zero touchdown passes.
But, the Bears continue to show mental errors. The broken tackle on Saints wide receiver Brandon Coleman by Bears cornerback Bryce Callahan resulted in a 54 yard gain. That cannot happen. Cornerback Kyle Fuller lining up offsides on the field goal attempt which resulted in the Saints getting a first down and ultimately scoring a touchdown… cannot happen. Kicker Connor Barth continues to struggle, missing a crucial field goal in the first half.  Can. Not. Happen.
Nothing was more disturbing though that he injury suffered by tight end Zach Miller on what was surely a touchdown grab from Mitch Trubisky. (Caution if you are squeamish, the video of the injury below may not be suitable for you.)
The injury is nasty but how is this not a catch by Zach Miller? Hoping the best for his leg pic.twitter.com/cw5XgjlymO

— Joe Sports (@IamJoeSports) October 29, 2017
Mitch threw an absolute dime to Miller who secured the ball despite the horrific injury. The video clearly shows him holding on to the football with one hand and the other holding his knee. The NFL officials decided that he did not hold on to the football long enough for it to be considered a touchdown which I think is absolutely insane. (This is the NFL's official reaction)
NFL officiating head Alberto Riveron explains overturn of TD by #Bears TE Zach Miller. https://t.co/Z7ucnR8y31

— Brad Biggs (@BradBiggs) November 1, 2017
That's complete bull$&%*.
Despite the hardships during the game Trubisky had an opportunity to lead the Bears down the field to tie the game late in the 4th quarter. But, he ended up throwing his second interception of his career on a pass to wide receiver Tre McBride on a slant route that is overthrown.
#Saints first round pick CB Marshon Lattimore intercepts #Bears first round pick QB Mitch Trubisky to end the game pic.twitter.com/cljqQHquws

— Dov Kleiman (@NFL_DovKleiman) October 29, 2017
The most important and scrutinized position in all of sports is the quarterback position in the NFL. A great quarterback can hide a lot of flaws on a roster, like Aaron Rodgers has done for years with the Green Bay Packers. On the flip side, horrible or subpar quarterback play can hinder a talented roster from winning games like Brock Osweiler in 2016 on the Houston Texans. The best way to acquire a talented and franchise-changing quarterback is through the NFL draft. Some teams are fortunate enough to make trades to get quarterbacks that end up panning out, but it usually comes at a great price. In my opinion the greatest quarterback draft class was in 1983. Quarterbacks John Elway, Jim Kelly, and Dan Marino were all taken in the first round and all three had Hall of Fame careers.
In the 2017 NFL Draft three quarterbacks were not only taken in the first round, but all of them were acquired as a result of a trade. The Chicago Bears traded up to take Mitchell Trubisky. The Kansas City Chiefs traded up to take Patrick Mahomes. The Houston Texans traded up to take Deshaun Watson.
Draft Dr. Phil and myself were having discussions during the draft process saying the Bears needed to go quarterback. A lot of fans and analysts believed the Chicago Bears were going to draft Safety Jamal Adams out of LSU. although safety play wasn't exceptional for the Chicago Bears in years, the quarterback position is of the upmost importance. Rarely does an organization get the opportunity to take the best available quarterback in a draft and they shouldn't pass it up. I am on the record of wanting the Chicago Bears to draft quarterback Deshaun Watson out of Clemson number 3 overall.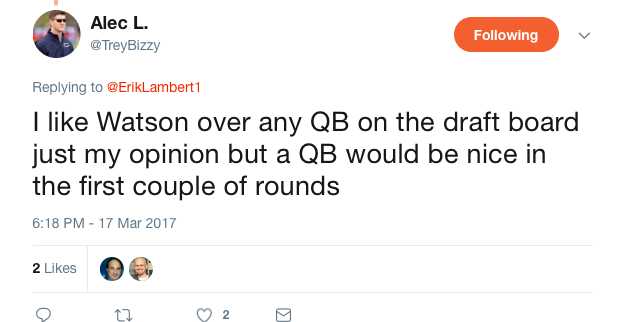 The kid has the intangibles and the experience that you look for in a starting quarterback for your team. He's taken the Clemson Tigers to two consecutive college football national championship games and played against Alabama who is always a challenge defensively.
The last few weeks I've seen fans and NFL analysts alike comparing Chicago Bears quarterback Mitch Trubisky and Houston Texans quarterback Deshaun Watson. It's understandable for quarterbacks drafted in the first round to be compared to each other. Peyton Manning and Ryan Leaf were both taken number one and number two overrall in the 1998 NFL Draft. We all know how that story went with Peyton Manning being arguably one of the greatest quarterbacks of all time and Ryan Leaf being arguably one of the biggest draft busts of all time. Andrew Luck and Robert Griffin III were the first two players taken in the 2012 NFL draft. Griffin suffered several injuries after his first season being awarded the offensive rookie of the year. He was never the same player after a promising start to his NFL career. Andrew Luck has been solid when on the field, but as of lately he's been injured and not playing. Luck still has talent and the ability to make himself stand out as a quarterback when healthy. Jameis Winston and Marcus Mariota were the first two taken in the 2015 NFL draft. Both Winston and Mariota have shown promise in their first three years as professional quarterbacks. Each year getting better and better despite their struggles as a rookies. More recently Jared Goff and Carson Wentz were the first two players drafted in the 2016 NFL draft. Goff struggled heavily his first season despite being on the bench for the first 8 games. He didn't have the weapons or personnel to succeed as a rookie. The coaching staff didn't do him any favors and hindered him from showing his ability. Carson Wentz started right out the gate and had his bumps and bruises as a rookie which is expected for most rookies. In 2017 quarterback Jared Goff and quarterback Carson Wentz have shown tremendous growth in just one offseason. The Eagles and Rams were wise to build around their young play callers with coaching staff changes and player acquisitions.
The Houston Texans are built to win now both player personnel-wise and coaching-staff wise. On offense they have arguably a top five wide receiver in DeAndre Hopkins. The all pro wide receiver aka Nuk was putting up tremendous numbers with below-average quarterbacks throwing him the football his whole career. This past Sunday against the Seattle Seahawks with Richard Sherman covering him, Hopkins had eight receptions for 224 yards and touchdown. Opposite the All Pro wide receiver is former first round wide receiver Will Fuller. I've watched Fuller throughout his college career at Notre Dame and knew he would be tremendous weapon for any team who drafted him. Fuller yields 4.3 speed at the wide receiver position and good route running skills which proves to be too much for most cornerbacks to cover. On Sunday, against the Seattle Seahawks wide receiver Will Fuller had five receptions for 125 yards and 2 toudowns. Running back Lamar Miller is more than capable running between the tackles or receiving out of the backfield for the Texans. He was an ascending player with the Miami Dolphins and came over to the Houston Texans a couple seasons ago. Texans Head coach Bill O'Brien is an excellent offensive coach. He was the offensive coordinator for the New England Patriots and went to the Super Bowl with them in 2011. He was an understudy of Bill Belichick who is considered the greatest NFL coach of all time. The combination of these things made transition from college to the NFL for Deshaun Watson easier. His targets never really have a difficult time getting open, and his coach is capable of game planning against opponents and making in game adjustments to help the team out.
For me, it was easy to see that Watson was ready to contribute immediately because of his experience. Put him on a team like the Texans and the results are what we see. Draft Dr. Phil and I were on the same page. Not that we didn't like Trubisky, but it was obvious to us that Watson was special
Remember when you told me that Deshaun Watson didn't have prototypical size & Trubisky did? Yeah @BearsHourLive pic.twitter.com/qsewQGAgTs

— Draft Dr. Phil (@FulphilO) March 2, 2017
Mitch Trubisky is currently playing with practice squad wide receivers. They get open at times, but not with the frequency as the Texans wideouts. Jordan Howard is the best thing going for the Bears offensively and that's not changing anytime soon.
Despite the hinderances at the wide out position, Mitch has shown the ability to make plays and learn from mistakes. A rookie quarterback showing that he is poised to make plays despite a depleted roster is what you want and need to see from him. John Fox handicapped Mitch since week 1 of the NFL season by making him start the season on the bench for the inferior Mike Glennon.
When Mitch was named the starter, head coach John Fox and offensive coordinator Dowell Loggains simplified the offense and called very basic, watered down plays. This approach is hindering the rookie from growing as a player by handcuffing him and not setting him free to do what he does best.
Trubisky is a very accurate thrower of the football on the run. He's shown this accuracy with big throws against the Baltimore Ravens in the biggest moments of the game. It is abundantly clear that this coaching staff isn't developing Trubisky but blocking his growth as a quarterback. That's why it's time for them to go. I do not expect the current coaching staff to be in Chicago next season.
In conclusion, while I was a strong advocate for Watson over Trubisky, I believe before we cast judgement on the Bears choice we should wait until both players have completed three-to-five years of their careers.
Alec Lifschultz
Commercial Carpenter by day, Avid Bears fan by night and on weekends. I'm a Chicago native that has been watching the Bears since I was a kid. I enjoy going over the game film and writing and tweeting about it from my own perspective and insight. You can find Alec Lifschultz on Twitter/Instagram @TreyBizzy
---
---
Related Articles
There are two ways to winning a special, limited edition of Draft Dr. Phil's Bears Christmas parody songs. The first
The ballots went out on Tuesday over twitter on nine NFC North election items. Here are the results: The winner
Draft Dr. Phil breaks down the Chicago Bears 27-24 loss to the Detroit Lions. Horseshoes and Hand Grenades Print