The Cost of Re-Signing Kyle Fuller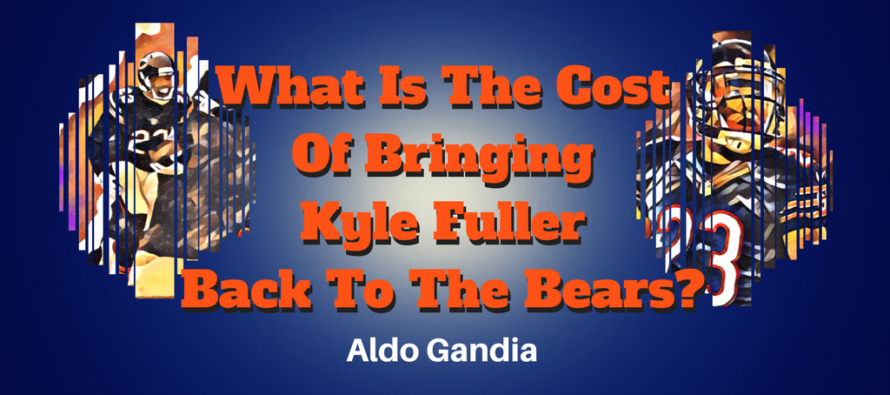 We asked you, our football smart readers, to share your opinion on whether Chicago Bears general manager Ryan Pace should re-sign Kyle Fuller. 99% of you want the cornerback to return, but 53% say you do not want Pace to overpay for the soon to be 26 year old who will enter his 5th season in the NFL.
First of several polls of #Bears free agents;
What to do about FA cornerback @kbfuller17… Fuller had 69 tackles, 22 pass break-ups and two interceptions in 2017.

— Bears Barroom (@BearsBarroom) January 16, 2018
What is fair market value for Fuller? He was tied for fourth in the passed defensed category with  Jaguars cornerback A.J. Bouye (24), but was tied for 53rd in interceptions (2). Bouye, by the way, had four more interceptions than Fuller.
Given the salary cap is estimated to see another substantial increase this year it is not inconceivable that Fuller's agent will make the case that his client deserves a deal similar to Bouye's 5 year, $67,500,000 contract .
During the financial portion of the @NFL league meetings, teams were given a 2018 salary cap projection of $174.2-178.1M, source says. It was $167M last year. The final number comes in the spring.

— Ian Rapoport (@RapSheet) December 12, 2017
According to Spotrac.com, Bouye's deal with the Jacksonville Jaguars included a $10,000,000 signing bonus, $26,000,000 guaranteed, and an average annual salary of $13,500,000.
On the surface the Bouye contract may seem like it's over Fuller's market value. But, a closer look reveals that it may not be. The Jaguars implanted a buyout clause after the second year of the deal. So after paying Bouye $27 million in his first two seasons, the remaining three years become a series of one-year deals that the Jaguars can easily get out of. That's a contract technique the Bears have used often.
Any contract near Bouye's deal will make Fuller the highest paid player on the roster, exceeding the four year $48,000,000 Akiem Hicks deal. But, Hicks has $30,000,000 guaranteed and that's a figure Pace will almost certainly try not to exceed with Fuller. In fact, I see the guaranteed dollars being the biggest hurdle in contract negotiations. Fuller's agent will want the same kind of guarantees Hicks received. Particularly because the salary cap has gone up and the player's agent will use that as leverage.
Currently, only two cornerbacks in the NFL have guaranteed dollars in their deals that are over $30,000,000. They are Josh Norman ($36m) and Stephone Gilmore ($31m). Janoris Jenkins ($28.8m) and Bouye follow.
I think a more agreeable area of guaranteed dollars is what fellow NFC North corners Darius Slay ($23.1m) and Xavier Rhodes ($22.4) both received recently. In my opinion both players have done more to warrant those types of millions, but Fuller does hold some negotiating leverage here.
On the other side, I can't help but wonder if Pace wants to award Fuller, a player he did not draft, with the most lucrative player contract since he's been the Bears GM?
On Black Monday, Pace spoke highly of Fuller and it's clear he'd like the player back:
"His preparation was outstanding. I think you can tell when a corner is prepared to play, and he can anticipate routes and things of that nature. Just a very professional approach. Very even-keeled approach. I think it started really with the way he attacked the offseason, and he had a good season because of that."
The return of Vic Fangio as defense coordinator also bolsters Fuller's stock. Just before Christmas, Fangio offered this gift of praise:
"He has helped resurrect his career, He has been available, hasn't had any injury issues, has been out there competing week to week. The best way to say it is he's rejuvenated and playing well. 

"Compared to last year, (when) you didn't see anything, (it's different). I see a more mature player, a player who wants challenges, is willing to accept challenges and is expecting more out of himself."
You may recall that Fangio was far less jolly about his cornerback a year earlier when his comments on Fuller's slow return from injury were widely construed as being critical of the player's desire to fight through injury. But, now the two appear to be on the same page and even played golf together last spring.
If Pace is unable to negotiate a deal, he will then have to decide whether to franchise tag Fuller. Last season the tag was valued at $14,212,000 for a cornerback. According to CBSSports.com, this year the tag could increase another million dollars. In 2016, Pace tagged Alshon Jeffery for a price tag of 14.600,00 million.
Pace can tag Fuller as early as February 20 and will them have almost five months to try and negotiate a longer term deal. There's also the option of placing a non-exclusive tag on Fuller which would allow the Bears five days to match any offer he might receive in the open market.
Allowing Fuller to leave Chicago will add to Pace's challenge of providing the team with a quality group of cornerbacks. Currently the roster only has Marcus Cooper (expected by many to be released after a disappointing first year with the team), the unproven Deiondre' Hall, Cra'von LeBlanc and Doran Grant – who signed a reserve/future contract on January 1st.
Pace might have a robust list of free agent cornerbacks hitting free agency in March (list of my top 13 below and it excluded the Bears' own free agents). But, the first two or three  will look for more money that I expect Fuller to receive and the next two or three will seek similar cash. After that you are really not dealing with No. 1 type CBs.
Lamarcus Joyner, Los Angeles Rams
Trumaine Johnson, Los Angeles Rams
Malcolm Butler, New England Patriots
Bashaud Breeland, Washington Redskins
E.J. Gaines, Buffalo Bills
T.J. Carrie, Oakland Raiders
Rashaan Melvin, Indianapolis Colts
Darqueze Dennard, Cincinnati Bengals
Ross Cockrell, New York Giants
Morris Claiborne, New York Jets
D.J. Hayden, Detroit Lions
Patrick Robinson, Philadelphia Eagles
Nickell Robey-Coleman, Los Angeles Rams
Aldo Gandia
Among my career highlights I have produced two films while in high school that received nationwide attention; leaned out of a helicopter over the Gulf of Suez at the age of 20 to shoot movies of oil rigs; won an Emmy award for a sports special and another for a kid's fitness show; and led a team of very talented creative professionals to produce break-through corporate communications.
---
---