A Festivus Miracle: Bears Beat Browns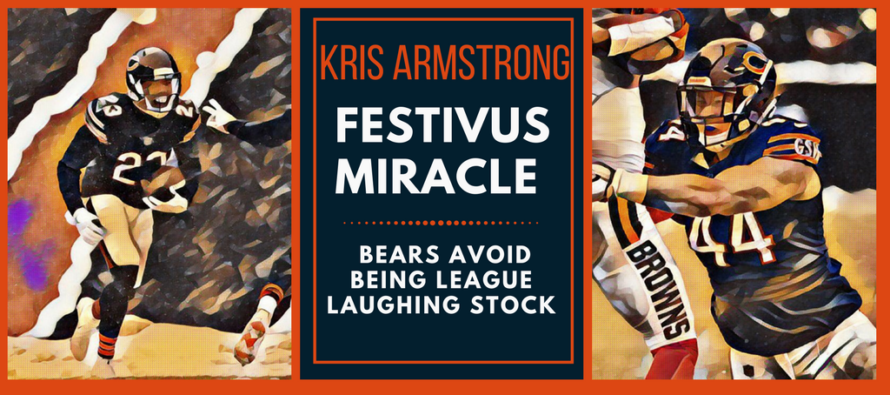 Bears Win! It's such a relief to be able to write that statement, as it's not been written enough this season. The team looked ready to play, with the quiet confidence that playing an 0-14 team brings. I'm so pleased with this victory, that there will be no airing of grievances this week. Dilly Dilly!
To say that the starting offensive line has been decimated by injury is an understatement. It's like Whack-a-mole, someone goes down and someone else pops up. They were in flux all day with injuries on top of the injuries that made Hroniss Grasu the starting center and Bradley Sowell a starting guard. I am not a fan of moving Cody Whitehair around but there wasn't much choice. And when Bobby Massie went down, I believe that there was only one other lineman available to play. They played better than I expected as the Browns front seven is not to be trifled with – although I wasn't that impressed with their inside linebacker play today. The biggest issue I noted was that Grasu seemed to have trouble with the line calls – I had high hopes for that kid, but I wouldn't waste a roster spot on him next season.
Jordan Howard is the best offensive player on the team, but he never really got started as the Browns lined up to stop the run – which proved to be not an awfully difficult thing to do as Little Dummer Boy (LDB) kept up his playcalling genius legacy with stretch plays to the short side of the field. To be fair though, he is better than Mike Tice.
The Browns showed several blitz packages which were mostly successful, but Mitch Trubisky made a few nice runs and ended up with more than forty yards on the ground. He also took a number of sacks which possibly could have been avoided if LDB had an ounce of feel for the game. Finally, LDB discovered the screen pass which 1) picked up massive yardage against the blitz and 2) slowed down the blitz. It ain't rocket science, LDB. Although, one would think that you'd be better off with Tarik Cohen in the backfield for those instead of Bennie Cunningham but what the hell do I know. On the day, the Bears had three rushing touchdowns: two from Howard and one from Trubisky. Trubisky was efficient through the air with nearly two hundred yards with no touchdowns and no picks. On the whole, it wasn't a pretty offensive effort but they got the job done.
My guy, Kyle Fuller, was balling Sunday. This summer it seemed that all of Beardom was down on the guy but I knew that he'd come back and have a good season. Browns QB DeShone Kizer threw at him but without much luck and he gifted him with a interception. Fuller also looked good in run support. The rest of the secondary played well, with Bryce Callahan and Adrian Amos both catching my eye.
The inside linebackers were steady and sturdy. Nick Kwitkoski was a sure tackler and John Timu looked good out there. Danny Trevathan brought the wood. Man, he was really popping those guys. Our outside backers were lacking though, not generating much pass rush and were adequate against the run. This is an area that must be improved during the off-season. Hicks, Goldman, Bullard and Harris were solid up front and it was nice to see Harris get more playing time as I think he's got a high ceiling and is just now reaching for it.
Special Teams had an extra point partially blocked – drink! Very lazy protection on that from Charles Leno, who got shoved back into the backfield. Otherwise, they were reasonably competent. Yawn.
On the whole, this was a John Fox kind of game, the sort of slow and steady game plan that he's built his reputation on. The problem is of course, that wins have been few and far between. You can't play the Browns every week.
A win is a win and I'll take it. Just one more week to go in this, another lost season, but I find that I'm hopeful for next year. So, Bear Down everyone and Merry Christmas!
Kris Armstrong
Kris is an ex-jock who became despondent at an early age when she learned that she could not, in fact, become Dick Butkus. She is passionate about Da Beloved, Soroptimist International and her bemused and patient husband. Catch her on Twitter @krisarmstrong1
---
---
Related Articles
(Second in a series) Voting for the NFL Pro Bowl has come to an end with official rosters set to be announced on
We continue our series of sharing media reports on the Chicago Bears. Now that the Bears coaching vacancy is filled,
Every week John Buffone answers five questions about the Chicago Bears and five regarding their upcoming opponent. All responses are