When Will Eddie Goldman Get The Praise He Deserves?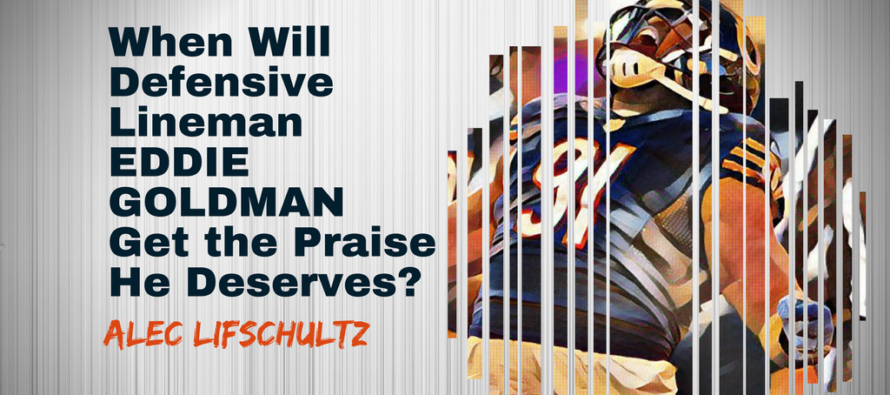 Hello Bears fans,
The team is coming off a bye week and preparing for the second match up of the season with our fierce rival, the Green Bay Packers. The Aaron Rodgers-less Packers have looked offensively challenged without him.
Guess what… it's about to get worse. The Chicago Bears' defense has been lights out only allowing two offensive touchdowns in the last 13 quarters of play. The players getting most of the notoriety are Akiem Hicks, Danny Trevathan, Eddie Jackson, Adrian Amos, and Kyle Fuller. All of them are deserving. And it bums me out that, outside of the Barroom, there is one player who is not getting the recognition he deserves for his kick-ass contributions to the defense.
Eddie Goldman was Ryan Pace's 2nd-round pick in 2015. The Florida St. product was an important choice because at the time the defense was transitioning from a 4-3 defensive front to a 3-4 and the Bears were without a player on the roster who was a true nose tackle. It's imperative when running a 3-4 defensive front that you have a disruptive nose tackle. Goldman is that and he began proving it in college.
Eddie Goldman
4th Quarter Forced Fumble
vs. Clemson
2014https://t.co/Diqc1ZVrsD #BeatClemson

— Seminole Moments (@SeminoleMoments) November 7, 2017
Goldman is a "grown man" by every meaning of the phrase. When he was first drafted he was 6'4″ tall and weighed 330 pounds. Don't let his size fool you because he moves very well for a big man and especially a nose tackle. In a 3-4 defense, the nose tackle's job is to take on the center and one or both guards to free up lanes for defensive ends and linebackers. It's no coincidence that defensive end Akiem Hicks is enjoying the best season of his career alongside a healthy Goldman. Listen to Goldman tell ChicagoBears.com how he feels about playing with Hicks.
.@EddieGoldman describes duo of him & @The_Dream99 as "a perfect balance": "We play off each other very well."

This is #BearsConfidential. pic.twitter.com/SAX0aIqtrM

— Chicago Bears (@ChicagoBears) November 5, 2017
The only thing stopping Goldman from being a Pro Bowl caliber player is health. When healthy, Goldman shows on film that he is dominant and un-blockable. His rookie season he played in 15 games and accumulated 22 tackles and 4.5 sacks. Listen to Draft Dr. Phil evaluate Goldman's play (while babysitting) in his rookie season.
Eddie Goldman doing the little things & at 330lbs shows great hustle speed & finishing power @DaBearsBeat pic.twitter.com/FijnzsCfRP

— Draft Dr. Phil (@FulphilO) October 24, 2015
When pass rushing, Goldman can't be contained by one sole blocker. He showed that here in his rookie season and a pretty sweet Kodak Bop after the play.
Chicago Bears Defensive Tackle @EddieGoldman Hits The #KodakBop After A Nice Sack! @KodakBlack1k – No Flockin pic.twitter.com/G1gb4m8TKs

— Marketing Finessa 💂 (@VBABYMFB) December 8, 2015
Look at this play and tell me it isn't as Aldo likes to say, "topless!"
Reminder… Eddie Goldman is over 300 lbs! #Bears pic.twitter.com/aPw2EP30rF

— ✶ Sports Mockery ✶ (@sportsmockery) August 27, 2016
That's phenomenal!
It's no accident that Leonard Floyd's first NFL sack was shared with Goldman.
Leonard Floyd's first NFL sack (shared with Eddie Goldman). Great speed by Floyd along with penetration by Goldman. pic.twitter.com/0OfbDSIXLK

— Justin Twell (@JustinTwell78) September 12, 2016
More recently look at how Goldman, in the pit, surrounded by players, sniffs out the running back and stuffs him for no gain.
En el run stop se encuentran en mitad de tabla en cuanto a stats, pero Eddie Goldman se posiciona como un nose tackle de futuro #DaBears pic.twitter.com/44sDK1WZOx

— Stefano Prieto (@Stefano_USA) October 25, 2017
Goldman is worth his weight in… gotta say it… gold!
Based on what I've seen and heard (and not seen and heard) a lot of fans don't believe Goldman is much of a difference maker. Perhaps it's because you don't see graphics of his stats or highlights on ESPN or NFL Network. His name is rarely mentioned on the football talk shows. That ain't right.
Regardless of his numbers, nose tackle Eddie Goldman does exactly what you want from that position. He takes on multiple offensive linemen effortlessly and makes plays against the run. He's the force behind the success of the Bears defense in the run game, and he is also a great asset for edge rushers during passing downs. If no one else says it, I'll say it: Eddie Goldman is a critical asset to this Bears defense and irreplaceable. Spread this story around and let's get the word out!
Alec Lifschultz
Commercial Carpenter by day, Avid Bears fan by night and on weekends. I'm a Chicago native that has been watching the Bears since I was a kid. I enjoy going over the game film and writing and tweeting about it from my own perspective and insight. You can find Alec Lifschultz on Twitter/Instagram @TreyBizzy
---
---
Related Articles
When your kicker is trending on twitter… it's usually not a good thing. That was the case with Minnesota Vikings'
Our analysts have devoted countless hours to studying the players available in this year's draft. That goes for players chosen
The 5-4 Detroit Lions venture to Soldier Field Sunday to take on a Chicago Bears team that has now lost