Phil Ottochian & Lorin Cox Re-Draft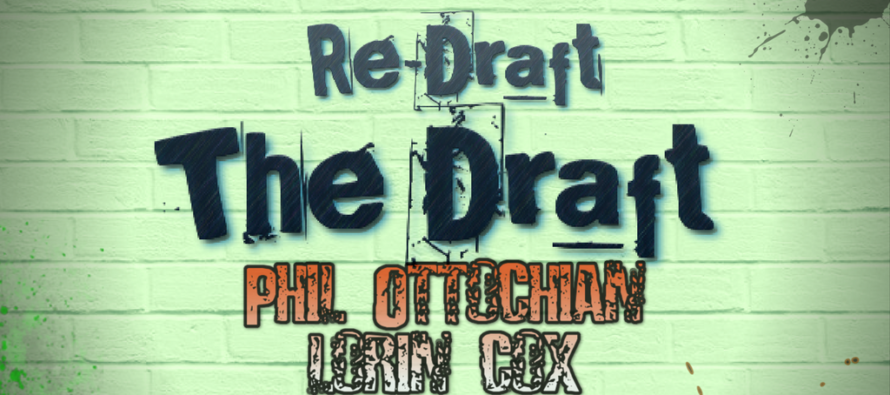 We've been doing re-drafts of the Chicago Bears draft to save for posterity. That way, in five years, we can come back and say, "That was my guy!" Send us your re-draft and we'll post in on our fan page. This page belongs to the stars behind Bears Hour Live: Phil Ottochian and Lorin Cox.
Phil Ottochian
Bears Re-Draft Mock – Round 1, No. 3: Deshaun Watson
Watson was my QB 1 – he has all the traits and intangibles that I wanted in a quarterback to challenge Glennon for the rights to turn this program around. Although he didn't have the strongest arm- his arm was good enough as he throws with anticipation coupling that with his razor edge type focus in critical thinking.
Bears Re-Draft Mock – Round 2, No. 36: Forrest Lamp
Lamp to me is a guy that can be placed at left tackle and become a ten year staple on the outside. The narrative is he's too small – he's 6-4. That his arms are too short – 1/4 of an inch off Joe Thomas's. Bull. His technique, feet & toughness make this guy a steal in round 2. As he dominated Alabama's front and every defender placed in front of him. Injury at Senior Bowl slides him
Bears Re-Draft Mock – Round 3, No. 67: Chris Wormley
If there was a player that stole my heart in the draft it was Wormley and to get this talented defensive lineman in round 3 … I can't pass him up! Would be a day 1 starter at the 5 tech over Bullard and Robinson Harris. This guy sacrificed for the scheme at Michigan and will be an even better pro. Great power and strength at the point but he understands leverage & what offensive lines are trying to do to him. Plays with a mean streak and is a giant athlete
Bears Re-Draft Mock – Round 4, No. 112: George Kittle
Kittle personifies over-looked flash. But when you do look closely, he does all the dirty work with an athletic technician's mentality. He ran better at the combine than I thought he would, his best attribute is he can block better than any TE in this class, but that doesn't end the good. He can get downfield, threaten the safeties and runs good routes with very soft hands. One tough cookie!
Bears Re-Draft Mock – Round 4, No. 117: Tarik Cohen
Tarik Cohen stays! This is lightning in the bottle. A waterbug in the backfield that can get 0-100 in a split second. When a former North Carolina A&T player tells you to watch his tape back in November you do- this guy has a Napoleon complex — I know all about that! He has soft hands and innate run instincts. He becomes a chess piece for the Bears as he can move into the slot; as he has tremendous focus on the football with soft hands. He's more than just a third down back who compares to Danny Woodhead.
Bears Re-Draft Mock – Round 5 No. 147 – Desmond King
Whatever King did or didn't do on or off the field doesn't matter – you want to get the best player. I had ranked King in my top 50. In the 5th round, he's a steal and if character concerns make him a gamble, I'm all in. He can play nickel, cornerback, or free safety and is a physical tackler. The former Thorpe award winner plays the ball in the air like a ball hawk and would be a tremendous addition to a secondary full of unknowns
Bears Re-Draft Mock – Round 7 No. 221 – Robert Davis
King reminds me of a former Hofstra wide receiver Marques Colton. In the 7th round I would love to add a big, talented, athletic receiver to my roster. He needs polish, but polish we can give him. He's join a receiver corp, that like the secondary, has a lot of talented unknowns. Davis can play the deep ball and gets after it with speed and size at 6-3 214 pounds. The Georgia State product would come in and work on his craft while pushing fellow big WR Cameron Meredith and Kevin White.
Lorin Cox
Lorin has many of the same picks as Phil's. Here is his list:
Round 1, No. 3: Deshaun Watson, QB
Round 3, No. 67: 
Forrest Lamp, OT
Round 3, No. 67: Chris Wormley, DL
Round 4 No. 112 – Desmond King, DB
Round 4, No. 117: George Kittle, TE
Round 5 No. 147: Deontae Kazee, CB
Round 7 No. 221 – Robert Brown, WR
Check Out Shayne Marsaw's Re-Draft – CLICK HERE
Check Out Aldo Gandia's Re-Draft – CLICK HERE
Check Out Jose Cotto's Re-Draft – CLICK HERE
Check Out Your Re-Draft (Still Taking Submissions) – CLICK HERE
Aldo Gandia
Among my career highlights I have produced two films while in high school that received nationwide attention; leaned out of a helicopter over the Gulf of Suez at the age of 20 to shoot movies of oil rigs; won an Emmy award for a sports special and another for a kid's fitness show; and led a team of very talented creative professionals to produce break-through corporate communications.
---
---