NFL Offseason Dates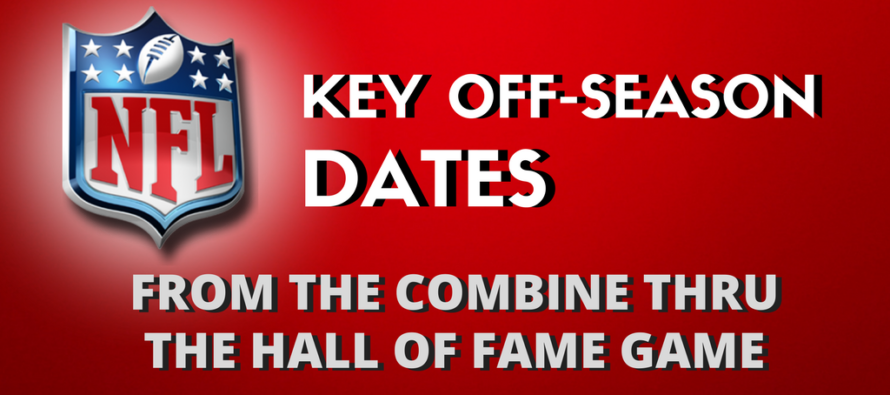 Here's a quick list, courtesy of NFL.com, of this year's offseason schedule:
NFL Combine
Feb. 28: Day one players arrive: Place kicking, special teams, offensive linemen, running backs.
March 1: Day two players arrive: Quarterbacks, wide receivers, tight ends.
March 2: Day three players arrive: Defensive line and linebackers.
March 3: Day four players arrive: Defensive backs. Also, day one players begin workouts.
March 4. Day two players begin workouts.
March 5. Day three players begin workouts.
March 6: Day four players being workouts.
For more details on the schedule CLICK HERE.
Rest of the Offseason
March 1  Deadline for teams to designate Franchise or Transition players is at 3pm CST
March 7-9 is an open window for teams to start contract talks with unrestricted free agents.
March 9th New league year officially begins at 3pm CST.
Additionally,there 9th is the deadline for NFL teams to exercise options for 2017 on any player with option clauses in their 2016 contracts. Teams must submit qualifying offers to players with expiring contracts who will become Restricted Free Agents. And, teams must submit a Minimum Salary Tender to players who will become Exclusive-Rights Free Agents (expiring contracts and fewer than 3 accrued seasons).
March 26-29: Annual League Meeting, Phoenix
Mid-April: NFL will announce the 2017 schedule (around third week of the month)
April 21: Deadline for Restricted Free Agents to sign offer sheets.
April 27-29: 2017 NFL Draft, Philadelphia
Early May: Rookie mini-camps begin league-wide
May 18-21: NFLPA Rookie Premiere
May 22-23: Spring League Meeting, Chicago
Late May to mid-June: OTA beginsa league-wide
July 15: Deadline for Franchise-tagged players to sign multi-year extensions. Following this deadline, a player can only sign the one-year Franchise tender. 3pm CST.
Mid-July: Clubs are permitted to open preseason training camp for rookies and first-year players. Mandatory reporting date for veteran players is seven days later.
August 3: Beginning of NFL preseason, Hall of Fame Game, Canton, Ohio
August 5: Hall of Fame Enshrinement Ceremony
---
Related Articles
The Chicago Bears have released Josh Shirley according to Brad Biggs of the Chicago Tribune. The Bears were Shirley's fourth
UPDATED: 5/31/17 — The Chicago Bears roster will change every few days. We maintain this page every few days. Every name
Ticket prices are going up for some season ticket holders as announced today in a letter from team president and