Nagy Brings Swag With New Coaching Staff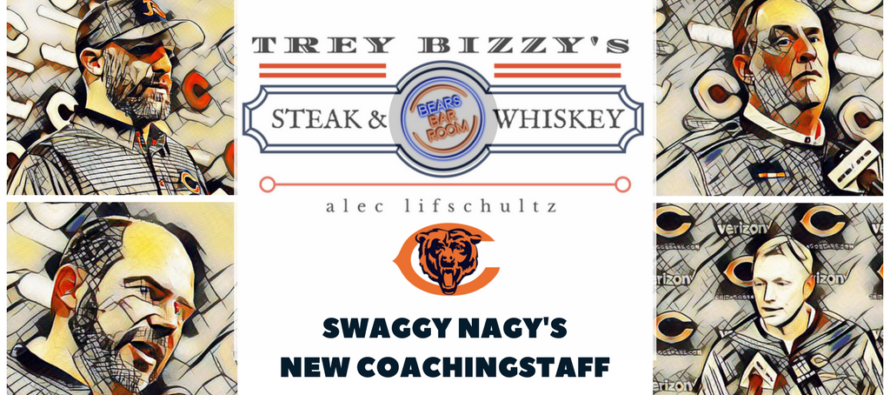 Hello Bears fans,
Got to tell you that I am very pleased with how swiftly Ryan Pace identified and got his guy. From the moment Matt Nagy was introduced as the Bears 16th head coach in franchise history he has said all of the right things. He also was quick to find and hire key members of the coaching staff including retaining Defensive Coordinator Vic Fangio. Why is Matt Nagy a good fit? What about Matt Nagy screams he can make the Chicago Bears relevant? What is the swag I'm talking about when I say Nagy brings it and so does his staff?
Nagy made statements about how excited he is to be the Chicago Bears' coach during his press conference. There was a statement that really resonated with me from Nagy. The Kansas City Chiefs were in love with Mitch Trubisky during the draft process in 2017. They were making calls about trading up to get the QB before Pace wisely did what he had to do to make Trubisky a Chicago Bear. This familiarity with Trubisky and faith in him is important. This is not an arranged marriage (think John Fox and Jay Cutler).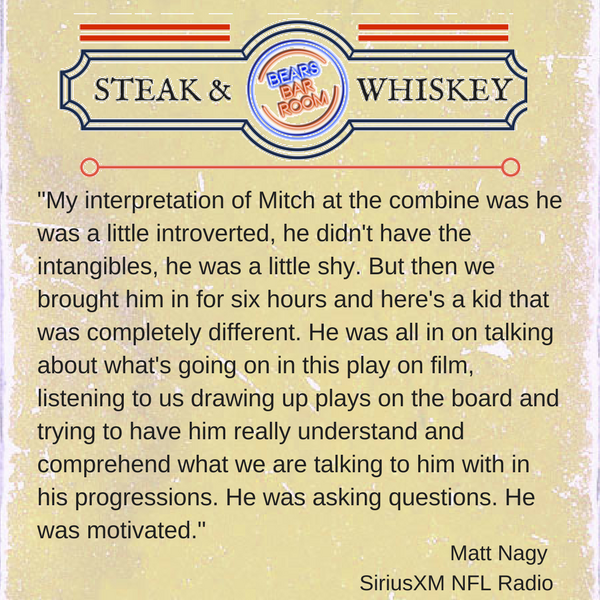 The second thing that stood out to me about his press conference was that he said he will call the offensive plays. This is as exciting to me as a freshly opened bottle of whiskey with a $40 steak. Nagy knows how to attack opposing defenses and properly use personnel. There will no longer be Michael Burton fullback sneaks while Tarik Cohen standing on the sideline holding his helmet.
The coaching staff around a head coach is very important and dictates the success of the team. When Adam Gase moved on from the Chicago Bears to become the head coach of the Miami Dolphins we immediately saw a drop off in the way the offense was run.
Dowell "no gains" Loggains was promoted by John Fox to become the offensive coordinator and it was all downhill from there. The key to Nagy saying he will do the play calling is sustainability. We can now expect a dynamic west coast-type offense with new wrinkles and playcalling that will dictate to defenses as opposed to the other way around.  Trubisky ran the spread offense at the University of North Carolina and for some reason Loggains didn't call plays according to his starting quarterback's strength.
Take a look here at Andy Reid running Speed Option off Jet Action. This is Matt Nagy's influence on the offense more than Reid and you can expect to see Trubsiky and Cohen running this frequently.
Andy Reid and the #Chiefs bring the college game to the NFL better than anyone else! Always creative.

Here we have Speed Option off Jet action, with both Defensive Ends unblocked.

Alex Smith pitches to @Kareemhunt7 for a 24 yd gain.@ArrowheadPride #chiefskingdom pic.twitter.com/4Jq5JK8Vfk

— NFL Matchup on ESPN (@NFLMatchup) December 27, 2017
The hiring of former Oregon head coach Mark Helfrich was a home run, too. Helfrich ran a spread /RPO offense at Oregon and with Nagy's schemes will make this offense look like night and day difference.
This offense is about to go from a 1993 Toyota Camry to a 2018 Lamborghini Aventador. Mitch Trubisky, Jordan Howard, Tarik Cohen, Adam Shaheen, and Cam Meredith will all make huge strides based on the knowledge their coaches will have them in the right positions to make the right plays.
Another key coaching acquisition by Nagy and Pace was Notre Dame offensive line coach Harry Hiestand. The Chicago Bears offensive line unit was in flux a lot due to injury in 2017. Cody Whitehair is arguably one of the best centers in the NFL and moving him from that position is asinine. Another bad move by the past coaching regime and one that I don't see happening in 2018.
Hiestand was with the Chicago Bears from 2005-2009 with Lovie Smith so there's a familiarity with the organization but not the roster. Notre Dame has two of best offensive lineman declaring for the draft in 2018. Left Guard Quenton Nelson and Left Tackle Mike McGlinchey will both be first round picks in April. He's a no-nonsese, stick-to-the-fundementals offensive line coach.
Guys, Harry Hiestand was NOT messing around today. pic.twitter.com/pB7b2NEwxE

— Mike Vorel (@mikevorel) March 31, 2017
The defense made great strides in 2017 playing like a top 10 unit and overcame a lot of injuries. The younger players have bought into the Vic Fangio system and are growing individually. I believe one of the most exciting things Matt Nagy and Ryan Pace were able to do was retain Fangio by getting him on a 3 year deal. The two words "continuity" and "growth" are what I want to associate with this defense. Fangio has the respect and trust of the defense and he will also be a hundred percent in charge of what happens on that side of the ball. With the retainment of Vic Fangio this betters the Bears chance of retaining key free agents like Kyle Fuller and making a pitch for defensive free agents in March. But, make no mistake, Fangio knows that for the Bears to improve defensively it means the players already on the roster must improve and he thinks they will.
"There's more growing to be done."

.@JeffJoniak sits down with returning DC, Vic Fangio to discuss where #DaBears defense is headed. pic.twitter.com/hwYRWd4L00

— Chicago Bears (@ChicagoBears) January 20, 2018
I was thrilled when the news came out that the Bears were moving on from their strength and conditioning coach Jason George. The team has suffered many soft tissue injuries over the last three seasons and the goal is to lower those numbers. This was a must move for the team to truly trend towards being competitive. Keeping the best players on the field is imperative.
The smartest man in the Barroom Shayne Marsaw believes the organization needs to change the playing surface. The slippery grass is supposed to give the team an "advantage" over opponents but it seems to me that it causes more harm than good to the players. Pace has made a lot of changes and is in charge of things like the renovation of Halas Hall in Lake Forest, Illinois. He can and should address the turf issue at Soldier Field.
In conclusion, Matt Nagy and Ryan Pace are being aggressive early on in acquiring and retaining good coaching talent to develop the young roster. Now we move into the next stage, acquiring the missing players – via free agency, and the draft – to field an even more competitive roster. My feeling is that I truly do believe this team is heading towards greatness and it's a lot closer than most people think. The swag is working on me and should on you, too.
Alec Lifschultz
Commercial Carpenter by day, Avid Bears fan by night and on weekends. I'm a Chicago native that has been watching the Bears since I was a kid. I enjoy going over the game film and writing and tweeting about it from my own perspective and insight. You can find Alec Lifschultz on Twitter/Instagram @TreyBizzy
---
---