Mock Draft Nonsense, A Comedy In Three Acts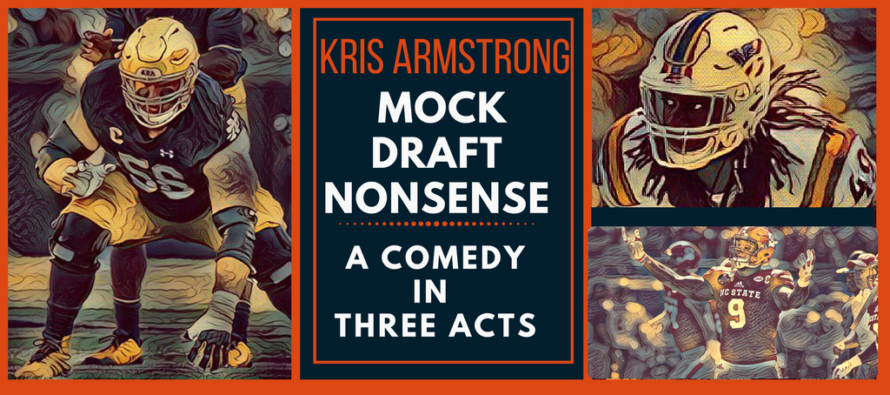 The Bears season has been over for weeks and fans are impatient for the next season to begin. I am one of those fans. There are mock drafts everywhere and hot takes from the Senior Bowl. However, Barflies know that these things are just for fun. If you don't know that, then please read carefully: FREE AGENCY HASN'T EVEN STARTED YET!
You are not allowed to take mock drafts or hot takes seriously before free agency, that is a Barroom Rule. An addendum to that rule would be to never take anything Matt Miller or Jason LaConfora say seriously – ever.
So, in the spirit of fun, and in accordance with Barroom Rules, here are my top three choices for the Bears in round one:
1) Quenton Nelson: he is the best player in this draft. Physical, great technique, smart and nasty. Drop him into the Bears lineup at left guard for the next ten years. A nasty group of interior linemen will lead to success for both the running and passing games.
Sheeshhhhh… Tossing folks out the club! (Quenton Nelson vs RJ McIntosh) #Finish pic.twitter.com/ZlZIcglUrQ

— Ben Fennell (@BenFennell_NFL) January 28, 2018
2) Bradley Chubb: best pass rusher in the draft. Instant starter at outside linebacker. Rushes with speed and power, plays the run fairly well. Consistent motor, you'll never worry about level of effort with this guy. His nickname should be: The Finisher
Bradley Chubb has insane speed off the edge. Active hand fighting and some good balance to close the surface area down to sack Jackson pic.twitter.com/VPDvz8yIz8

— Billy Marshall (@BillyM_91) February 4, 2018
3) Tremaine Edmunds: could be the best pro in this draft. I watched some Virginia Tech games and thought, wow who is this kid? But it wasn't until Shayne Marsaw and Phil Ottochian talked about him that I took a serious look at his tape. Holy crap. He's Urlacher. Put this kid in Illini Orange and Dark Navy Blue. I've started dreaming about him maiming Rodgers and Stafford.
Tremaine Edmunds showing off great recognition and athleticism – forces an INT

These things don't show up for him in the box score but jump off film: pic.twitter.com/3thRvqPa5j

— Connor Rogers (@ConnorJRogers) January 15, 2018
See, that was fun! Will any of these three end up with the Bears? I doubt it.
Nelson: The Bears may keep Sitton. Maybe they cut Sitton, find a veteran to plug into the line or start Kush. Jordan Morgan may be a secret stud and be unveiled to us during camp. There are a number of good guard prospects later in this draft. And who the hell takes a guard with the eighth pick?
Chubb: should be the first non-quarterback taken off the board (unless the Browns brown and take running back Saquon Barkley). Although there are many quarterback needy teams in front of us, there's just no way he drops to eighth. I remember when Aaron Donald dropped all the way down to us and… Oh, that's right. Would Pace move up to grab this kid? I can't see it. If anything, we might be able to trade back with one of the aforementioned QB needy teams.
Edmunds: Surely the football gods would allow us to end up with Black Lacher, right? Recent history suggests that we can't have nice things. Picture it: The McKinley Grand Hotel in Canton Ohio the night of the 2012 draft. After a very long drive and a long day, I'm dead tired, lying in bed watching the first round of the draft. But wait – could this really be happening? Both Whitney Mercilus and Chandler Jones are still on the board? Hell yeah, and I sit up to watch Goodell say the following: "With the nineteenth pick of the 2012 NFL Draft, the Chicago Bears select Shea McClellin."
I fall back into the pillows thinking, who the fuck is Shea McClellin?
This, my friends, is why mock drafts are appropriately named. You've been warned.
Kris Armstrong
Kris is an ex-jock who became despondent at an early age when she learned that she could not, in fact, become Dick Butkus. She is passionate about Da Beloved, Soroptimist International and her bemused and patient husband. Catch her on Twitter @krisarmstrong1
---
---