Mitch Trubisky Is My Quarterback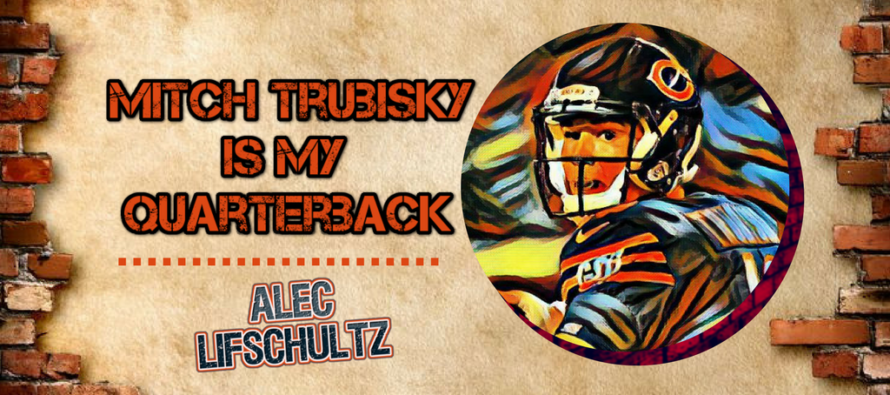 Hello Bears Fans,
Let me begin my first post at the Barroom by saying, "Thank you God for answering our prayers."
Mitch Trubisky is finally our starting quarterback Bears fans, and I can not be more thrilled to say this. The moment after the kickoff, when the offense started to jog on to the field, I could feel the energy surging from Soldier Field to my front room couch. The crowd was alive in a way they haven't been in a long tome. On the rookie quarterback's his first completed pass you would've thought Mitch threw a 60-yard TD pass that's how loud it was at the lakefront stadium.
As a Chicago Bears fan, I feel as though we more than deserve the fresh air from a new and capable quarterback unlike the stench we've seen the majority of our years of fandom.
The Bears Barroom staff has been pounding the table for Trubisky to start since the first preseason game. I've been on the same page. I saw Mike Glennon live during training camp and was not impressed one bit. Not to discredit Bears players, but if linebacker John Timu is picking off back-to-back passes from your "starting" quarterback that is a problem. Mike Glennon has looked bad since the moment he walked on the field to throw the football for the Bears franchise.
A lot of so called "analysts" believe that you can't put too much stock into preseason but I beg to differ. Glennon's second throw in live action as a Chicago Bear was a pick 6 to Chris Harris Jr.
The Mike Glennon Experience is not off to a good start in Chicago. He gets picked off by Chris Harris, who returns it for six! #CHIvsDEN pic.twitter.com/inpSqxMSff

— Chat Sports (@ChatSports) August 11, 2017
Everything that Mike Glennon lacks as a quarterback was on display in that one play. He lines up in shotgun and has wide receiver Kendall Wright wide open running a slant route but elects to throw the football in tight end Zach Miller's direction who was in triple coverage. The play was bad not only because he stared him down from the start letting the pro bowl defensive back know where he was going with the football, but also because if he went through his progressions he would've saw the open slot receiver.
Another aspect from that bad play, a theme Glennon carried throughout his short (thank you, God) time as starting quarterback, was an inaccurate throw that sailed right over Miller's head. I imagine you have to be a pretty inaccurate to overthrow a tight end who is 6'5″ and as athletic as Miller.
I cannot forget to mention how similar to an Old Navy mannequin Mike Glennon looks in the pocket.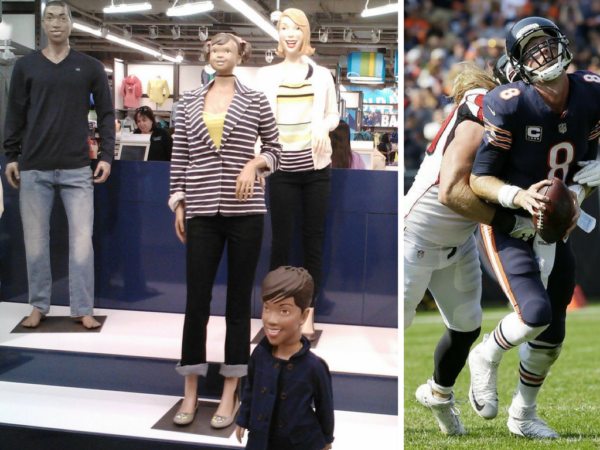 What I mean by that is there is "Zero. Point. Zero.," mobility from him. If the pocket begins to collapse or say an opposing defense decides to throw a blitz at Glennon he will scramble like he's running through quicksand.
Mitch Trubisky is light years ahead of Glennon when it comes to athleticism. Trubisky makes Glennon look like a senior citizen. (Sorry, seniors.) When thrusted into action during the first preseason game, Mitch not only looked the part but, frankly, he also shocked me. I expected a few jitters from a rookie quarterback that never played a professional game in his life, but that's not what we got from Trubisky.
With 1:55 left in the first half, Mitch Trubisky comes out on the field against the Broncos and looked focused and poised. His first pass is to Adam Shaheen which is dropped by the rookie tight end. It was, however, negated because of an offside penalty by the Broncos. Running back Ka'deem Carey is the recipient of Trubisky's first completed pass. Short gain, but the best part of the play is how Trubisky went through progessions instead of staring down a receiver from the line of scrimmage.
The back-to-back completed passes to Josh Bellamy and Shaheen were thrown accurately and only where Bears' players could get to the ball. I mentioned earlier that Glennon's accuracy is horrific. I bet Glennon couldn't shoot a fish in a barrel or hit the broadside of a barn with a sniper rifle. One of the first things on Trubisky's scouting report from college was his passing accuracy. A quarterback being able to throw open receivers and tight ends is extremely important at this level because defensive backs and linebackers are more than capable of making plays on the football.
In the redzone Trubisky essentially threw two touchdowns. The first touchdown was dropped by Shaheen, but Trubisky put it right in his hands. The touchdown to Cruz was the one that counted and it showed off Trubisky's athleticism.
VIDEO: #Bears rookie QB MITCHELL TRUBISKY throws his first NFL touchdown in week 1 #NFLPreseason vs the #Broncos. pic.twitter.com/EUlOfWo001

— PirateLife Football (@PirateLifeFF) August 11, 2017
In his first professional drive of his NFL career, the rookie looked poised and ready. It left us all wanting to see more and wanting him to have more of a challenge. He looked like a veteran that's been in the league for ten years and I've never seen a quarterback in a Bears uniform play so calmly and effortlessly.
Now, after his first professional regular season start I've seen the same qualities. That's why I'm proud to say that Mitch Trubisky is my quarterback.
Alec Lifschultz
Commercial Carpenter by day, Avid Bears fan by night and on weekends. I'm a Chicago native that has been watching the Bears since I was a kid. I enjoy going over the game film and writing and tweeting about it from my own perspective and insight. You can find Alec Lifschultz on Twitter/Instagram @TreyBizzy
---
---
Related Articles
Every Monday night Draft Dr. Phil shares his thoughts about the latest Chicago Bears game on Bears Hour Live. The
For the past 19 years Mike Adamle has  suffered from seizures and epilepsy. Now he's been diagnosed with dementia. The former Northwestern
Bears On Tap welcomes B.J. Reidell back to the Barroom to preview the Chicago Bears – Minnesota Vikings Monday night