The Media On Vic Fangio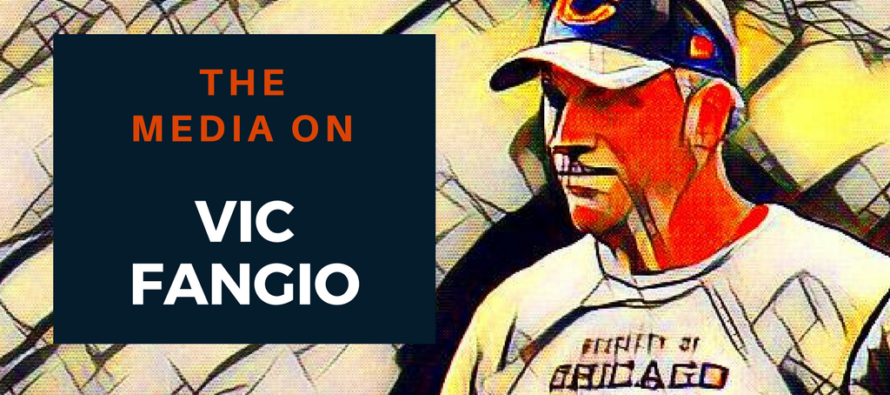 Lots of Vic Fangio talk going on in the media so we dug up a few stories on the defensive coordinator that should interest you and some other goodies.
What is the likelihood of Vic Fangio returning to the Chicago Bears? Mark Potash of the Chicago Sun-Times points out something that's very interesting….
Notably, while offensive coaches under Fox have signed elsewhere — offensive coordinator Dowell Loggains and offensive line coach Jeremiah Washburn with the Dolphins and running backs coach Curtis Modkins with the Broncos — no defensive coaches have left yet.
Potash writes that it's now up to Nagy to convince Fangio to remain with the Bears. Find the entire story here: https://chicago.suntimes.com/sports/job-1-for-new-bears-head-coach-matt-nagy-convincing-vic-fangio-to-stay-as-dc/
After reading Brad Biggs article on Fangio it crystalized for me the thought that Ryan Pace really wants Fangio to return. Biggs reminds us that Fangio, just by virtue of his contract, is valued by the Bears.
It is believed that Fangio was one of the highest-paid defensive coordinators in the NFL this past season at more than $2 million, trailing perhaps only Wade Phillips of the Rams. Average pay for a defensive coordinator is in the neighborhood of $1.5 million. It would likely take a pay raise to keep Fangio, who is surely proud of his work over the past three seasons.
When I also think that the Bears denied teams the request to talk to Fangio about their DC job it's obvious that Pace wants a Nagy-Fangio partnership to work. Read his article here: http://www.chicagotribune.com/sports/football/bears/ct-spt-bears-vic-fangio-matt-nagy-20180108-story.html
The only question is will Fangio want to talk to teams interested in his services. Tom Silverstein of PackersNews.com writes that Fangio is expected to talk to head coach Mike McCarthy about the Packers open coordinator job.
Fangio probably will receive inquiries from several teams, but the biggest selling point McCarthy has going for him is quarterback Aaron Rodgers.
Find that story here: http://www.packersnews.com/story/sports/nfl/packers/2018/01/08/packers-finally-free-talk-vic-fangio-defensive-coordinator-job/1014063001/
What if Fangio doesn't stay in Chicago. Brad Biggs has identified a potential replacement.
If the #Bears cannot retain DC Vic Fangio, #Chargers DC Gus Bradley could emerge as a candidate for the position on Matt Nagy's staff.

— Brad Biggs (@BradBiggs) January 9, 2018
Gus Bradley is the former head coach of he Jacksonville Jaguars who signed a one-year deal to run the San Diego Chargers' defense. Now a free agent Bradley is getting all sort of interest. Besides the Chargers wanting to retain him, the Seattle Seahawks are interested in bringing his back – he spent four successful seasons there as defensive coordinator before he became head coach of the Jaguars.
SBNation.com has a good look at Bradley's tenure with Jacksonville. Find it here: https://www.sbnation.com/2016/12/18/14001102/gus-bradley-culture-jaguars-just-get-better-philosophy-fired
OTHER CHICAGO BEARS NEWS
The Daily Herald's Barry Rozner claims, and I think rightfully, that Ryan Pace began looking for John Fox's successor long before the end of the season.
Credit Pace with beginning his coaching search months ago, allowing him to move quickly to get Chiefs offensive coordinator Matt Nagy as his new head coach only a week after dumping Fox…

… Pace did not pretend within the walls of Halas Hall that Fox might still be around, so he worked closely with McCaskey and Phillips, and the trio began looking for Nagy long before Fox got the hook.
Rosner's column can be found here: http://www.dailyherald.com/sports/20180108/rozner-its-all-in-place-for-chicago-bears-to-win-north-this-year
On the Spiegel and Parsons show on 670 the Score Brian Urlacher stopped by to talk about his candidacy for the Hall of Fame, endorses Vic Fangio, knocks Phil Emery and speaks highly of the McCaskey family. Here the interview here: http://bit.ly/2mafYZB
Aldo Gandia
Among my career highlights I have produced two films while in high school that received nationwide attention; leaned out of a helicopter over the Gulf of Suez at the age of 20 to shoot movies of oil rigs; won an Emmy award for a sports special and another for a kid's fitness show; and led a team of very talented creative professionals to produce break-through corporate communications.
---
---
Related Articles
Five weeks into the 2014 NFL season and Green Bay fans finally got a look at the Eddie Lacy who
I want to start my last 2017 regular season preview by telling all Bears fans one thing: We've almost done
Brian Urlacher is headed to the Pro Football Hall of Fame. Well, he's a step closer. Urlacher was one of 27