What's The Media Saying About Matt Nagy?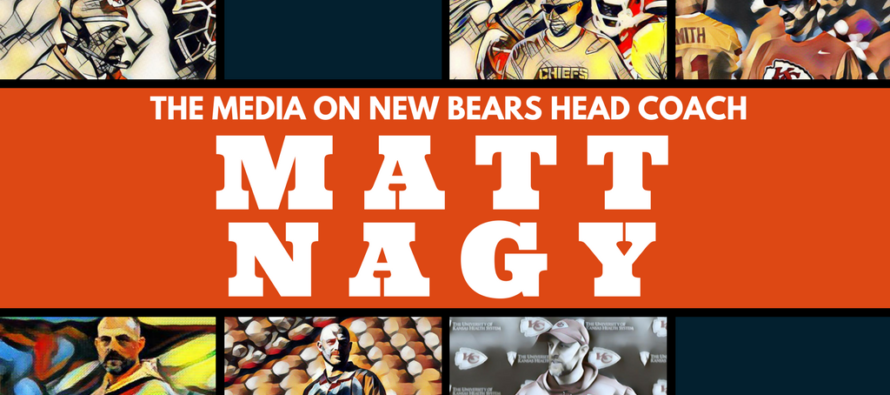 Now that we are entering a new era of Chicago Bears football we are also entering a new era at the Barroom. As many of you know, we are not, and will not not be, a breaking news website. There are other websites and sources far better equipped to provide breaking news. We offer written, visual and audio analysis of the Chicago Bears (mixed in with a dose of humor, too).
During the course of preparing for our analysis we do tons of research and beginning today we will begin sharing some of that analysis. I am happy to announce that Jason Cashman (@jason_cashman) is among the first to volunteer to provide this service to our Barflies. We expect to soon others who will assist Jason.
Our goal is to aggregate information you will probably find interesting about our beloved Bears.
I happily turn over the rest of this post to Jason.
We at Bears Barroom want to make sure that this is the first place you Barflies go to for information and I'm proud to help out in this service.
With the new hiring of the Bears Head Coach being the Chiefs Offensive Coordinator Matt Nagy, We thought you would want to learn about the leader of the Bears for, hopefully, the next ten years. Here is BJ Kissel, a Chiefs reporter, with "The Six Conversations that Changed Matt Nagy's Life". It's probably the best piece of reporting on Nagy out there.
http://www.chiefs.com/longreads/2017/mattnagy.html#Cover
Want a quick read about Nagy's background? Adam Techler at ESPN provides one here:
http://www.espn.com/blog/chicago/bears/post/_/id/4707564/five-things-to-know-about-new-chicago-bears-coach-matt-nagy
Terez A. Paylor at the Kansas City Star spoke with Chiefs quarterback Alex Smith and among the very complimentary things he said about Nagy was how he brought variety to the playbook and playcalling.
"Coach lets him put that in here and there and we showed we can handle it. I think that's why, the last couple years, there's a little more diversity in the stuff we do. That's what I appreciate. I think he loves to stay aggressive and I think that's what's rubbed off on us."
Read more here: http://www.kansascity.com/sports/nfl/kansas-city-chiefs/article192789399.html#storylink=cpy
Paylor is the beat writer for Chiefs and that last article was written before Nagy became the Bears head coach. Upon learning of the hire Paylor wrote this great article about what the Bears can expect from Nagy.
http://www.kansascity.com/sports/spt-columns-blogs/red-zone/article193551879.html
Taylor concludes by writing:
"Bears fans, nothing is certain in the NFL, but I think Nagy, because of his personality and playcalling knack, is one of the best head coaching candidates Reid has had in Kansas City (better than the Eagles' Doug Pederson), and I think your team made a good hire. Take that for it's worth."
---
---
Related Articles
Chicago Bears Attn: Anyone That Will Listen 1920 Chicago Bears & Football Drive Lake Forest, IL 60045 September 28, 2017
Ryan Pace proved he's not kidding when espousing his Best Player Available philosophy. When he selected Adam Shaheen of Division II
As frustrating as the 1995 season was, I still felt the arrow for the team was pointing up, and that