Matt Nagy's Offense – How It Works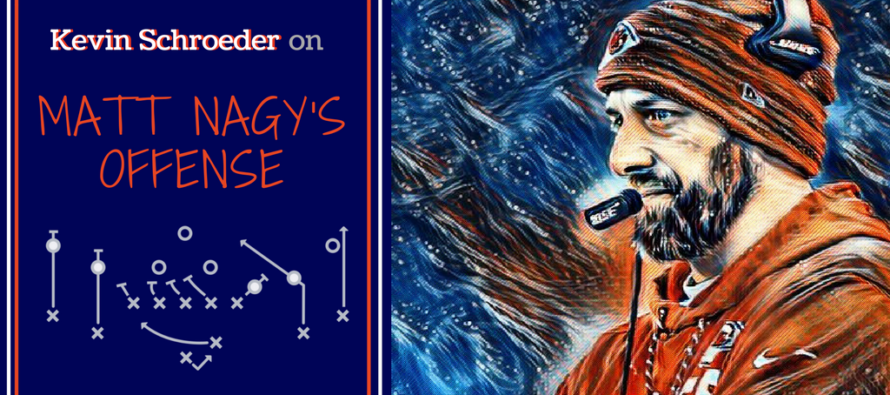 With Matt Nagy's staff filling up, we've been taking a look at what you can expect from the new regime. Aldo talked about offensive coordinator Mark Helfrich, running backs coach Charles London, and offensive line coach Harry Hiestand. Time to talk a bit about Nagy himself.
The Kansas City Star has a great article about the Kansas City offense that details quite a bit about Nagy's influence. Give it a read. Everyone in KC was high on Nagy and thought highly of what he brought to the table. Nagy installed some more explosive concepts to Andy Reid's west coast offense. Offensive guard Laurent Duvernay-Tardif from the Kansas City Star article:
"It's night and day. Even last year and the year before, it used to be like, when you go for a drive on the field and if you want to score a touchdown, it needs to be at least 10 plays. And now, if I just recall the Patriots game, first play of the drive, boom –– 80-yard touchdown. Last game against the Chargers, you want to close the game. Four-minute situation, everybody knows you're going to run the ball. And you run for a 60-yard touchdown. It's great.""
After watching the Chiefs games from this season where Nagy was calling the plays, I'm pretty excited.
The ground game was predominately zone, mostly inside. Not much adjustment is needed here. This past season, the Bears ran a bunch of outside zone with Jordan Howard. Look, Dowell Loggains wasn't get let go for nothing! Anyway, I don't know in how many game columns I said the Bears would be better served running inside zone because it fits Howard better, but it looks like we're going to see that now.
From the Kansas City Star article:
"For defenses, stopping a runner like the elusive, hard-charging Hunt is difficult, especially in the Chiefs' zone-running scheme, which is the foundation of the offense. Hunt is extremely adept at biding his time behind his linemen and exploding upfield with one cut when he sees a sliver of daylight."
Sound like anyone we know? Howard's not the receiver Kareem Hunt is, but he should thrive running the ball under Nagy.
The passing game was night-and-day from what we watched this year. Remember that video that we all watched of John DeFilippo breaking down a few plays when it looked like he might be the guy? He talked about how they use their route combinations to get guys open. Nagy did a great job of that in Kansas City, whereas Loggains had kind of a habit of playing into the defense's hand. I broke down a few of my favorite examples from KC: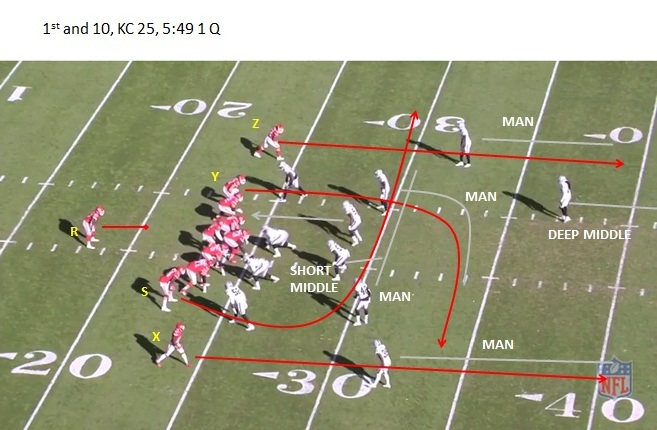 The outside receivers go deep, opening up space underneath. The slot receiver (S) runs a drag and runs his man into the linebacker playing a short zone. Smith hits him and he's able to run for a gain of 25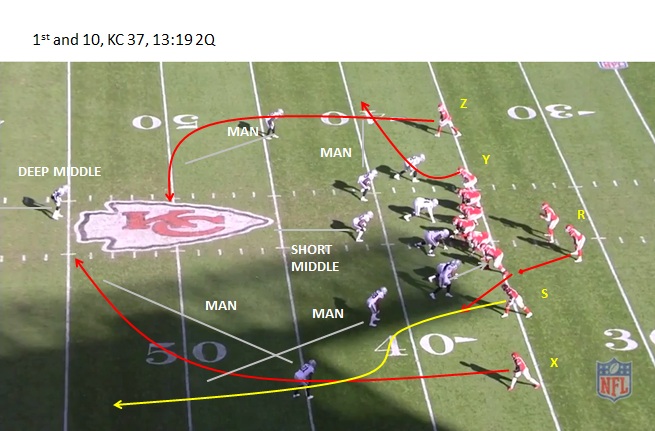 (Ignore the different colors. The yellow route is the one Smith threw to, but the only reason it's a different color is so you can clearly tell which route is which.)
The Raiders bring an extra man on the rush. The X receiver runs a post, so the deep safety has to pick him up. The slot is now one-on-one on the outside. Z runs an in, with Y and the running back in the flats. The back is wide open, but Smith throws it to the slot receiver. The defender plays it well, but the receiver plays it better and it's a gain of 36.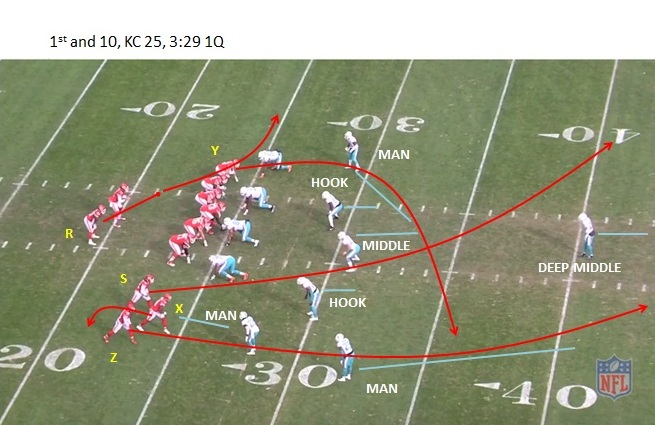 This pass ends up incomplete, but I wanted to show it anyway because I liked the route combo. Both the Z and slot are on post routes and the safety momentarily goes to help on the Z. Nobody has S one-on-one, so when the safety doesn't pick him up right away, he's wide open. Those two stretch the field and open up space for Y (Kelce on this play). Meanwhile, after the back makes sure he doesn't have to block anyone, he takes the flat – the space Y just vacated. Smith throws to Kelce, but, again, it ends up incomplete.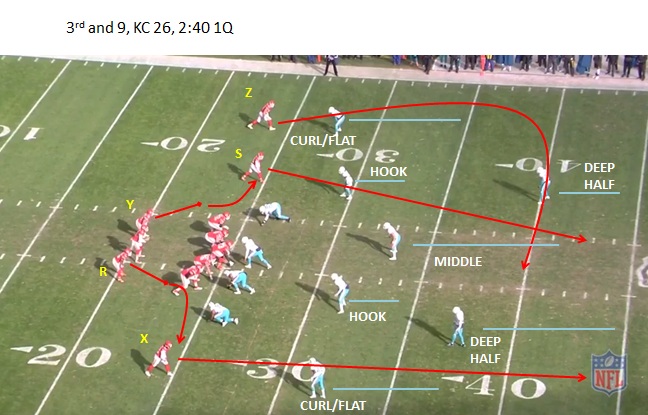 This is two plays later. Miami is in Tampa-2 here. The X and slot receivers both go deep to stretch the field. The slot's route is particularly important here – since it's Tampa-2 instead of Cover-2, the Mike carries him deeper, creating a bigger hole for the Z receiver (Kelce here). He runs an in and sits in the space vacated by the Mike. Smith hits him for a gain of 14 and a first down.
There were quite a few snaps from the shotgun, both runs and passes, and you should expect to see Nagy take advantage of Trubisky's athleticism with some RPOs. My guess is we'll see more of Tarik Cohen in the slot and Benny Cunningham(?) in an expanded version of his role from last season. Shaheen, though not on Kelce's level as a player, fits in Kelce's role and the ground game should be perfect for Howard. The only major question is at wide receiver.
Tweet me @KSchroeder_312
Kevin Schroeder
Football guy, be it NFL or college, even the CFL. If you take football out of his life, he's not going to function well. Kevin also writes about Michigan football and Blackhawks hockey at goodifitgoes.com. Find him on Twitter @KSchroeder_312.
---
---