Matt Nagy Is Chicago Bears New Head Coach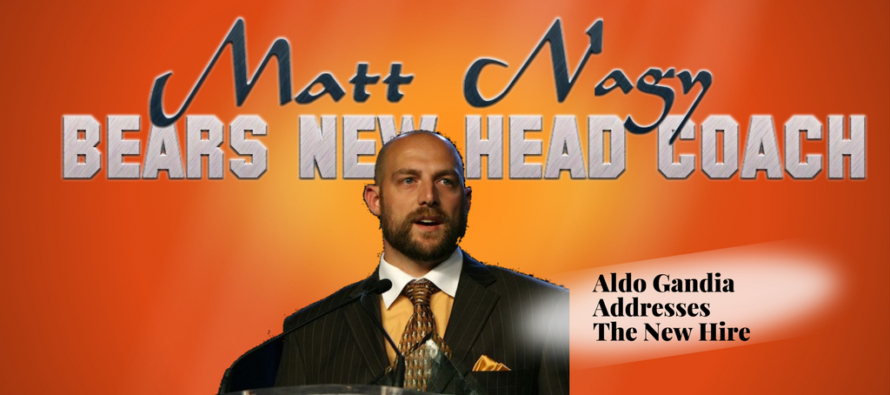 Welcome to Chicago, Matt Nagy…
Fuck, I'm happy you are here. To me you are like Baby Jesus. The three (I hope) wise men, Ryan Pace, Ted Phillips and George McCaskey, have found you and made you the chosen one. Frankly, the smartest man in our Barroom, Shayne Marsaw, pointed you out to us back in October as someone we should keep an eye on. We have and we're impressed.
Not many people know him but Matt Nagy is an under the radar name to keep track of as a potential HC candidate around the league.

— Shayne L. Marsaw (@wasram) October 1, 2017
I began following the Bears during George S. Halas' final season on the sidelines. You are the 12th head coach I will give witness to and, excusing Papa Bear himself, there have been only two coaches to win more games than not. Mike Ditka had a .631 winning percentage and Lovie Smith was .536. Lovable loser Abe Gibron won only 11 games in three seasons and more recently John (gag gag) Fox won 14 in his three seasons of what felt like eternal damnation.
But, we know now, that on Tuesday, the Bears will introduce you to Chicago in what will surely, for me anyway, feel like a Bears biblical moment.
Quick snapshot on new #Bears head coach Matt Nagy:

*39-years-old
*Spent last 10 seasons coaching in NFL, all under Andy Reid with Eagles and Chiefs.
*Just completed first season as offensive coordinator
*Spent 3 years as Chiefs QBs coach

— Zach Zaidman (@ZachZaidman) January 8, 2018
You should know that you come into our Bears brethren blessed with football talent that is often overlooked by the national media, and for heaven's sake, even those here in our own kingdom. But, I urge you to read a recent Trey Bizzy's Steak and Whiskey post where he outlines the many reasons we should rejoice.
You should know, too, that the carnage created by the heathen who last held your job has left many demoralized and without hope. I ask that those who doubt give you strength and that you in turn bestow that fervor to a team that at times looked spiritless when taking the field.
I am also comforted by news that began to come forward days ago that you are a believer in Mitch Trubisky.
Here is a great piece of intel: Source close to Matt Nagy tells @ESPN1000 that Nagy loved Trubisky in 2017 NFL Draft and the Chiefs loved him. Nagy has stayed close to him during this season. Nagy believes you can win big with Trubisky.

— David Kaplan (@thekapman) January 4, 2018
It is you, Trubisky and the defense that form the holy trinity of the Chicago Bears' creed. Trubisky will need your guidance to deliver us from the evil of losing. The defense needs more guidance, too, and I kneel and ask that you and Vic Fangio agree to work together. Right now it just seems that only a healthy pay raise and Assistant Head Coach title is all that's needed.
Word out of Chicago is that the team and new head coach Matt Nagy would like to bring Vic Fangio back as the DC. Fangio's decision. @gmfb @NFLonFOX @nflnetwork

— Peter Schrager (@PSchrags) January 8, 2018
It's also gives me a great sense of bliss to know that from the fruitful coaching tree that Andy Reid has given us (see a list of coaches here) the rotund one bows to you first.
Andy Reid has told @caplannfl that Nagy is the best head coaching prospect he's ever had. Will be interesting to see Trubisky develop under his watch https://t.co/AazMiwYiW6

— Chris Wesseling (@ChrisWesseling) January 8, 2018
There's much to give thanks for. The way you gave new life to the struggling Kansas City Chiefs offense in December when you assumed playcalling responsibilities was a football miracle. What was evident from your work and from what we are hearing is that you truly do possess the innovation I've prayed for in a Bears head coach.
I spoke with a coach familiar with Matt Nagy. He referred to Nagy's offense as cutting edge, pointing to the ability to create matchups and balance the distribution. Could bode well for Mitchell Trubisky and the Bears.

— Chris Emma (@CEmma670) January 8, 2018
This franchise has had a divine reputation for innovation. The Flying T-formation, "the first to analyze game-day film of opponents, and the first to put assistant coaches in the press box for a bird's-eye perspective during games," where some of Halas' firsts. But, Buddy Ryan's omnipotent 46 defense was the last innovation we could worship. You, Matt Nagy, have the ability to bring that sense of wonder back to the Bears.
I spoke with a coach familiar with Matt Nagy. He referred to Nagy's offense as cutting edge, pointing to the ability to create matchups and balance the distribution. Could bode well for Mitchell Trubisky and the Bears.

— Chris Emma (@CEmma670) January 8, 2018
The final word I will leave you with is this… we here at the Barroom gave the last guy holy hell. We quickly became convinced he was unsuited for the job. We presented our opinions with fact-based analysis. We begin our relationship with you out of love and tolerance. We will not be quick to condemn, but we will be critical. We will be watchful. We will, also, pray for you. Welcome to Chicago, coach Nagy.
Aldo Gandia
Among my career highlights I have produced two films while in high school that received nationwide attention; leaned out of a helicopter over the Gulf of Suez at the age of 20 to shoot movies of oil rigs; won an Emmy award for a sports special and another for a kid's fitness show; and led a team of very talented creative professionals to produce break-through corporate communications.
---
---