Marsaw's Mailbag – On Cutler, Kizer and more…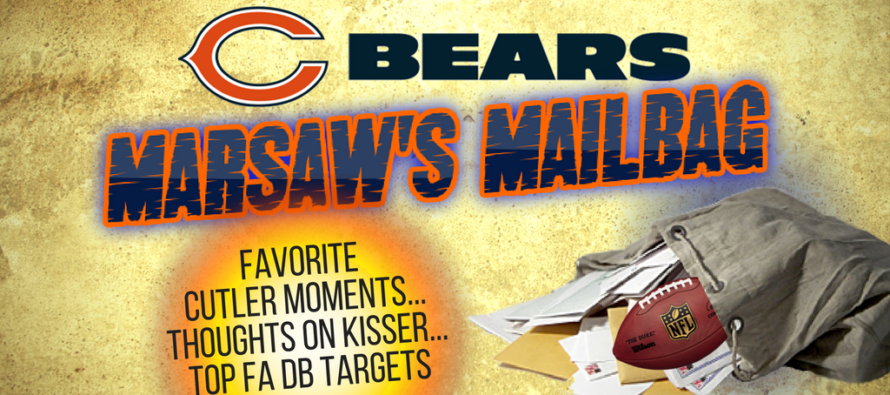 Shayne Marsaw's mailbag is back. This week he tackles questions about his favorite Jay Cutler moments
Q: With Jay Cutler all but officially gone… can you give us your three favorite Cutler moments?
MARSAW: With pleasure…
April 2nd 2009. I walked through the door & flipped on the NFL Network. I heard Rich Eisen and Bob Papa saying "Jay Cutler will NOT be a Denver Bronco. He's been traded. He's now a member of the…..Chicago Bears!"I was elated we got a young mobile Pro Bowl QB with a huge arm. Visions of Lombardi's dancing in my head.

 November 28th, 2010 Bears versus Eagles. Cutler 247 yards passing, 4 touchdowns and Bears get a huge road win in Philly.

January 16th, 2011 Bears versus Seahawks NFL Playoffs. Cutler 274 yards passing, 2 touchdown passes and two more rushing.
Jim Cornelison National Anthem

Cutler to Olsen TD
Q: On a recent podcast you mentioned that DeShone Kizer is your favorite college quarterback. What particularly do you see in Kizer that makes you like him above others?
MARSAW: I have DeShone Kizer and Deshaun Watson as my top two quarterbacks available in the 2017 NFL Draft. I have them graded closely but what separates Kizer for me is he brings premium size at 6'4″ 230 Ibs. and a very strong arm. While none of the quarterbacks in this class are ready to start on day one, you have to look at the tools each player possesses and project forward. Kizer also brings in the added benefit of having mobility to escape the pocket when things break down and gain yards with his feet. The NFL combine will prove very important for Kizer where NFL coaches and front offices can interview him and dive into Kizer the player off the field.
Q: How concerning is it that the Bears have made at least ten coaching changes and had more player transactions than any other team in the NFL since John Fox era?
MARSAW: Coaching changes are going to happen on an almost yearly basis. Coaches are going to take promotions or move on to situations with a better chance of moving up the responsibility ladder. You never want to lose good coaches, but other NFL executives and college athletic directors realize their value too and strike when they can. In terms of the roster turnover, that's expected when you're a talent-deficient team like the Bears have been. Look back at the transaction numbers when John Schneider took over the Seattle Seahawks. According to CBSSports.com in his first four years he presided over nearly 850 transactions.
Q: How do you judge Jeremey Langford going into his third year? Do you think he's a worthy complimentary running back or do you have concerns?
WASRAM: I would look to secure another running back in this draft who can come in to add to the team's depth chart and spell Langford. Unfortunately, Langford is still raw at the position. You can see some explosive traits but he doesn't take on contact well and goes down rather easily.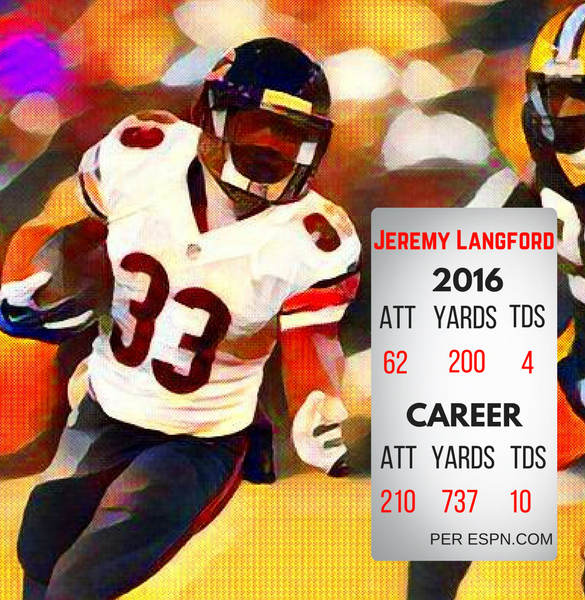 We've talked before on our Bears Barroom Radio shows that we'd like to see Langford used as a return man and even flanked out wide in some sets. Use him as a Swiss Army knife type. In terms of relying on Langford or even Ka'Deem Carey as the primary back up to Langford, I think that's a mistake. Especially with this draft being so deep at that position.
Q: Please rank these current free-agent defensive backs based on who you think the Bears should most pursue and why…
1. A.J. Bouye
2. Stephon Gilmore
3. Logan Ryan
4. Tony Jefferson
5. Micah Hyde
MARSAW: 
Number one, Stephon Gilmore!  Turnovers, turnovers, turnovers. Bears need to add some cornerbacks with ball skills to create turnovers. A 26 year old corner who always seems to be around the ball: 14 interceptions in 68 games and 62 pass breakups tops my list!
Number two… Logan Ryan. Again, Bears need to bring in help to a secondary that has not shown a penchant for taking the ball away. Ryan is an ascending player who is only only 26 years old. His 13 interceptions INT in 64 games with 41 pass breakups is a promise of more to come.
Number three is A.J. Buoye. He had a solid season in Houston and has been a popular free agent name amongst fans. Part of that is that he's only 25 years old. How much did he benefit from the Houston pass rush and overall defense? As always, you're banking on upside, but buyer beware. Bears had previous interest in 2015.
Number four is a guy from up north…  Micah Hyde. If its the NFL offseason then it means the Chicago Bears are looking for safety help. Sign me up for the versatile Micah Hyde. He's 26 years old with ball skills. Signing him also means you cherry pick a young player from rival Green Bay. Hyde is number four on this list but, for me, number one in available free agent safeties. Would love to see Ryan Pace pounce on this player early and finally settle the revolving door at the back of the Bears defense.
Finally, of the list provided me, I have Tony Jefferson at five. He's another buyer beware player for me. The Bears will have to base a lot on pure upside with the 25 year old Jefferson. Her's going to get a monster deal. Is he ready to take the next step that comes with that contract?
Let me know your thought on my twitter account @wasram or @BearsBarroom.
Until next time, Bears fans! Beatdown!
Have you seen Aldo play GM with his proposed top free agent targets? In case you have not…
Shayne Marsaw
Shayne Marsaw is the Lead Analyst at the Bears Barroom. He writes a weekly column called Marsaw's Mailbag. Send him a question on twitter. Just hashtag it #MarsawsMailbag. You can also send the question to Shayne at the Bears Barroom Facebook page
---
---