Marsaw's Mailbag: DeShone Kizer, Kyle Long & More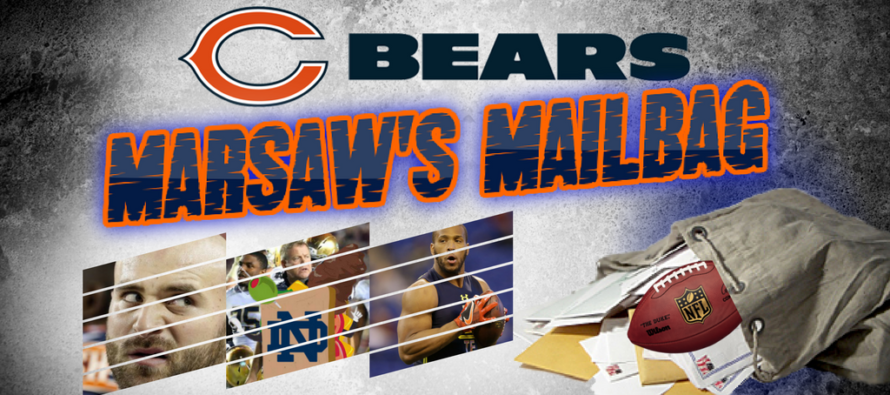 Shayne Marsaw has some strong opinions on Brian Kelly, Kyle Long, the possibility of drafting O.J. Howard and more. This week's Marsaw's Mailbag:
Q: What do you make of Brian Kelly's criticism of DeShone Kizer? Any validity to his comments? Does it hurt his standing? Do you think Kelly is a douche?
MARSAW: Let's make this very clear from the start. Yes! Brian Kelly is a douche. He's a turd sandwich. Whatever you like better. Could DeShone Kizer have benefited from another year of collegiate starting experience. In most situations very likely yes. Experience matters. The situation at Notre Dame under Kelly is obviously volatile and I think Kizer made the correct decision by leaving Kelly in his rear view mirror as he heads to the NFL.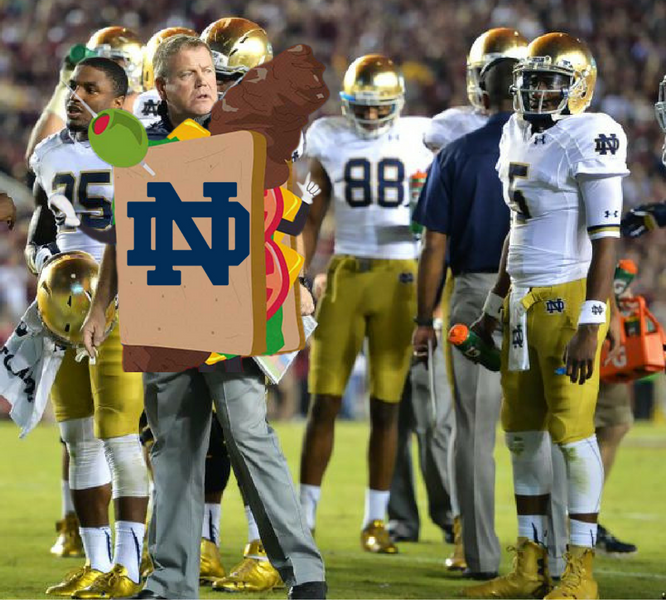 Recently the Notre Dame head coach came out publicly and said that Kizer should still be in school so he can grow as a player on and off the field. Some compared this to when then USC head coach Pete Carroll openly disagreed with Mark Sanchez's decision to forgo his remaining eligibility. Carroll made those comments on the same day that Sanchez declared but after that he supported Sanchez any way he could. Brian Kelly thought it was best to voice his opinions about Kizer on Sirius NFL Radio to host Bruce Murray and cohost Brady Quinn 24 Days before the 2017 NFL Draft. Kelly botched the handling of his QB at ND and his remarks on Kizer really came off as sour grapes.
Daniel Jeremiah on his "Moving the Sticks" podcast with Bucky Brooks came out in support of Kizer and was really turned off with the way that Kelly handled the situation. Jeremiah directed a comment to Kelly, "Kizer left Notre Dame because he wasn't going to get any better with you as his head coach." I'm sure a lot of people within the NFL feel the same way.
Brian Kelly has been taking some heat over his comments on Kizer. Here is his response to those.

Q: O.J. Howard at 3… Possible? Any other names you think might be a long shot at No. 3?
MARSAW: OJ Howard is clearly the top tight end available in the draft. Will the Bears draft him at No. 3 overall? No, I don't think they will and I don't think they should. Howard would immediately be the best tight end on the roster and bring elements to that position that Bears fans haven't seen since Greg Olsen.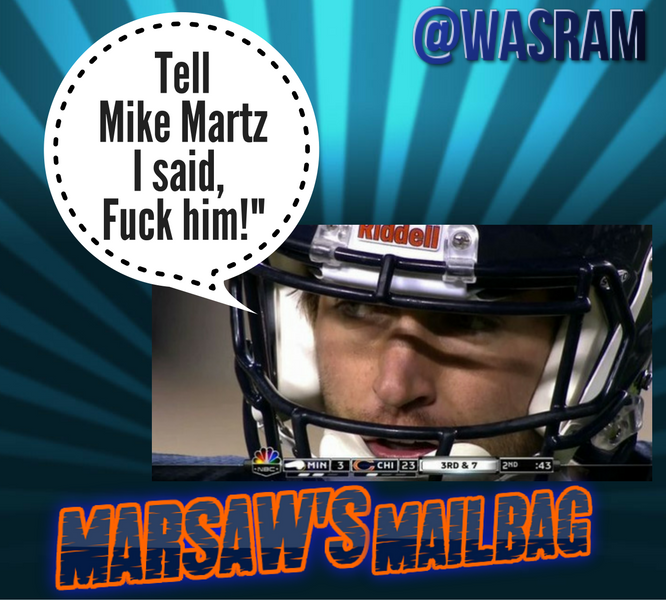 Zach Miller will be 33 years old in October and is heading into the last year of his contract in 2017. His injury history is vast so the Bears could obviously upgrade there. I just don't think they'll be willing to pull the trigger on a tight end at No. 3.
Another "long shot" name is inside linebacker Rueben Foster. Yes, the Bears invested heavily into the ILB market last off season by signing Danny Trevathan and Jerrell Freeman. Ryan Pace then turned around and invested in the position yet again in round 4 of last year's draft with Nick Kwiatkoski from West Virginia.
Danny Trevathan tore his Patellar Tendon in his knee and is a candidate to start training camp on the PUP list if not the season. Like Zach Miller, Trevathan has an extensive injury history and who knows how he will recover from his latest setback. Jerrell Freeman showed his worth on the field from day 1 but was also popped for PED's and issued a 4 game suspension. Freeman is also 31 years old so age is not on his side. Could the Bears future ILB duo be Foster and Kwiatkoski? I wouldn't count on it but I wouldn't count it out either.
Q: Phil wants to see Kyle Long at left tackle. Do you even entertain that thought with him coming off injury and reports that he's not happy about playing any other position than right guard?
MARSAW: One of the most interesting off season topics overshadowed by anything QB related in Chicago is how will the Bears 2017 offensive line shake out. In his post season presser Bears general manager Ryan Pace said Hroniss Grasu is a one position player: center. That really perked up the ears of Bears faithful. Could Cody Whitehair be moved to offensive guard. Or could he go back to the position he excelled at in college, offensive tackle? OT?
Kyle Long was a right guard, then a right tackle and then a right guard again. Now maybe a left tackle? Dizzy yet?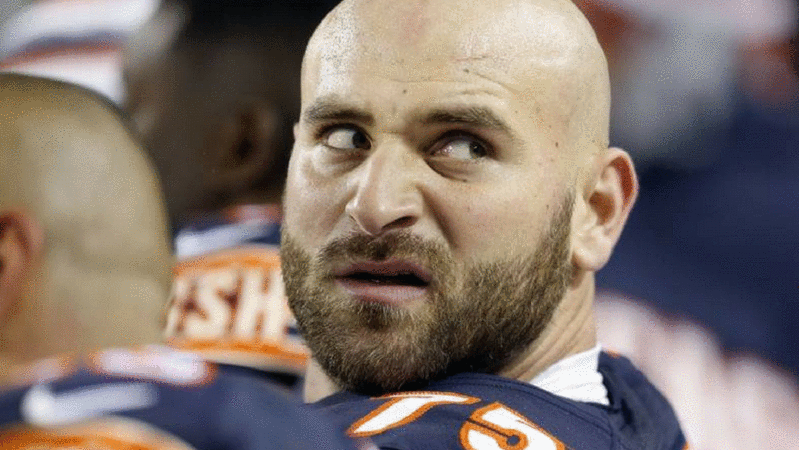 Long clearly has the talent to make an impact ANYWHERE on an offensive line. (See Draft Dr. Phil's video on Long by CLICKING HERE.) But, given that Long is coming off his gruesome ankle injury and has opted to forgo shoulder surgery (to repair his partially torn labrum) so he can concentrate on his ankle rehab I say it's unlikely we see a move of Long to left tackle. If they do move him anywhere my guess it would be to right tackle to replace perennial slow starter Bobby Massie. Whatever the Bears decide to do on the offensive line I hope they have a plan and implement it immediately during the off season program so the players aren't thrust in to new positions days before the season kickoff. No team would really do that would they? Oh wait….
Q:  According to http://TeamRankings.com the Bears rushing play percentage was 39.30%, 20th in the league. In 2015, they were 45.70%. Why the big drop off?
WASRAM: Two words.
Adam
Gase
Bears fans everywhere were screaming for the Bears to run the football more in 2016 with rookie phenom Jordan Howard. New Bears offensive coordinator Dowell Loggains rarely listened. The revolving door at QB and the constant shuffling of the OL didn't help. Consistency there matters.
"The only thing the Bears were consistent at was being inconsistent at everything."
Going back to the Kyle Long question…  I think it's critical for the Bears to enter their off season program with a specific plan for their OL and to implement it. Kyle Long won't be participating because of his ankle rehab but if they plan to move Whitehair then move him in April, NOT August. Running in 2017 will be even more important. Opposing DC's will have 12 NFL games of Jordan Howard to study. The Bears WR corps is a complete unknown so the Bears OL and young RB will be critical to giving Mike Glennon some help so he can utilize some of the speed upgrades added to the WR room in Markus Wheaton and Kendall Wright.
Q: Last year you advocated trading the Bears No. 1 draft pick for Muhammad Wilkerson. The Jets' defensive line had a bad 2016 season. ESPN reported that there might be some concerns about Wilkerson's work habits. What do you think? Did he peak right before signing his monster deal or was 2016 just a bad year and would you still like to see Mo become a Bear?
MARSAW: Sometimes you just have to admit you're wrong. I'll do that here with Big Mo. I don't think I was ever adamant about the Bears including their 1st rounder but I definitely remember bringing up Wilkerson as an option for the Bears who clearly needed DL help. Not many expected Wilkerson to actually come to agreement on a long term deal in New York but he ended up doing just that and remaining a part of a defensive line consisting of Sheldon Richardson, and Leonard Williams. Like in a lot of cases when some players get their life altering big $ deal, it dampens some of the fire they had that made them special. Wilkerson said the reason for his down year was that he felt pressure to perform because of his big contract extension and he rushed back from a leg injury. Will he ball out it 2017? Stay tuned.
Did you hear the latest Bears Barroom Radio podcast?
Shayne Marsaw
Shayne Marsaw is the Lead Analyst at the Bears Barroom. He writes a weekly column called Marsaw's Mailbag. Send him a question on twitter. Just hashtag it #MarsawsMailbag. You can also send the question to Shayne at the Bears Barroom Facebook page
---
---