Marsaw's Mailbag – Bears Position Needs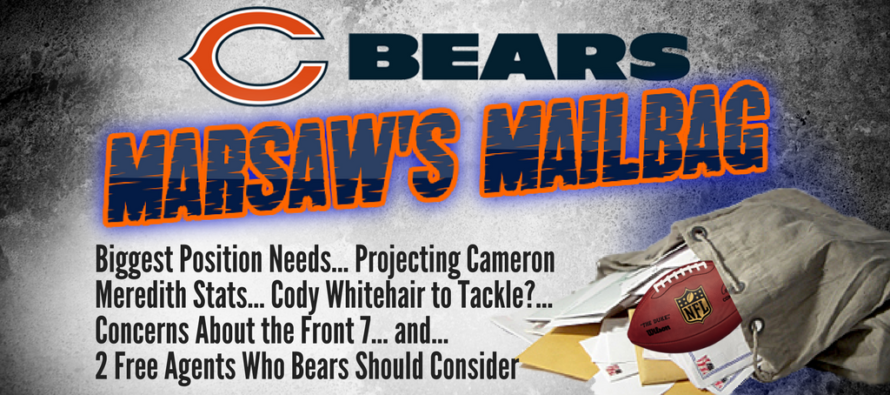 Shayne Marsaw continues his weekly Q & A session. Have a question? Tweet it to @BearsBarroom and hashtag it #MarsawsMailbag
Q: Now that the Bears have brought in ten new players, can you prioritize the Bears position needs going into the draft?
MARSAW: Even with the signing of quarterback Mike Glennon I still put priority #1 at QB. I've said it a number of times, or the Bears, 2017 is the year of the quarterback. The Glennon signing doesn't dilute the need for the team to draft a QB.
Ryan Pace has said that "this is about building the Bears the right way and for long term success." I think that means he invests financially into Glennon as an un-restricted free agent and now he must draft another QB the end of April.
[graphiq id="5PR0Ilsy9sF" title="Mike Glennon Career Passing Stats" width="600″ height="450″ url="https://w.graphiq.com/w/5PR0Ilsy9sF" ]
A sneaky No. 2 priority is offensive tackle. If you invest into the quarterback market, you can't forget to protect him. The Bears boast the best interior offensive line in the NFL but their offensive tackle combo of Charles Leno Jr. III and Bobby Massie leaves a lot to be desired.

Offensive tackles aren't sexy picks to make in the draft but they are the lifeblood to your team's most important asset. Your QB.
The Bears need talent everywhere so you really should take ANY list of needs with a grain of salt. But, again, quarterback is clearly No. 1 for me. Beyond that the Bears could add talent in almost any position and they wouldn't be wrong other then running back, guard and center.
Q: Draft Dr. Phil did a great breakdown on Cameron Meredith. (See the video by CLICKING HERE.) Do you doubt Meredith's ability to start? And, statistically, what is a realistic expectation for next year?
[graphiq id="lvvnILywsgl" title="Cameron Meredith 2016 Season Receiving Stats" width="600″ height="822″ url="https://w.graphiq.com/w/lvvnILywsgl" ]
MARSAW: I don't doubt Meredith's ability to start at all. Let's not forget that Meredith is still just scratching the surface as a wide receiver. He was a quarterback for three years at Illinois State before making the transition to receiver. A lot of upside there and it seems Ryan Pace thinks so too with Alshon Jeffery now catching passes in Philly. A realistic expectation for Meredith in 2017…. let's say…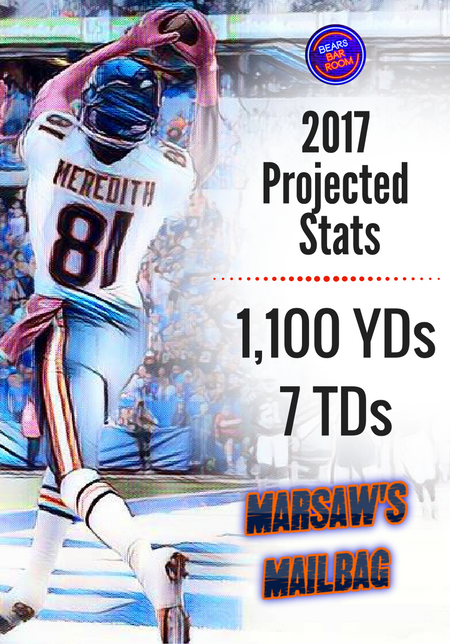 Q: Cody Whitehair played left tackle in his last two seasons of college ball. Is it inconceivable to think that the Bears will look at him there so that they can give Hroniss Grasu a shot at center? Or is Grasu the odd man out next season? Incidentally all of Whitehair's measurables are virtually identical to Charles Leno's … except his arm length is two inches shorter.
MARSAW: Former Bear offensive lineman and current analyst for the Bears radio broadcasts Tom Thayer brought up this exact thought earlier this offseason when a caller asked about Kyle Long possibly moving to tackle. With Long currently rehabbing a gruesome ankle/leg injury that requires surgery (Long announced on 3/21/17 he's now begun jogging) Thayer proposed the idea of moving Whitehair to offensive tackle. He says it's the move he would make so Long can concentrate solely on his rehab process.
Hroniss Grasu was singled out by Ryan Pace as being a center only. I think that tells you everything you need to know about where the Bears expect him to be in 2017 – health permitting. The Bears seem to be the leaders in switching positions for their promising young offensive linemen. Kyle Long from OG -> OT –> OG and now their prized rookie Whitehair may also be on the move to OG or OT. Stay tuned here. This is going to be an interesting situation to track beyond what happens at QB.
Here's some video of Whitehair playing left tackle at Kansas State…
Q: Going into last season the Bears' front 7 was believed to be the team's strength. Now, Pernell McPhee, Lamar Houston and Danny Trevathan are facing iffy futures because of injuries, Jonathan Bullard might have been overvalued, and Jerrell Freeman will soon be on the other side of 30. Reason for concern?
MARSAW: I think there's always reason for concern when injuries and years start to pile up. McPhee came to Chicago with a creaky knee and that's been an issue both of his seasons as a Bear – especially last season as he missed seven games. Lamarr Houston was brought here by Phil Emery after the Bears couldn't secure defensive lineman Michael Bennett in free agency. To this point his tenure in Chicago has been a disappointment. (It's never a good thing when your signature play is sacking a back up QB and then promptly tearing your ACL during your sack dance while your team was down 25 points.)
Danny Trevathan was the prized free agent signing of the Bears 2016 class but he wasn't the best inside linebacker signing the team had. That was Jerrell Freeman. Trevathan had a significant injury history before he signed here. His patellar tendon tear could see him begin training camp on the Physical Unable to Perform list. I wouldn't be at all surprised if that funneled over into the season which would see Trevathan miss the first six games of 2017. Worth noting, the Bears had Alabama ILB Rueben Foster in for a pre draft visit recently.
[graphiq id="7ldkCKmyxU1″ title="Danny Trevathan 2016 Season Defensive Stats" width="600″ height="680″ url="https://w.graphiq.com/w/7ldkCKmyxU1″ ]
[graphiq id="1QxLef5vYvX" title="Jerrell Freeman 2016 Season Defensive Stats" width="600″ height="779″ url="https://w.graphiq.com/w/1QxLef5vYvX" ]
Q: There are some interesting free-agent names available at inside linebacker. Do you like any of these guys?
Zach Brown
Gerald Hodges
Sio Moore
Perry Riley
MARSAW: Out of those names my preference would easily be Zach Brown. Brown is a tackling machine that thrived in his role after replacing an injured Reggie Ragland in Buffalo. Brown had 149 tackles and made the Pro Bowl. He also garnered a 2nd team All-Pro spot.
[graphiq id="5Y2Wh7xNp3v" title="Zach Brown Career Defensive Stats" width="600″ height="523″ url="https://w.graphiq.com/w/5Y2Wh7xNp3v" ]
One unrestricted free agent at the defensive line position that should intrigue all Bears fans is Johnathan Hankins formerly of the New York Giants. Hankins hits the UFA market as a 24 year old and would fill a big need for the Bears along the DL. Word is Hankins is still looking for a long term deal in the $8-$10m range. As of today the rest of the NFL hasn't agreed with Hankins' desires. Could be another 1 year deal that seems to be the common place in this UFA market.
Shayne Marsaw
Shayne Marsaw is the Lead Analyst at the Bears Barroom. He writes a weekly column called Marsaw's Mailbag. Send him a question on twitter. Just hashtag it #MarsawsMailbag. You can also send the question to Shayne at the Bears Barroom Facebook page
---
---