Bears Lose To Vikings – Time To Rock and Roll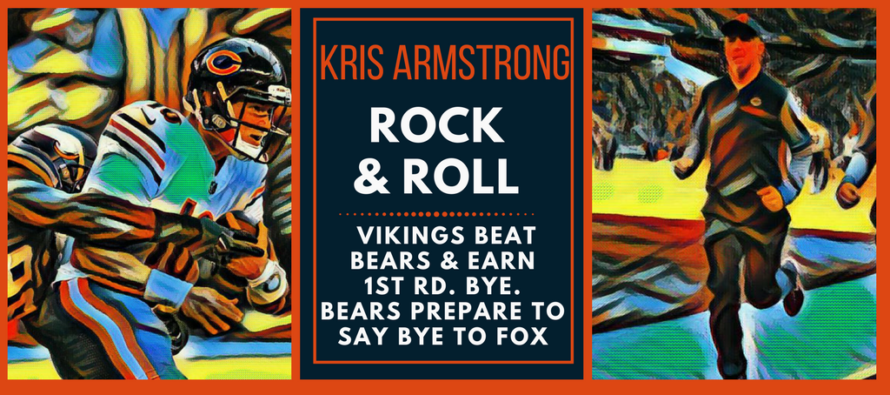 And the song remains the same. The final game of the 2017 season for the Chicago Bears was another head-banging loss. This time the Bears fell to the division champion Minnesota Vikings. The defeat struck the same chords we've heard all season. The defense played well; a solid effort with a few exceptions. And, the offense was flat.
You've got to give John Fox credit for putting together a damn good defensive unit. Credit to Vic  Fangio as well, although I'm not all that sad to see him go as I'd like a more aggressive DC.
This Bears defense is on the upswing, but clearly the unit misses Leonard Floyd. Ryan Pace must upgrade the Edge rushers this off-season. I love Willie Young, but he will be 33 next season and appears done. The Bears have an out on his contract and would save over $5 million. He should be let go. Pernell "I'm Violent but am constantly hurt" McPhee should be let go, too. The Bears would save almost $8 million each of the next two seasons be exercising their contract out. Sam Acho plays hard but he's just not a difference maker on the field. And if I never see Marcus Cooper in a Bears uniform again, I'd be grateful. He, too, has a contract out and will save the team almost $5 million next season and $5M in 2019. (Figures according to spotrac.com)
Pace must sign Kyle Fuller, either to a contract or to the Franchise Tag. I'm ok with Prince Amukamara returning as well. In short, I think we have a core group of good players that could be an exceptional unit if the pass rush is upgraded. My bold prediction on the defensive side of the ball is that Eddie Jackson substantially improves in year two. He's an instinctive player who has been close to a number of interceptions, I think he's going to light it up next year.
On Sunday, the offense was simply woeful. Credit an excellent Vikings defense for taking advantage of a depleted offensive line. I give Dowell Loggains a lot of credit for his consistent play calling this year, consistently bad.
3rd and 7, obvious blitz coming, and Bears appear to not even have a hot read.

Me to Dowell Loggains: pic.twitter.com/EHL7gkl5DC

— Johnathan Wood (@Johnathan_Wood1) December 31, 2017
Throwing the ball to your awful fullback inside the five yard line? Sending out your 5'6" running back to come across the middle at the goal line? Where was Howard? Where was Sims? How about rolling out Trubisky with a moving pocket or a boot? How about a run pass option? How about play action out of Shotgun? With the right coaching staff, I believe that we'll see Trubisky take a big step and become a top fifteen quarterback. No kidding. The kid has the tools and the work ethic and I can't wait to see him back on the field.
Special teams were the highlight of this game for the Bears. The punt return for a touchdown was a thing of beauty, thank you Dave Toub.
Was this the football Gods telling us Dave Toub will be the #Bears next head coach? pic.twitter.com/w3BtbCHtY6

— Bears Barroom (@BearsBarroom) December 31, 2017
And Nugent hit a 55 yard field goal. Huzzah. Finding a reliable kicker should be a top item on Pace's off-season to do list.
I'm not going to spend any time on Coach Fox other than to say "adios, motherfucker."
Of course, we don't know who the head coach will be and we don't know any of the new players. What do we know? As mentioned previously, we have a good group of core players on defense and if they can upgrade the pass rush, I expect a top ten unit in 2018. As for the offense, that's more of a question mark. We have a core group that could be good: Trubisky, Howard, Cohen, Shaheen, Whitehair, and Long. Assuming that Cam Meredith's rehab is going well, I'd re-sign him and hope that he continues to ascend. I'd bring back Inman and Wright and look toward finding a speedster or two, Paul Richardson from Seattle would be my choice.
We need help at right tackle, Massie was serviceable but for the money he's getting, that position needs an upgrade. Same with Josh Sitton, $8m per year but he's not the player he was two years ago. Both, Massie and Sitton have buyout clauses in their deals. Massive would save the team almost $5m and Sitton $8m.
In fact, if Pace doesn't get the Edge guy he wants in the first round, I'd take Quenton Nelson.
Quenton Nelson is amazing. How in the world did he see this safety blitzing from all the way on the other side of the line of scrimmage? pic.twitter.com/wCrVVpgCun

— J.R. (@JReidDraftScout) December 23, 2017
Nelson, Whitehair and Long would be a formidable group in the middle, immediately helping Trubisky, Howard and Cohen. Yes, I am a proponent of building from the inside out. Don't come at me with the notion that spending a top ten pick on a guard is insane. Would you spend a top ten on Zack Martin or Marshall Yanda? Duh and this Nelson kid is the real deal.
Lots of big decisions for Ryan Pace coming up. The Barroom staff will be creating a lot of content about the new coaching staff, free agency and of course the draft. Expect to get tons of articles on this website, videos on their youtube channel and talk (including fart jokes) on their podcasts. So be sure to follow along this off-season. Barroom Twitter (@BearsBarroom) should be a fun place to hang out with all of the Barflies.
With that my friends, the curtain on this season has dropped and mercifully it is over. Best wishes to all of you for a Happy New Year, Bear Down!
Kris Armstrong
Kris is an ex-jock who became despondent at an early age when she learned that she could not, in fact, become Dick Butkus. She is passionate about Da Beloved, Soroptimist International and her bemused and patient husband. Catch her on Twitter @krisarmstrong1
---
---
Related Articles
If you are a regular listener to Bears Barroom Radio you know that Draft Dr. Phil Ottochian insists the Chicago
They say the best offense is a good defense. It certainly was for the Bears Sunday, as they scored fourteen
All week long the national media has weighted in on whether the Chicago Bears did the right thing in naming