Leonard Floyd Needs A Partner
by Alec Lifschultz | February 5, 2018 3:57 pm
Hello Bears fans,
Take a whiff. Smell that? No, not the steak and whiskey. I'm talking about that scent of optimism The Chicago Bears have a chance to make a quantum leap under coach Matt Nagy and his impressive coaching staff. The sweet aroma of better days ahead has hit the fan base ever since of the odor of John Fox has been replaced. With the coaching staff in place we all turn our heads towards NFL free agency and the NFL draft.
General manager Ryan Pace has some big decisions to make. In are agency and the draft. We're seeing many "experts" assemble their mocks  based on their perceived team needs and fits. I've seen a few mock drafts with the Chicago Bears taking Calvin Ridley, a wide receiver out of Alabama  with their number eight overall pick. Let me be among the first to say, "hold your horses people, we have other needs that could be addressed with that spot in the first round."
An issue with the team that hasn't been brought up enough is the outside linebacker position. (Although, Shayne "The Smartest Man" Marsaw talked about it in a recent 100 Proof podcast[1].)
Leonard Floyd is quite the talent with his pure speed and raw athleticism. Floyd has shown the ability to get to the quarterback and be disruptive. He's also shown the ability to get outside containment in the running game. I have no doubt that he will continue to ascend as a building block for the franchise.
Outside of Leonard Floyd, there are so many questions with the state of the position on the roster.
Pernell McPhee has been trending down since his first injury in 2015. He started off as quite the player living up to the hype and getting to opposing quarterbacks and helping stop the run game. He recorded 6 sacks and 42 tackles despite his injury which is just okay production but he's been banged up every season. McPhee has been seen on film playing selfishly and blowing his containment to allow big plays trying to make inside moves to sack quaterbacks. This is a growing concern issue and it needs to be addressed. Additionally, you can just see that the wheels are losing their thread.
Willie Young successfully made the transition from a 4-3 defensive end to a 3-4 outside linebacker in Vic Fangio's scheme. Despite what many fans and experts thought about his ability to make the switch, he played well enough to get a contract extension with the Chicago Bears. Young is a very good player when healthy, he recorded 7.5 sacks in 2016 which was the last time he played a full 16 games. The issue with Willie Young is the same with Pernell McPhee in that they are both over 30 years old and can't stay on the field.
Sam Acho was serviceable in 2017. He was efficient in the run game and average in pass coverage. The problem with Acho is the]at he's not a starter you can count on for big plays.
When we think about Lamarr Houston we always think about the game in New England when he tore his ACL while celebrating a sack in a game that was already heavily decided in the Patriots favor.
If we look beyond that first season in Chicago, Houston is a good player. When switched to a 3-4 outside linebacker under Fangio in 2015 Houston recorded 8 sacks which was a team and career high that season. In 2016 he tore his ACL week 2 against the Eagles during a Monday Night football. It was pretty ironic that the Chicago Bears cut Houston right before the season started in 2017 and he signed with the Houston Texans who also cut him in November. With all of the injuries to the position the Chicago Bears re-signed Houston and he ended up recording 4 sacks in 5 games.
I like Isaiah Irving and he put some good things on film during the preseason and he also had a brief stint on the active roster before an injury sidelined him. But, we can't pin our hopes on him to be Floyd's pass rushing partner.
The common theme with these players (excluding Floyd and Irving) is that they are older players and injury prone. It's a bit of a problem when your pass rush is coming from a defensive end in a 3-4. Akiem Hicks is a hell of a player but he shouldn't be leading your team in sacks.
Successful teams are always looking to upgrade at every position in order to continue their success.
It would be wise for the Ryan Pace to address pass rusher very aggressively before the draft even comes around. The Chicago Bears need depth and talent at the position, luckily there will be options available in free agency, although effective pass rushers generally don't make it to the open market.
I know there is speculation that Ryan Pace isn't willing to pay for premium players and that's simply not true. He made high money pitches at AJ Bouye and Tedd Ginn Jr who both turned down the money to go to teams they felt offered better situations.
The player I'm thoroughly impressed with and do believe will be available in free agency is Detroit Lions pass rusher Ezekiel Ansah.
Ansah recorded 12 sacks in 2017 and that's just the kind of production we need at the outside linebacker position. How gameplans are conceived these days it doesn't matter if a player is coming from a 3-4 or 4-3. You can make them fit.
Ansah has a very quick first step and can completely wreck opposing offense's gameplans. Another player I like a lot who is likely to get a franchise tag is Dallas Cowboys defensive end Demarcus Lawrence. He recorded 14.5 sacks in 2017 which is extremely impressive. He's only 25 years old and about to hit his prime. If he actually hits the market it would smart for Ryan Pace to give this player a good look.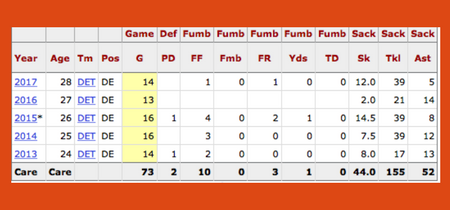 If Pace strikes out during free agency not to worry Bears fans there are a lot of talented pass rushers in the upcoming draft who can immediately upgrade and solidify the position. There is growing speculation that four quarterbacks and a running back might be picked before the Bears' eighth overall pick so we might have our pick of the litter at pass rushers.
My first choice is Bradley Chubb out of North Carolina State. He recorded 10 sacks in 2017 but has a lot of upside at the position. Chubb also had 72 total tackles and anchored that defensive line.
A player who is rising rapidly and is getting a lot of attention is Marcus Davenport out of the University of Texas at San Antonio. Davenport is a very athletic and quick edge rusher who went to a smaller school so he's not getting the praise he should from the national media. Davenport had a very good Senior Bowl game in which he applied pressure regularly and even got a sack on Baker Mayfield.
I'm pretty sure after the NFL Combine Davenport will get the national media attention that he deserves. I believe the  Bears should grab one of these two players at number 8 overall. These two players are genuine game changers. Addressing the wide receiver position later in the draft is more advisable with so many 2nd and 3rd round options available.
We all know that wide receiver is a need for the Chicago Bears but edge rusher is really a bigger need. Leonard Floyd is a bonafide starter and a part of the long term plan for the outside linebacker position but there are a lot of questions marks for the other starting outside linebacker spot. Vic Fangio was retained so his 3-4 based system will be here for at least three more years. He needs another edge rusher who is young and athletic enough to make plays and stay on the field. Ryan Pace needs to diligently attack this position in free agency and in the NFL draft. It would stink if he doesn't.
Endnotes:
recent 100 Proof podcast: http://bearsbarroom.com/bears-100-proof-senior-bowl/
#Bears: https://twitter.com/hashtag/Bears?src=hash&ref_src=twsrc%5Etfw
pic.twitter.com/kA5kocNigg: https://t.co/kA5kocNigg
October 29, 2017: https://twitter.com/BearsBacker/status/924684974879662082?ref_src=twsrc%5Etfw
https://t.co/WPdAjMixJX: https://t.co/WPdAjMixJX
September 24, 2017: https://twitter.com/EJMannix/status/912031011143380994?ref_src=twsrc%5Etfw
@Ziggy_Ansah: https://twitter.com/Ziggy_Ansah?ref_src=twsrc%5Etfw
pic.twitter.com/29fwSXhX0J: https://t.co/29fwSXhX0J
January 19, 2018: https://twitter.com/Lions/status/954458832100458496?ref_src=twsrc%5Etfw
pic.twitter.com/pN3CcmczGo: https://t.co/pN3CcmczGo
January 26, 2018: https://twitter.com/CeeingTheDraft/status/957029361890160642?ref_src=twsrc%5Etfw
@MarcusJD84: https://twitter.com/MarcusJD84?ref_src=twsrc%5Etfw
#SeniorBowl: https://twitter.com/hashtag/SeniorBowl?src=hash&ref_src=twsrc%5Etfw
pic.twitter.com/pe4N67pO5m: https://t.co/pe4N67pO5m
January 27, 2018: https://twitter.com/DLineVids/status/957345175860203520?ref_src=twsrc%5Etfw
Source URL: http://bearsbarroom.com/leonard-floyd-needs-partner/
---