Late Round Targets For Chicago Bears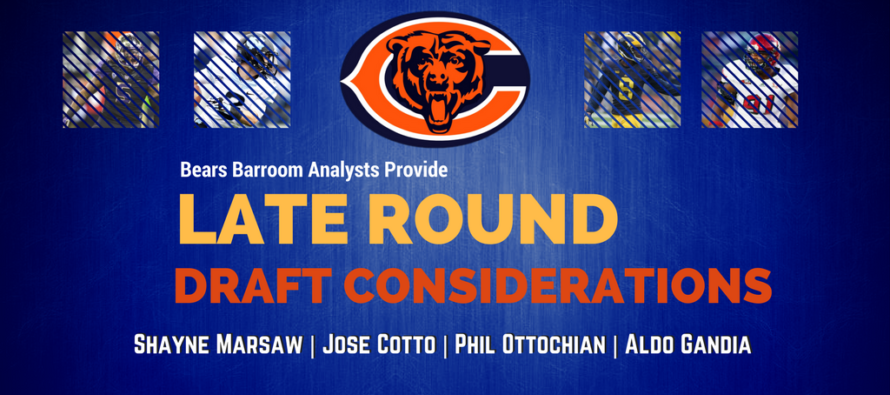 Our analysts have devoted countless hours to studying the players available in this year's draft. That goes for players chosen in the first three rounds and players still available. Jose Cotto, Shayne Marsaw, Phil Ottochian and Aldo Gandia each submitted five names for the Chicago Bears to consider drafting today, the final day of the 2017 NFL Draft.
Jose Cotto
Rodrick Johnson, OL, Florida St. 6'7″, 300 lbs.
Day three is where I'd gamble on traits. Johnson's tape is highly inconsistent but his good tape shows a player that has the potential to be a starting caliber left tackle.
Tedric Thompson, S, Colorado, 6'0″, 205 lbs.
The defense can use a young ball hawk. Thompson recorded 7 interceptions and 16 passes defensed in 2016.
Joe Mathis, OLB, Washington, 6'2″, 266 lbs
Mathis is a relentless power rusher who sets the edge ferociously in the run game. This is a younger, cheaper alternative to Pernell McPhee.
Howard Wilson, CB, Houston, 6'1″, 184 lbs
Wilson has good size and excellent ball skills. Very willing to strike ballcarriers. Good value day 3. WR Robert Davis Height, weight, speed guy. Looks like a Pace selection.
Robert Davis, WR, 6'3″, Georgia St. 219 lbs.
Height, weight, speed guy. Looks like a Pace selection.
Shayne Marsaw
Malachi Dupre, WR, LSU, 6'2″, 192 lbs
Long armed WR who is very athletic. Can go up and get despite smaller hands. Didn't get a chance to shine at LSU with bad QB play. Give your young QB another weapon to grow with.
RB Samaje Perine, RB, Oklahoma, 5'11", 233 lbs
Brings a lot of the same qualities to the field that Jordan Howard does. Bowling ball type runner that can be a threat in the passing game. Can Ka'Deem Carey stay healthy? Will Langford step up? Would like to see the Bears invest in another RB that has the ability to play all 3 downs if needed.
TE Jake Butt
If this draft is more about 2018 then how can you not look at Butt(

) Give Trubisky yet another weapon. Butt is a candidate to sit out 2018 but could pay off big for a team willing to wait. Talented Route runner that can work underneath and give your QB a security blanket
Ryan Switzer, WR, North Carolina, 5'8″, 181 lbs
Give your QB his favorite target from college. Doesn't have great size, doesn't have big hands but can be a dynamic slot WR and contribute in the return game.
Carroll Phillips, Illinois, OLB, 6'3″, 243 lbs
Later in the draft you're looking for traits. Phillips is very athletic and has the speed and flexibility to bend the edge. Needs to add strength. Will be a 25 year old rookie.
Phil Ottochian
Desmond King, DB, Iowa, 5'10", 201 lbs
Former Thorpe award winner who I have in my top 50 and is still on the board. As a football player he can do it all, but most importantly takes away the football
Tedric Thompson, S, Colorado, 6'0″, 205 lbs.
Like Jose, I love this athletic playmaker. He has a knack for creating turnovers … something the Bears desperately need!
Jaleel Johnson, DL, Iowa, 6'3″, 315 lbs
Bears need a 5-tech and this two year starter has the skills. His fluid short area strength and quickness could make him a starter in a short amount of time.
Ryan Switzer, WR, North Carolina, 5'8″, 181 lbs
Can you tell that Shayne, Jose and I exchange notes a lot on these players? Like Shayne I love this playmaker and chain mover. Add the cohesion and relationship with Trubisky and this is a match made in heaven. Quick as a jack rabbit and a highlight reel on how to get open.
Samson Ebukam, Estern Washington, EDGE. 6'3″ 240 lbs
This guy plays like a lion. No! Not a Detroit Lion. But a wild animal lion! His aggressive and relentless motor is a must for the Bears. Yes our Bears! He could help now as a 3rd down rusher
Aldo Gandia
Carl Lawson, EDGE, 6'2″, 261 lbs
Why is he still available? Maybe his medicals have scared people off. If there are no terrible red flags the Bears should pounce on Lawson so he can pounce on opposing quarterbacks.
T.J. Logan, RB, North Carolina, 5'9″ 196, lbs
Like Shayne, I'm keeping an eye out for Trubisky by getting him a favorite bail out target, a reliable pass catcher out of the backfield and a much needed 3rd down back for the team. He also is a special teams ace.
Jadar Johnson, S, Clemson, 6'0″, 206 lbs
Despite playing for the nation's best college football team, fell under the radar a bit because he played behind excellent DBs until his senior year. His one year of experience shouldn't be too big of a concern for Ryan Pace… right?
Jordan Evans, Oklahoma, LB, 6'3″, 233 lbs
Started all three years. Excellent athlete who, with solid development, could become a three down linebacker.
Channing Stribling, CB, Michigan, 6'1″ 188 lbs
Developmental press corner who caught my eye late in the season and in the East-West Shrine game. Could be available as an un-drafted free agent.
Photo captions provided by NFL.com
Did you see our instant video reaction to the Trubisky pick?
---