Kris Armstrong – Tru Be or Not Tru Be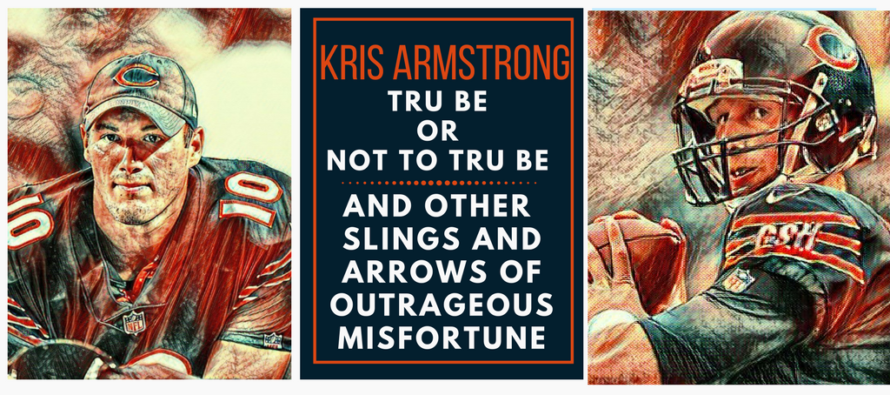 "Whether it is nobler in the mind to suffer another Bears defeat or look ahead to better days," asked Hamlet. (Or something like that.) Sunday's loss to the Atlanta Falcons felt an awful lot like other John Fox-led defeats. The Beloved had another opportunity to pull out a win in a close game and failed miserably. At least it was a loss to the previous NFC Champs and not the Colts/Titans. Who the hell am I kidding? It still sucks. It may even be worse because the 2017 Bears appear to be a good team. I am not even going to touch on the D today as they played well enough to win, despite the 3rd down gaffes. They held the Falcons to 23 points and that's something to 
Post-game Twitter has been brutal. Glennon sucked. No he didn't. Yes he did. No. Yes.
Two schools of thought about potential QBs in that game:
1: But Cutler would have
a) thrown the winning TD
b) thrown a pick
c) been incapacitated by da diabeetus
d) not cared.

2: But Trubisky would have
a) scrambled for the winning TD
b) made a better throw to Bellamy – who probably would have dropped it anyway
c) made a better throw to Howard who would have scored
d) would have played better throughout the game and it wouldn't have come down to the last play.
I'm tired of talking about Cutler, are you? I love Cutty, LOVE HIM. Aside from money, he got a raw deal in Chicago playing behind piss poor offensive lines with a clown car full of incompetent OC's. He didn't get a real live number one receiver until 2012 when Marshall arrived just in time for the Bears D to begin disintegrating and then collapse into a stinking pile of crap under the tutelage of Voldemort and his minions. To those that say he's not an elite QB, I say – no kidding, few are. But he was and maybe still is, a top tier QB. Seriously people, if Glennon played behind the 2009-2012 Olines, he'd be dead. Muerto. Cutty is the real Chicken Salad. But he's gone, so let's move on.
What about Mitch? He doesn't have a past to consider, only the future to contemplate. Do I think that he can run the same offense that Glennon is running? Yes, there's no doubt. The bottom line is that the only thing that Glennon has on Trubisky is NFL game experience and Tru's certainly not going to get any of that while sitting on the bench. This team has a good offensive line, a good running game and possibly a top ten D. That is a perfect situation for him, it's not like he's Derek Carr coming in to get sacked a billion times on a crappy team. For me, there is no QB controversy: play the kid.
What the hell is going on with the media? The entire Trib & Sun Times staff (with the exception of Hoge) and ESPN's Dickerson are delusional. Sad! Glennon was fine, he managed the game, he didn't lose the game, it's all good, remain calm. Glennon was not fine. He's a fine number two QB, that's it. PFF stats indicate that he was 6/13 under pressure for 42 yards, 54 passer rating and if you include sack losses of -37, he had a grand total of +5 yards on 19 dropbacks. But it's a totally different story when he was not under pressure… uhm, no. 20/27 for 171 yards which averages out to 6.3 yards per pass. In total, 176 yards (includes the lost yardage from sack losses) in 40 attempts. 176/40 is 4.4 yards per attempt average. Sure, that's just fine. All is well, Bears fans.
Outside of the whole QB thing, it was an interesting first game. Thankfully, I have actual game notes to regurgitate and not just Twitter babble. Loggains called a thoughtful, creative game with an equal run/pass differential until it was 20-10. The RBs did a good job picking up blitzes and free rushers. The offensive line did a good job run blocking in the first half. It was tougher sledding in the second half due to Atlanta's adjustments aka not worrying about the intermediate or deep ball and stacking the box against the run and short passing game. Pass blocking was really pretty darn good, not sure that you can pin any of the four sacks on them. Howard was steady but needs more than 13 carries. Cohen was just so damn fun to watch – reminiscent of the feeling I used to get watching Hester. Zach Miller and Dion Sims were ok but would have liked to see a few more throws down the seam to them. This WR group is underwhelming. Frailty, thy name is Kevin White. As a whole, they had a heck of a time gaining separation against press coverage. The only WR I noticed getting any separation on a regular basis was Bellamy. Maybe he becomes be our number one receiver! On the other hand, it's not like Glennon is going to throw the ball down the field to them anyway.
I don't want to babble on too much, I'm not qualified to break down plays/film like Barroom Regulars Phil (@FulphilO )and Shayne (@wasram ) do. Be sure to catch Bears Hour Live commentary from Monday's show for that. (CLICK HERE)
All in all, there's some hope, even with 8 at QB. And if this staff grows a pair and starts Trubisky (they won't), we'll be sitting pretty. Until then, like Hamlet said, "keep the faith and Bear Down!"
Kris Armstrong
Kris is an ex-jock who became despondent at an early age when she learned that she could not, in fact, become Dick Butkus. She is passionate about Da Beloved, Soroptimist International and her bemused and patient husband. Catch her on Twitter @krisarmstrong1
---
---
Related Articles
Welcome back to the Barroom!  It's been a busy, BUSY day here with reaction to the Sam Bradford trade by
John Buffone answers five questions about the Chicago Bears and five about their upcoming opponent the Minnesota Vikings, each in
I surrender. Like John Fox's team appeared to do Sunday, I quit! The Bears defense came out on to Lincoln