Kevin Schroeder's Bears Player Performance Grades – Week 3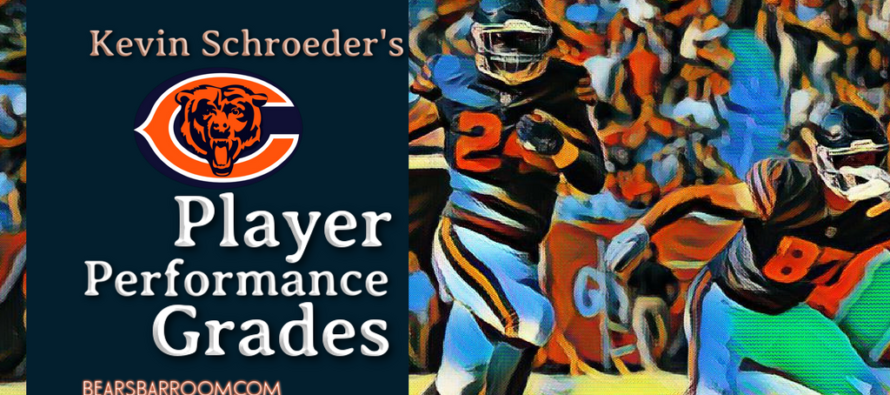 Expectations were pretty low after a disaster of a game in Tampa Bay, but the Chicago Bears came out with a plan against Pittsburgh and for the most part executed  it well. They controlled the first half and when Marcus Cooper was in the clear after recovering a blocked field goal attempt at the end of the first half, it really looked like the team had gotten on a fast track to respectability.
Then… Cooper slowed down and in one of the most bizarre plays in Bears history Pittsburgh's Vance McDonald came from behind to knock the ball loose. Jordan Berry knocked the ball out of the end zone. That's a penalty and the half was extended for one play. John Fox lined up the offense at the one yard line to get the touchdown Cooper gave away, but a false start pushed the Bears back five yards and they settled for a field goal. Going into the half up 10 was a good feeling, though confidence waned a bit after that screw-up.
Confidence waned even more with a pair of turnovers in the second half and Jordan Howard laboring through intense pain from a shoulder injury. Fortunately, the defense came up with enough stops to get the game to overtime, where a trio of big runs got the Bears off the schnide.
Player Grades
The grading scale goes from -3 to +3 for each play. Penalties are counted in whatever phase they were committed. "Short" throws are 10 yards or less, "Medium" is 10-20, "Deep" is over 20. Everything else (scrambles, throwaways, etc.) is under "Miscellaneous."
IF VIEWING ON CELL PHONE YOU MAY NEED TO HOLD YOUR DEVICE IN LANDSCAPE FORMAT




So, what happened?
Okay, so the re-watch wasn't as positive as I thought it was going to be, so what say we take a couple more minutes to enjoy the win before we dive into this?
Watching the game live, I expected that the run blocking grades would be excellent. They weren't. They were good, but not what one would expect in a game where the running backs put up a bonkers score of +25 on the ground. The grade would have been even higher if not for a pair of fumbles. Credit Dowell Loggains here for scheming ways to create space for the backs, but a lot of yards came on runs that Pittsburgh overplayed and the backs (mostly Howard) were able to identify it, make the cut, and take advantage. I didn't grade the Steelers' defense, but I suspect that if I did, the lion's share of the minuses would fall on the linebackers.
Aldo collected some Pro Football Focus analysis and I take exception to some of their interpretation of the wide receivers' work. Markus Wheaton certainly had a rough day, dropping both passes thrown his way, particularly galling since both passes were right on the money. Although, he is coming off of surgery to a finger, perhaps that played a role.
Other than that, the receivers were not really to blame for the lack of catches. Looking at the all-22, the receivers found space. Glennon just didn't get them the ball. That brings us to this week's #TrubiskyNow moment – right now, you're starting a guy who you know sucks. Put the kid in. I'm sure he'll make his share of mistakes and have his rookie moments, but when I see people say they want Mark Sanchez to start and think that actually sounds like a better idea than what they're doing now, that says something.
The team is 1-2 right now and is a competent QB away from being 3-0. For those that think I'm putting too much blame on Glennon take note of his debacle last week against Tampa Bay's defense. He made them look like Super Bowl contenders, yet Case Keenum throws for 25 completions on 33 attempts for 369 yards, three touchdowns and zero turnovers against the Bucs on Sunday. Case Keenum! Case. Kennum.
I don't know how many games the Bears can win like this. The Packers' defense is nothing to write home about even when at full strength and they're not at full strength now. Green Bay's games against Atlanta and Cincinnati showed that there are opportunities to be had against their defense. While the Bears don't have a Julio Jones or an A.J. Green, they should be able to move the ball through the air if Glennon can make good decisions. In the long-term, you're going to need much better QB play than this – banking on teams being undisciplined against the run does not seem like a viable strategy.
One final note on the offense – pick a center and be done with it. Shuffling Whitehair around is doing him and Glennon no favors. He was solid in this one, though his grade doesn't show it because it includes a couple bad snaps. Long-term, I think he's best at center. So leave him at center. When Grasu's healthy, he should be the backup and they should look to other non-Whitehair options to fill holes at guard if need be.
On defense, the pass rush looked better during the re-watch than it did live. Pernell McPhee's performance was exciting. Jonathan Bullard had his best game of the year and looked like the guy we were excited about during the pre-season. Marcus Cooper made a number of plays in coverage, but a few big biffs kept him from putting up a really great score. If the defense turns in another great outing Thursday in Green Bay, I'm calling them officially legit. I mean, look at the Steelers' drive chart:
| | | | | | |
| --- | --- | --- | --- | --- | --- |
| Start | Spot | Plays | Yards | Time | Result |
| 15:00 1Q | PIT 25 | 3 | 3 | 1:08 | Punt |
| 9:09 1Q | PIT 37 | 6 | 13 | 2:54 | Fumble |
| 2:32 1Q | PIT 37 | 3 | 9 | 1:26 | Punt |
| 12:53 2Q | PIT 23 | 13 | 77 | 7:11 | TD |
| 0:43 2Q | PIT 25 | 5 | 57 | 0:43 | Blocked FG |
| 13:35 3Q | PIT 27 | 7 | 28 | 3:22 | Punt |
| 9:25 3Q | CHI 16 | 6 | 16 | 2:42 | TD |
| 14:51 4Q | PIT 10 | 7 | 44 | 4:36 | Punt |
| 8:57 4Q | CHI 21 | 4 | 7 | 0:54 | FG |
| 5:12 4Q | PIT 38 | 3 | 4 | 1:46 | Punt |
| 0:52 4Q | PIT 15 | 3 | 9 | 0:52 | End of regulation |
That's two drives leading to scoring opportunities that started in their own territory. So here is where the optimism for the rest of the season comes in – with an offense displaying even basic competence, this team will be fine.
Staley Nickels
My award system can give up to 3 nickels per player. Keep in mind that I might not award the optimum amount of Staley Nickels to the highest-graded players since different grades mean different things to different players.
Offense
3: Jordan Howard
2: Charles Leno, Tarik Cohen, Deonte Thompson
1: Adam Shaheen
Defense
3: Akiem Hicks, Pernell McPhee, Prince Amukamara
2: Jonathan Bullard
1: Adrian Amos, Danny Trevathan
Staley Nickels Count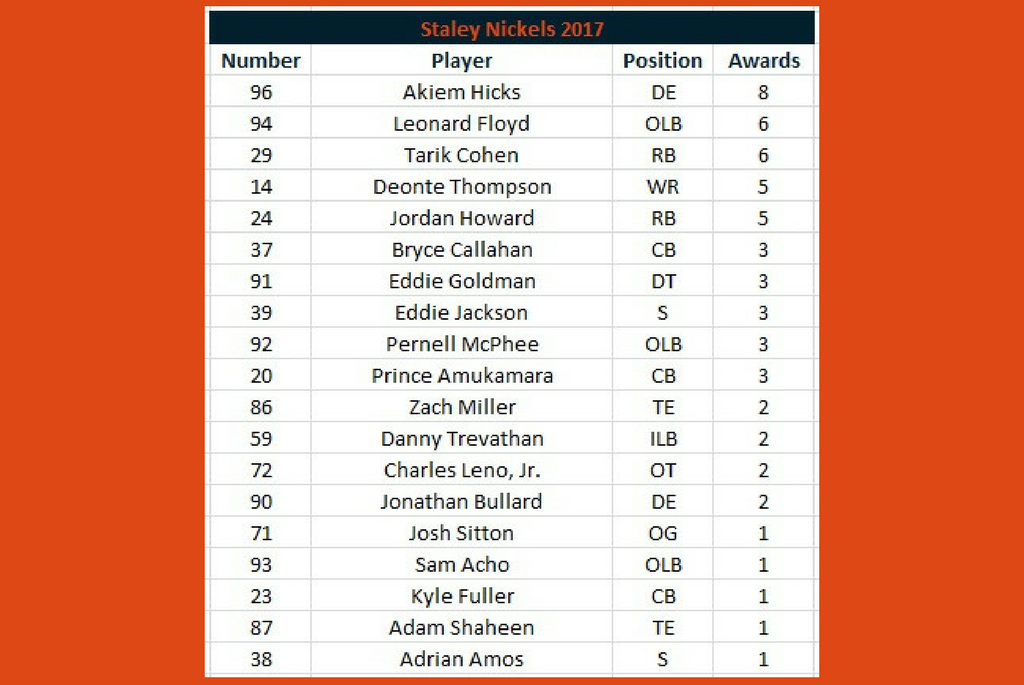 Bear Down!
Twitter: @KSchroeder_312
Make Sure You Read Aldo's Re-Thinking On Whether Trubsiky Should Be The Bears' Starter
Kevin Schroeder
Football guy, be it NFL or college, even the CFL. If you take football out of his life, he's not going to function well. Kevin also writes about Michigan football and Blackhawks hockey at goodifitgoes.com. Find him on Twitter @KSchroeder_312.
---
---
Related Articles
SKOL Brew No. 11 — Purple Postseason BJ Reidell: The Minnesota Vikings earned an epic victory at Lambeau Field over the
About an hour after free agency started there was a frenzy of complaints leveled at Ryan Pace and the Chicago
A famous strategist once wrote, "Know thy enemy," or something like that, and that's one of the purposes behind our