Kevin Schroeder's Bears Player Performance Grades vs Lions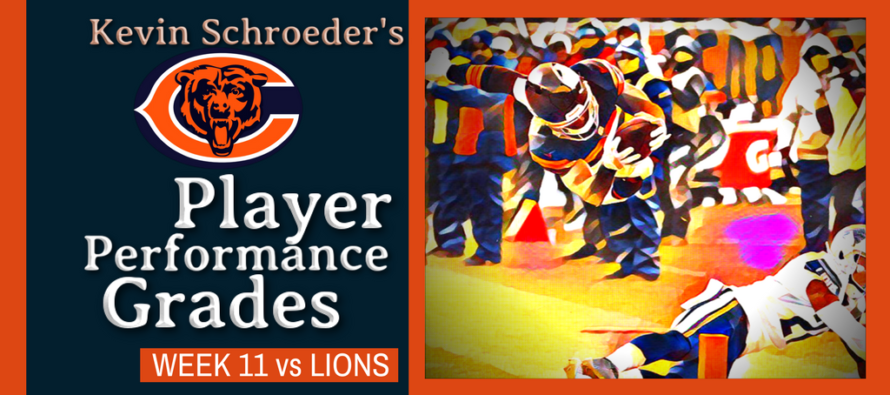 There is an episode of King of the Hill in which the Arlen High School Booster Club wants to replace the football team's groundskeeper, Smitty, because Smitty's getting up there in years and not all there anymore. Hank Hill, loyal to the man who maintained the field he ran on during his glory days, wants Smitty to be able to retire with his full pension and insists the school retain Smitty. The following week, Arlen has to forfeit a football game because the field is in terrible condition, even worse than the grass at Soldier Field, because Smitty had fallen asleep while watering the grass and the field got soaked. Hank and his friends take it upon themselves to take care of the field, Smitty gets the credit, and eventually gets a big head, thinking he actually did the work. He finds Hank and his friends on the field, kicks them off, and goes back to actually working on the field himself, which he, of course, does poorly. Hank enlists his niece's redneck boyfriend, Lucky, to drive his truck over the field and get his redneck pals to do likewise, destroying the grass and getting the playoff game rescheduled due to vandalism so Arlen wouldn't have to forfeit on account of Smitty's terrible work.
I told you that story because after the Bears' loss to the Lions, John Fox had one heckuva statement:
Bears HC John Fox: "We have lulls. We have siestas. We just don't do it for 60 minutes. And I think we're not good enough. Nobody, I think, is good enough to overcome that."

— Rich Campbell (@Rich_Campbell) November 19, 2017

That is the sort of thing Smitty would say. Fox even kind of looks like Smitty.

Why are there lulls, Coach Smitty? Why are there siestas? That is on you. Also, how are you this bad at talking? This is not the first time he's said something to the media that made him sound incompetent. Smitty cannot be the coach here again next year.
Player Performance Grades
The grading scale goes from -3 to +3 for each play. Penalties are counted in whatever phase they were committed. "Short" throws are 10 yards or less, "Medium" is 10-20, "Deep" is over 20. Everything else (scrambles, throwaways, etc.) is under "Miscellaneous."
TO VIEW PLAYER GRADES ON MOST PHONE DEVICES YOU WILL HAVE TO VIEW IN LANDSCAPE FORMAT




So what happened?
Reviewing the film, this kinda felt like a win. It might have been if Connor Barth hadn't Rush Limbaughed the kick (far right and not even close to accurate, get it?) to send the game to overtime. The offensive line turned in their best performance of the year. Josh Sitton, Cody Whitehair, and Charles Leno were all outstanding and Bobby Massie was very good. PFF was more bullish on Massie than I was, naming him as week 11's best right tackle. Their score looks a whole lot better than mine does, but the only major difference between their take on his day and mine is that I dinged him a couple more times for getting beat on passes. Kyle Long's day would have been passable were it not for a completely idiotic personal foul.
While Mitchell Trubisky's score wasn't bad at all, even for a QB, his performance still felt better than it graded out. He took another sack he absolutely could not take, stepping directly into the pass rush late in the game, he fumbled a snap, and he had a throw that should have been picked. Otherwise, the minuses were all pretty minor. All things considered, this was a rather impressive performance for a rookie.
Also an impressive performance by a rookie, Adam Shaheen showed he can handle being the starting tight end. Elsewhere, Jordan Howard and Tarik Cohen both had great games on the ground. Daniel Brown and Dontrelle Inman were solid contributors.
Complaints here are relatively minor. Bears drive chart:
| | | | | | |
| --- | --- | --- | --- | --- | --- |
| Start | Spot | Plays | Yards | Time | Result |
| 15:00 1Q | CHI 25 | 13 | 70 | 6:39 | FG |
| 4:46 1Q | CHI 45 | 3 | 55 | 1:23 | TD |
| 0:06 1Q | CHI 16 | 4 | 11 | 1:06 | Fumble |
| 14:00 2Q | CHI 22 | 8 | 78 | 5:30 | TD |
| 5:17 2Q | CHI 25 | 3 | 7 | 1:42 | Punt |
| 0:20 2Q | CHI 22 | 1 | 5 | 0:20 | End of Half |
| 13:19 3Q | 50 | 3 | 0 | 0:49 | Punt |
| 9:07 3Q | CHI 3 | 6 | 30 | 3:12 | Punt |
| 4:18 3Q | CHI 16 | 4 | 9 | 2:12 | Punt |
| 10:01 4Q | CHI 22 | 8 | 78 | 4:59 | TD |
| 1:35 4Q | CHI 17 | 11 | 55 | 1:32 | Missed FG |
I wasn't a fan of the play calls on goal-to-go on the first drive.
Down
Distance
Spot
Score
Time
Personnel
Formation
1
Goal
DET 8
0-0
9:55 1Q
21
Ace Stack Left
Cohen lines up behind Inman, but goes in motion before the snap and takes the handoff from Trubisky. It's outside zone right and the Lions are ready for it and keep Cohen from getting outside, stopping him for a loss of one. Not helping matters is the fact that Kyle Long blocked nobody. Sitton +0.5 Run, Whitehair +1 Run, Long -1.5 Run, Massie +0.5 Run, Shaheen +0.5 Run
2
Goal
DET 9
0-0
9:19 1Q
12
Ace Bunch Left
Outside zone left for Howard. The line gives him space and he gains 4. Howard +1 Run, Leno +1 Run, Sitton +0.5 Run, Brown +1 Run, Inman +1 Block
3
Goal
DET 5
0-0
8:29 1Q
11
Gun Trips Right HB Weak
Trubisky looks to pass, but nothing's open. He looks for the check down to Cunningham, but leaves it short of Cunningham, who was short of the goal line anyway. Trubisky -1.5 Short
That first down play didn't have a chance. I have no idea why they chose to break that out so close to the goal line. Run Jordan Howard there or go play-action. This would be a recurring theme throughout the game – forcing the ball to Cohen.
Toward the end of the game, with the Bears on their final drive, tweets like this were all over Bears Twitter:
#Bears have Jordan Howard, Tarik Cohen and Adam Shaheen on the sideline during their two-minute drill. Can't make this stuff up.

— Kyle Nabors (@KyleNabors) November 19, 2017
The Bears had a long way to go and a short time to get there, so they weren't going to watch Ol' Howard run and we've seen what happens when he's used as a receiver. Cohen is an explosive player. Cohen is also 5'6 and not a good pass protector. I get the complaints – keeping him off the field seems counterintuitive there, but I'm not sure what they could have done with Cohen there. Plus, Cunningham is usually the best pass protector of the three backs and can catch the ball out of the backfield. Keeping Shaheen off the field is a decision I really don't get. Go ahead and complain about that one.
I wasn't too happy with the defense when I watched the game live. I was less unhappy with the unit during the re-watch and Kyle Fuller was better than I had thought he was live, but the rest of the secondary was pretty mediocre and I'm still not thrilled about the game plan. Stafford was finding holes in the Bears' zone coverage all day and they just kept letting him do it. It might have been okay if the pass rush was better, but Leonard Floyd was the only guy generating any push consistently. I was particularly disappointed in Pernell McPhee. I still think Vic Fangio is worth keeping and I still think this is a good defense, but they need a piece or two to enter the upper echelon. The pass rush (with a healthy Floyd) is probably good enough if the secondary could cover better and the secondary is probably good enough if the pass rush was better.
Lions drive chart:
| | | | | | |
| --- | --- | --- | --- | --- | --- |
| Start | Spot | Plays | Yards | Time | Result |
| 8:21 1Q | DET 21 | 7 | 34 | 3:35 | Fumble |
| 3:23 1Q | DET 27 | 5 | 23 | 3:17 | Punt |
| 8:30 2Q | DET 14 | 7 | 86 | 3:13 | TD |
| 3:35 2Q | DET 28 | 8 | 72 | 3:15 | TD |
| 15:00 3Q | DET 20 | 3 | -6 | 1:41 | Punt |
| 12:30 3Q | DET 10 | 5 | 49 | 3:23 | Punt |
| 5:55 3Q | DET 23 | 3 | 9 | 1:37 | Punt |
| 2:06 3Q | DET 37 | 12 | 54 | 7:05 | FG |
| 5:02 4Q | DET 24 | 9 | 42 | 3:27 | FG |
| 0:03 4Q | DET 36 | 1 | -1 | 0:03 | End of game |
Twenty points is not terrible, but the Lions moving the ball on six of their nine drives was not nice. Again, I'm not going to get too worried right now, especially with Trevathan out, but this was a step backward.
The team lost Leonard Floyd to a knee injury. Fortunately, it's not an ACL injury. Unfortunately, it is an MCL and PCL injury and I'll be pretty surprised if Floyd plays again this year. There's no getting around it – it's going to be a big loss. While he's out, I'd like to see what Isaiah Irving can do.
For some good news – Mitch Unrein had a new best game. Akiem Hicks and Eddie Goldman also had strong outings. Nick Kwiatkoski was impressive.
#FireFox (not the Mozilla product (though if Mozilla wants to sponsor this section, I will gladly extol the virtues of the Mozilla product)) status
We already went over this. Coach Smitty's gotta go.
Staley Nickels
My award system can give up to three nickels per player. Keep in mind that I might not award the optimum amount of Staley Nickels to the highest-graded players since different grades mean different things to different players.
Offense
3: Josh Sitton, Cody Whitehair, Charles Leno, Jr., Jordan Howard, Adam Shaheen, Tarik Cohen, Mitchell Trubisky
2: Bobby Massie
1: Daniel Brown, Dontrelle Inman
Defense
3: Mitch Unrein, Nick Kwiatkoski
2: Akiem Hicks, Eddie Goldman, Leonard Floyd
1: Sam Acho
Staley Nickels Count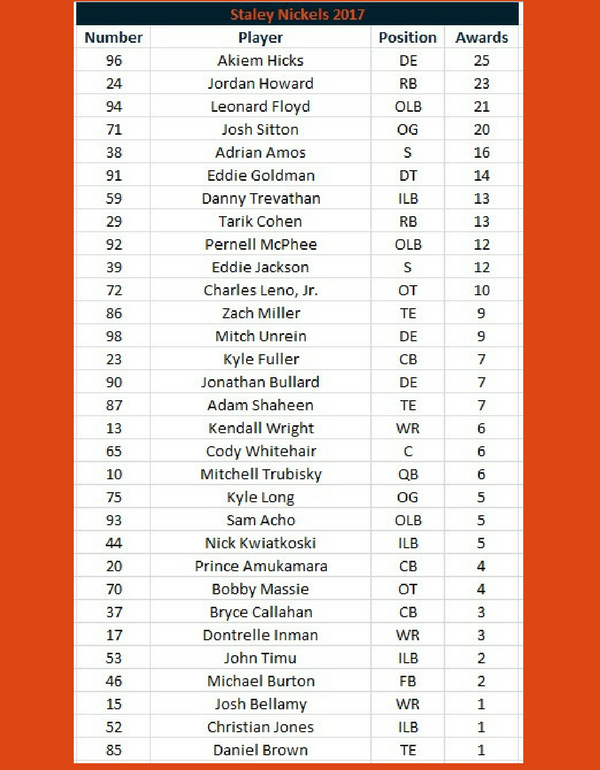 Let me know your thoughts at… @KSchroeder_312… and Beardown! 
FRUSTRATING MOMENTS IN BEARS HISTORY – Episode I: Vikings 33, Bears 27 (OT)
Kevin Schroeder
Football guy, be it NFL or college, even the CFL. If you take football out of his life, he's not going to function well. Kevin also writes about Michigan football and Blackhawks hockey at goodifitgoes.com. Find him on Twitter @KSchroeder_312.
---
---
Related Articles
Vikings Barroom Assistant Editor Drew Mahowald reacts to some notable Minnesota Vikings news from the week, including a report indicating Shaun
Hello Bears fans, The team is coming off a bye week and preparing for the second match up of the
First things first, the Bears must fire Fox. But they won't so I'm moving on. Another week, another constipated offensive