Kevin Schroeder's Chicago Bears Player Performance Grades vs Lions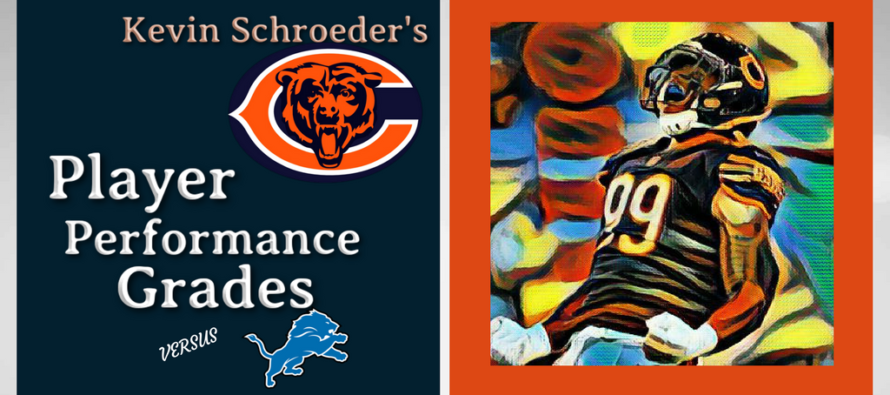 The scoreboard said 20-10, but the game never felt that close. The Detroit Lions scored the first 13 points. The Chicago Bears got on the board with a field goal at the end of the first half. This after Dowell Loggains added yet another item to his "Why I Shouldn't Be an NFL Offensive Coordinator" list by declining to take a shot at the end zone after the Bears forced a turnover in Lions territory.
The second half got off to an inauspicious start when Mitchell Trubisky threw a pick on the second play. He'd toss two more, including one in the end zone that didn't look like it would matter at the time, but actually might have. Twitter idiots came out in full force. The defense kept the game respectable-looking, aided by the offense actually putting together some drives. They were able to put together those drives because Loggains finally opened the offense up. Yes, waiting until you're getting whomped to do that is on the list.
Player Performance Grades
The grading scale goes from -3 to +3 for each play. Penalties are counted in whatever phase they were committed. "Short" throws are 10 yards or less, "Medium" is 10-20, "Deep" is over 20. Everything else (scrambles, throwaways, etc.) is under "Miscellaneous."
YOU MAY NEED TO HOLD YOUR PHONE IN LANDSCAPE FORMAT TO SEE ENTIRE PLAYER GRADE GRAPHICS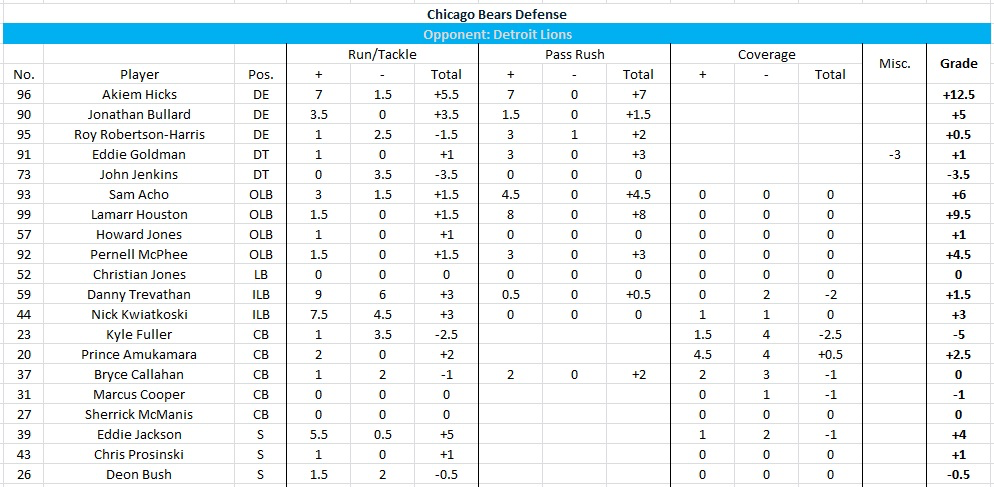 So what happened?
The defense had a solid outing. They got to Stafford four times, held Detroit under 300 total yards, and kept the game respectable-looking and (in theory) in reach. Lions drive chart:
| | | | | | |
| --- | --- | --- | --- | --- | --- |
| Start | Spot | Plays | Yards | Time | Result |
| 15:00 1Q | DET 23 | 8 | 47 | 3:02 | FG |
| 9:45 1Q | DET 37 | 4 | 12 | 2:23 | Punt |
| 5:23 1Q | DET 38 | 11 | 49 | 5:27 | FG |
| 11:54 2Q | DET 8 | 10 | 92 | 5:44 | TD |
| 0:57 2Q | DET 7 | 4 | 20 | 0:45 | Fumble |
| 14:10 3Q | CHI 41 | 9 | 41 | 4:22 | TD |
| 6:11 3Q | DET 26 | 3 | 4 | 2:19 | Punt |
| 13:31 4Q | DET 20 | 6 | 31 | 4:08 | Punt |
| 2:32 4Q | DET 27 | 3 | 3 | 0:25 | Punt |
| 0:28 4Q | DET 35 | 1 | -1 | 0:35 | End of game |
After the Lions went up 20-3, the defense held them to 38 yards on 12 plays and the Lions were not just trying to run out the clock, either. At this point in a season like this, you're looking for anything positive to build on and there's one. Lamarr Houston had another strong performance. I'm guessing at least one of him, Willie Young, and Pernell McPhee will be on the team next year and right now, my vote's for him – especially with McPhee's unreliable knee issues.
Pro Bowl snub Akiem Hicks did Akiem Hicks-type things and made his presence felt both in the run game and rushing the passer. Coverage was largely mediocre. The Bears played more man coverage than they did the last time these teams met and the grades ended up better, or rather, less bad in that area. Eddie Jackson was the only member of the secondary to end up with a nice score, the result of a good game playing the run. The rookie's only miscue was the big play he gave up to veteran receiver Marvin Jones.
Eddie Jackson already had his interception celebration planned. Marvin Jones disagreed pic.twitter.com/Y4fL89Ezxa

— Barstool Sports (@barstooltweetss) December 16, 2017
Okay, let's talk about Trubisky. He threw three picks and Twitter went full Skip Bayless. There was quite a bit of "bust talk" and more than a few lunkheads pulled out the "should've taken Watson" garbage. But let's get something straight right now – if the Bears had taken Watson, those same lunkheads would be crucifying Ryan Pace for spending a top five pick on a guy who's torn both ACLs by age 22. "D. Rose all over again," things like that. Disregard these and all lunkheads.
Mitch Trubisky is BAD. Ridiculously inaccurate. No touch on his throws. Said leading up to the draft the only first-round caliber QB was Watson but everyone wanted to go with Trubisky. Bears set their once-promising rebuild back 5 years

— Jesse James Larch (@JesseLarch) December 17, 2017
I see nothing in Mitch Trubisky. Could very well be lack of coaching and talent, but he looks like he plays to not make a mistake, instead of playing to make a play. And when he does throw the ball over 8 yards, it's an int. Idk: He sucks.

— FIRE Dom Capers (@JustinFerguson1) December 16, 2017
Do you think they could get Josh Allen for trubisky or Leonard Floyd?

— Mitch Trubisky Fan Account #1 (@John_Faker) December 21, 2017
I've said before that my QB rankings for this draft went Trubisky, Mahomes, Watson, in that order, but I would've been fine with any of the three. I thought Watson was the most ready, but also much closer to being a finished product than the other two – I wasn't sure how much better he would get. I thought Mahomes had the highest ceiling, but also the lowest floor and was the furthest from being ready. And I thought Trubisky's ceiling was second to Mahomes, but he was more likely to reach, or at least get close to that ceiling: Aaron Rodgers, but with a couple of his throw power Madden ratings points traded for speed ones.
What we've seen thus far has pretty much borne that out. If you want to say Trubisky's less likely to reach his ceiling now, uh…maybe a little? I guess? I don't know. I mean, if you told me before the season that Trubisky was going to be the starter, I would have guessed that he would look about like this, and that was with me expecting Cameron Meredith and Kevin White to take nice steps forward. Inman's been worth the seventh-round pick the Bears traded for him, but he's still a behind what I'd hoped Kevin White would be, and even if you wanted to call that a push, that still leaves the team without replacements for Meredith and Zach Miller.
Meanwhile, Deshaun Watson got to throw to Nuk Hopkins and Will Fuller. And while he was doing that, he threw eight picks in seven games. And yet the lunkheads pined for him as Trubisky threw picks 5, 6, and 7 in game 10, and 7 was because the fourth-string tight end ran the wrong route. Watson's going to be a great quarterback. And I've seen nothing to suggest Trubisky can't be one, too. He's ahead of where Jared Goff was last year and a little behind where Carson Wentz was. The kid's going to be fine. Chill.
As far as this game itself is concerned, Trubisky wasn't even that bad. His grade looks good because he threw a lot of passes; +9 or 10 is effectively zero for this kind of usage. Even so, that's pretty good. The pick in the end zone can't happen, the first pick was an overthrow, but Bellamy didn't do him any favors being late getting into his route, and we already talked about the third one. He had a couple throws a little behind his receiver, but a lot of them were dead on.
Watson also got to be coached by Bill O'Brien and not General Nonsense and his right hand man, Captain Clueless. Bears drive chart:
| | | | | | |
| --- | --- | --- | --- | --- | --- |
| Start | Spot | Plays | Yards | Time | Result |
| 11:58 1Q | CHI 16 | 4 | 15 | 2:13 | Punt |
| 7:22 1Q | CHI 20 | 3 | 3 | 1:59 | Punt |
| 14:56 2Q | CHI 25 | 5 | 20 | 3:02 | Punt |
| 6:10 2Q | CHI 10 | 9 | 48 | 5:13 | Punt |
| 0:12 2Q | DET 27 | 2 | 4 | 0:10 | FG |
| 15:00 3Q | CHI 20 | 2 | 2 | 0:50 | INT |
| 9:48 3Q | CHI 25 | 6 | 15 | 3:37 | Punt |
| 3:52 3Q | CHI 36 | 10 | 59 | 5:21 | INT |
| 9:23 4Q | CHI 8 | 13 | 92 | 6:51 | TD |
| 2:07 4Q | CHI 6 | 10 | 69 | 1:39 | INT |
The Bears' three longest drives and four of their five longest came after they went down 17. Prior to that, it was more of the predictable play calling that I've railed against I don't even know how many times here. I get it when Tony Romo calls plays out before they happen. When I can do it fairly from my recliner pretty consistently, that's a problem. Pro Bowl snub Josh Sitton had another great game. Cody Whitehair was very good. Kendall Wright had another strong game.
#FireFox (not the Mozilla product (though if Mozilla wants to sponsor this section, I will gladly extol the virtues of the Mozilla product) status
♫ I'm dreaming of a black Monday…♫
Staley Nickels
My award system can give up to three nickels per player. Keep in mind that I might not award the optimum amount of Staley Nickels to the highest-graded players since different grades mean different things to different players.
Offense
3: Josh Sitton
2: Cody Whitehair
1: Jordan Howard, Kendall Wright, Mitchell Trubisky
Defense
3: Akiem Hicks, Lamarr Houston
2: Eddie Jackson
1: Sam Acho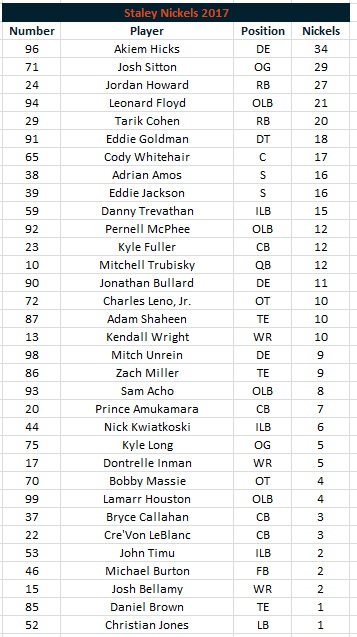 Would love to hear your thoughts… hit me up on Twitter @KSchroeder_312
Bear Down!
Kevin Schroeder
Football guy, be it NFL or college, even the CFL. If you take football out of his life, he's not going to function well. Kevin also writes about Michigan football and Blackhawks hockey at goodifitgoes.com. Find him on Twitter @KSchroeder_312.
---
---