Kevin Schroeder's Bears' Performance Grades Against the Packers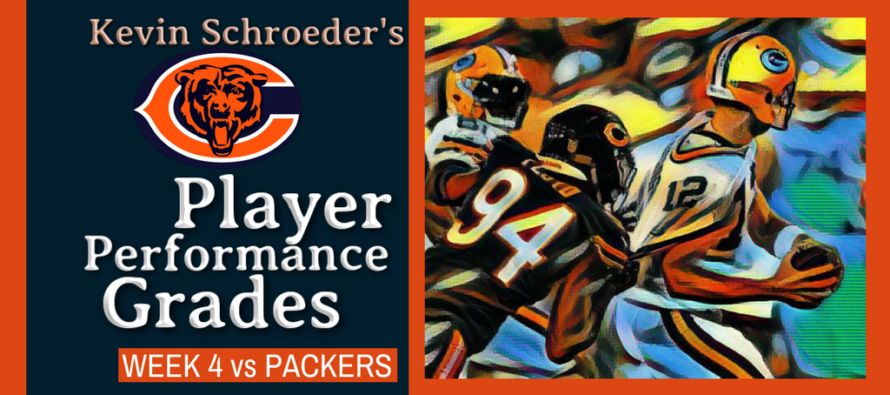 "It" can mean a lot of things. A hot celebrity may be called an It girl. Something trendy may be said to be It. It may refer to certain adult activities. It can mean bad things, too. An angry person may have had It.
Two weeks ago, I called Mike Glennon's performance against Tampa Bay "It," and if the opening of this post sounds like a re-run, that's because it is. And that's because last Thursday in Green Bay, Glennon did It again.
Player Grades
The grading scale goes from -3 to +3 for each play. Penalties are counted in whatever phase they were committed. "Short" throws are 10 yards or less, "Medium" is 10-20, "Deep" is over 20. Everything else (scrambles, throwaways, etc.) is under "Miscellaneous."
WHEN VIEWING GRAPHICS ON A TELEPHONE YOU MAY NEED TO HOLD HORIZONTALLY TO SEE THE GRADES IN FULL FRAME MODE
So what happened?
Exactly what you think happened. Glennon dorfed another one away. The team has turned the ball over ten times in four games and eight of them were by Glennon. That can't happen.

Fortunately, the change has been made – it's Trubisky time. Aldo talked about this in his Trubisky Instruction Manual, but the kid's going to struggle at times. He is not going to instantly turn this team into a Super Bowl contender. The playoffs are still probably not going to happen.
However, there are some reasons for optimism. First off, look at those line grades, particularly the run blocking grades. Leno, Sitton, and Long were all excellent and Massie and Whitehair were at least passable.

They kicked so much butt the Bears must have run for a gorillion yards, right? Let's go to the chart: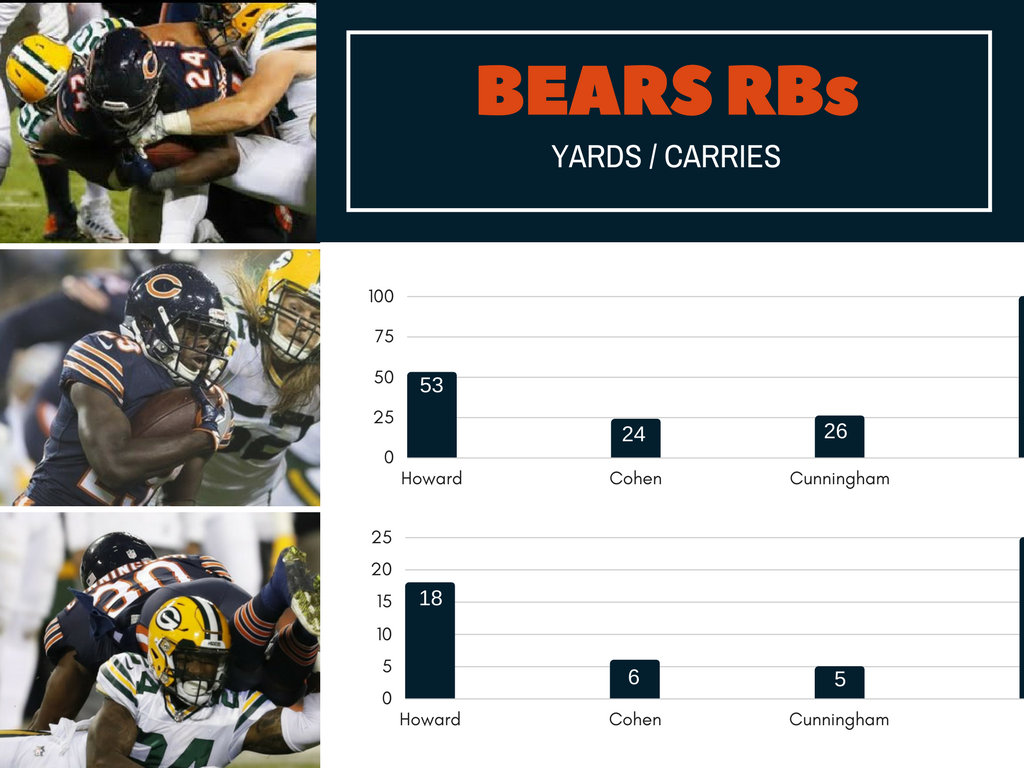 Huh.
I mean, that's not terrible. But it's not great. Howard in particular ended with a 2.9 yards per carry average, Cohen was at 4.0 and Cunningham was at 5.2. Intotal the team ended with a 3.6 yards per carry average on 29 attempts.

It's certainly not what you'd expect when the line has a game like they had. So here's the deal – zone running doesn't work when it's 6-on-9. It's not nice. And the Packers could stick 8 or 9 guys near the line of scrimmage because they knew Glennon wasn't going to kill them. I suspect that if the Bears had a competent quarterback the running backs have big games; or, run out of 11 personnel more. The Packers at least respected Glennon enough to cover the Bears receivers when they brought out their 3-wide sets.
On defense, Cooper, Callahan, and Jackson all had rough days in coverage, but those were the only really bad scores anyone put up.

The Bears were unable to take advantage of a makeshift Packers offensive line, reaching Rodgers only twice. Floyd had Rodgers lined up for another sack, but slipped on the wet ground. Doubling the Bears' misfortunes on that play – Rodgers completed a deep pass to Nelson.
The Packers' overall success had more to do with good scheming by the Packers than poor play by the Bears. Rodgers utilized a lot of quick passes and was able to move the pocket to let plays get set up. The latter thing I'm not so happy about. Vic Fangio has to know that you've got to keep Rodgers in the pocket. Look at how Atlanta did it when they creamed these guys the last two times they played him – they kept Rodgers in the pocket!
The most frustrating thing about this game was that as 21 of the 22 positions, these teams are not 21 points apart. In fact, the Bears may even have the edge. But that other one was enough to torpedo everything. And Trubisky's not going to completely narrow the gap, but he should at least be good enough to not undo the good the rest of the team does.
One last note on the Glennon era: yeah, the Bears probably could have hung on to Brian Hoyer and that would have been better than this. It wouldn't have been good, though. They knew what they had in Hoyer and they knew it wasn't very much. So they took a chance on Glennon. And it didn't work. They gambled and lost. That gamble does not hurt them beyond that season. That is fine. That is a risk worth taking. I'm glad they took that risk, and you should be, too, particularly if you are also a fan of the Chicago Bulls, because that's the alternative here. The Bulls were so risk-averse that they spent five years farting around with next-to-no shot at a title and wasted Jimmy Buckets in doing so. They could have started the rebuild the first time Derrick Rose got hurt and had the draft pick developing as JGB entered his prime, but they just wouldn't give up their precious chance to lose to LeBron. Now, they're going to be rebuilding anyway and they have diddly squat to show for the last five years, with the only silver lining being that LeBron is five years older at the start of the rebuild and the East should open up as the rebuild moves along. The point is – don't be like the Bulls. Don't be like Gar Forman. Be willing to take a chance here and there. If Pace signs a bunch of guys who consistently suck and drafts a ton of guys who never pan out, then worry. He has not done that. What he has done is set the team up for long-term success. So be patient. With him and with Trubisky.
Staley Nickels
My award system can give up to three nickels per player. Keep in mind that I might not award the optimum amount of Staley Nickels to the highest-graded players since different grades mean different things to different players.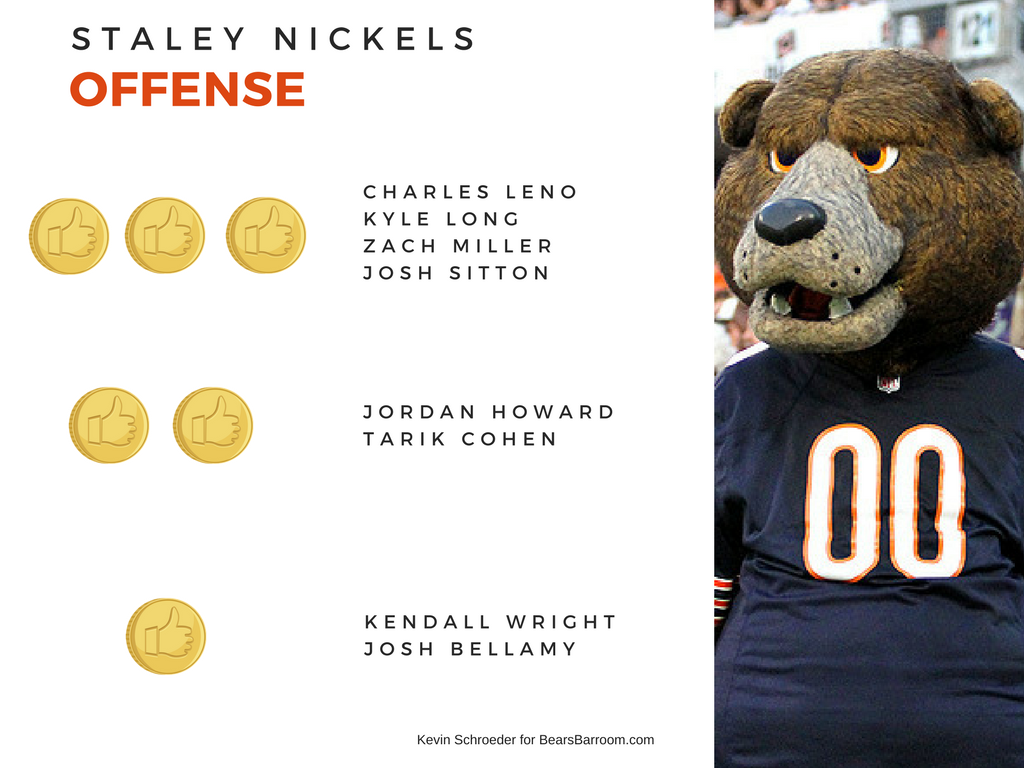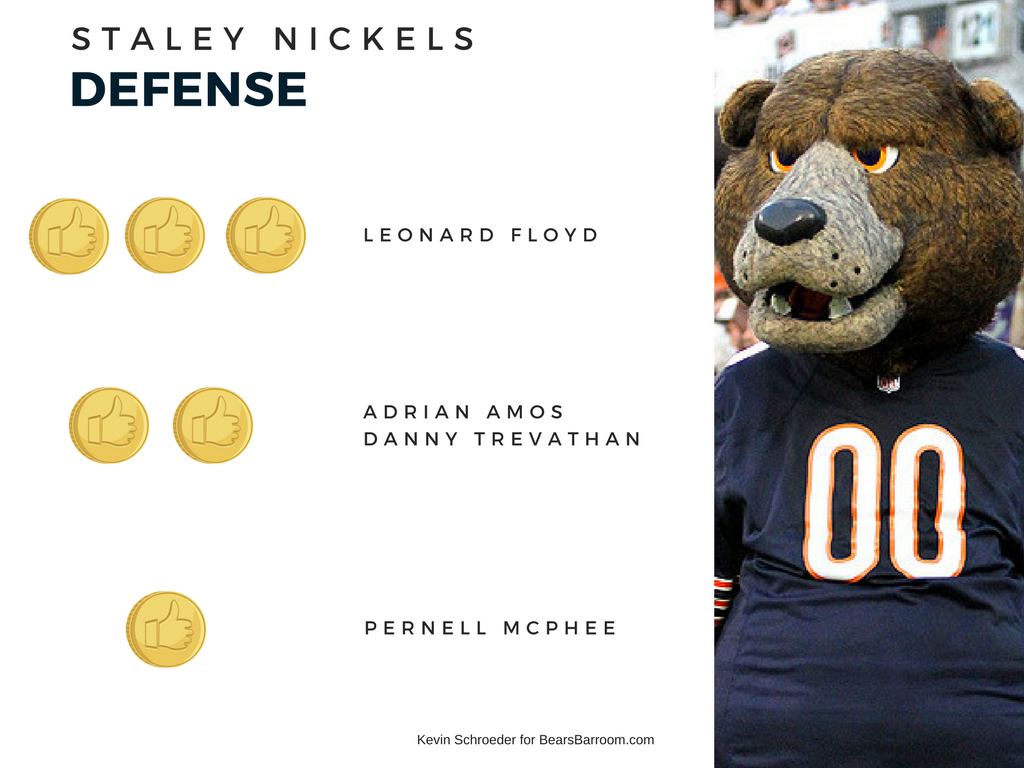 Staley Nickels Count For the Season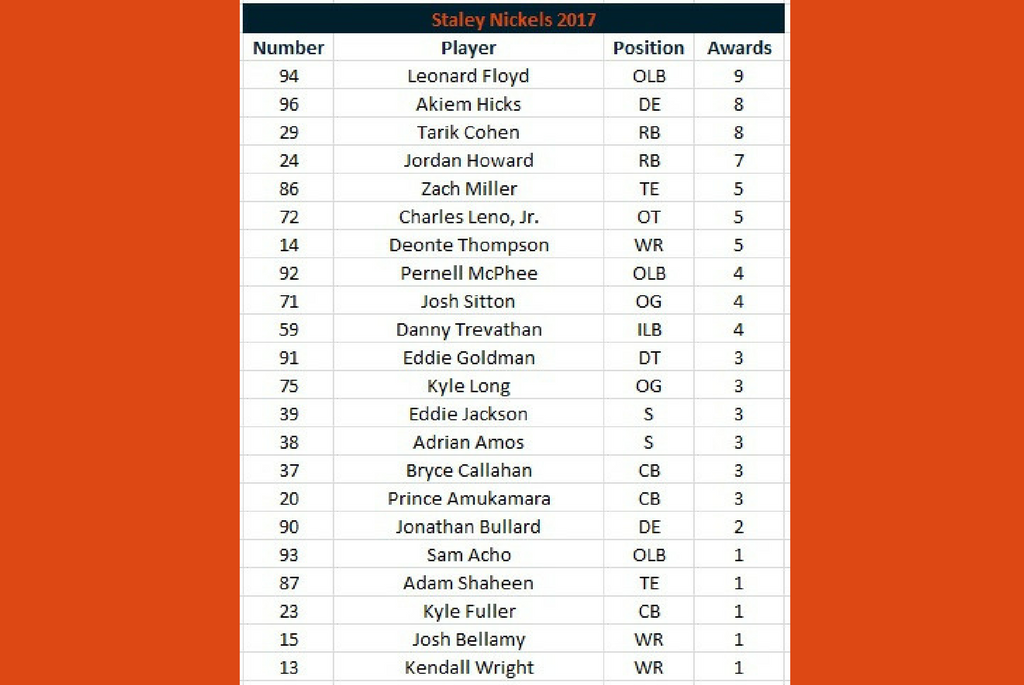 Bear Down! Bears fans!
Twitter: @KSchroeder_312
Kevin Schroeder
Football guy, be it NFL or college, even the CFL. If you take football out of his life, he's not going to function well. Kevin also writes about Michigan football and Blackhawks hockey at goodifitgoes.com. Find him on Twitter @KSchroeder_312.
---
---
Related Articles
Vikings Barroom Assistant Editor Drew Mahowald reacts to some notable Minnesota Vikings news from the week, including a report indicating Shaun
Minutes after news of the Teddy Bridgewater injury broke Vikings Barroom Assistant Editor Drew Mahowald volunteered to share his thoughts
Every Monday Night at 9pm CST Draft Dr. Phil Ottochian interacts live with Bears Barroom Barflies. The event is captured