John Jenkins Reunites With Ryan Pace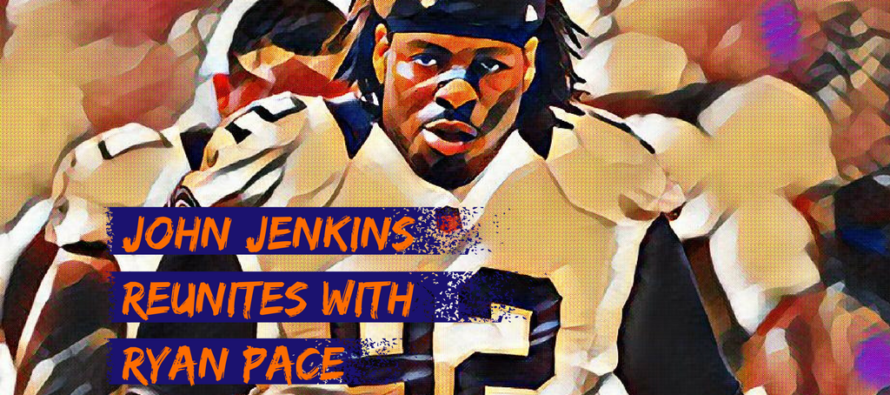 In 2013 when Bears general manager Ryan Pace was still the New Orleans Saints Director of Player Personnel he was part of the braintrust that drafted defensive lineman John Jenkins in the third round. Pace has now re-acquired the 359 (?) pound nose tackle. The news was first announced by Jenkin's agent.
[graphiq id="jxNWc2Y8pz7″ title="John Jenkins Overview" width="640″ height="755″ url="https://w.graphiq.com/w/jxNWc2Y8pz7″ ]
When Jenkins was drafted by the Saints it was anticipated he could develop into a solid pro. In his junior and senior years at Georgia Jenkins had 78 tackles, 24 quarterback hurries, an interception and a blocked field-goal. He was a second-team All SEC player. He had a solid performance at the Senior bowl. Then at his Pro Day he grabbed the attention of numerous scouts by running a 5.02 40 and a 4.94-second short shuttle while carrying approximately 350 pounds.
Nonetheless there were imperfections to his game. NFL.com's scouting report on him said (full report here):
Jenkins is a massive junior college transfer with great upside as a run-stuffer, but is limited to being a nose tackle in a 3-4 scheme because of his lack of quickness. His impressive size and strength will likely make him coveted, but needs to improve his balance and pad-level.
In his rookie camp, more imperfections were discovered as then Saints defensive line coach Bill Johnson said that Jenkins skill level at still being in the "101" level as he's only a rookie learning the intricacies of a NFL defense.
Johnson told the New Orleans Times-Picayune, "First thing you do with a young guy like that is to teach him to be a pro," Johnson said. "Then the next thing you teach him is to stay with the basics from a fundamental standpoint, to make sure he gets into a good football position and learns to play with pad level at this point."
Jenkins' rookie season started as expected. He started slowly and began to improve steadily. By the end of the season his play was strong and the reviews on his rookie season were positive.
Expectations for his sophomore season were high. But, offseason pectoral surgery slowed his start to the 2014 season. Jenkins was inactive for three of the first four games of the season.
When mid-November rolled around, though, Jenkins started a roll of his own. His play was excellent as he displayed quickness and strength. His best game was against the Chicago Bears on December 15 when he tallied seven tackles and his only career solo sack.
Jenkins ended the season on IR with an injury to his abdominal muscle, but on an upswing. When he showed up to camp for the 2015 season minus forty pounds, 328, all signs pointed to Jenkins having his best season. It was, but it wasn't the breakout year Saints coaches hoped for. The truth is that the entire Saints defense was among the worst. Jenkins finished 2015 with in the middle of the league's interior defensive linemen, according to Pro Football Focus – 70th. His play against the run was solid, but he offered little pass rush. In 14 games he had half a sack.
It was clear, though, that the Saints were not entirely happy with Jenkins play as they drafted Sheldon Rankins with their first round pick, Tyeler Davison in the fifth and signed free agent Nick Fairley. Additionally, the Saints were growing more impressed with 2014 fourth-round pick David Onyemata. It was a crowded interior defensive line. By the middle of the 2016 season Jenkins weight was back up and he was behind the interior defensive line rotation of Rankins, Fairley and Onyemata. He was released after seven games.
Jenkins, though, found himself in demand as he received offers from the Seattle Seahawks, New England Patriots, New York Jets and Chicago Bears. Jenkins told reporters he talked with several players and was advised the Seahawks were the best fit for him.
Unfortunately for him, he saw very few snaps with the Seahawks and in fact was inactive for the majority of his games there. At the end of the season Jenkins became a free agent.
In his four-year career, Jenkins has played in 51 career games and started 22 of them, recording 113 tackles, 1.5 sacks, a forced fumble, and two passes defensed.
Now 27 years old Jenkins comes to the Bears similar to how he came into the NFL –  filled with possibilities to help his team stuff the run – but, with question marks about his weight, quickness and whether he can help the pass rush.
Here are the defensive linemen currently on the Bears roster, per ChicagoBears.com 
Jonathan Bullard
Ego Ferguson
Eddie Goldman
Akiem Hicks
John Jenkins
Kapron Lewis-Moore
Will Sutton
Mitch Unrein
Aldo Gandia
Among my career highlights I have produced two films while in high school that received nationwide attention; leaned out of a helicopter over the Gulf of Suez at the age of 20 to shoot movies of oil rigs; won an Emmy award for a sports special and another for a kid's fitness show; and led a team of very talented creative professionals to produce break-through corporate communications.
---
---