Jaye Howard Brings Run Stopping Prowess To Bears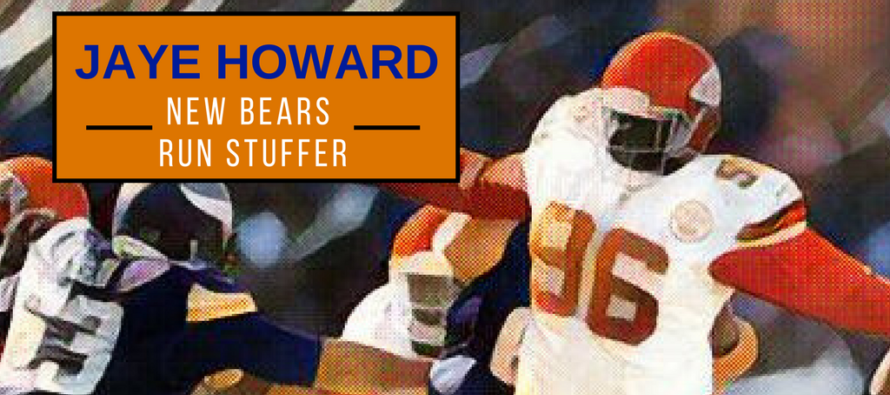 Perhaps Vic Fangio stomped around Halas Hall throwing a tantrum. The Chicago Bears entered the 2017 draft with seven choices and walked away with only five selections – just one of them a defensive player, safety Eddie Jackson. Fortunately, general manager Ryan Pace did land a post-draft free agent player Fangio will find to his liking, former Kansas City Chiefs defensive lineman Jaye Howard.
Howard was a year into a two-year, $12 million deal with the Chiefs when he was released prior to the draft, citing a "failed physical" designation. He passed a physical when he visited Halas Hall and 24 hours later he signed a one year contract.  According to the Kansas City Star the "Chiefs guaranteed $2.5 million of Howard's $3.7 million salary for 2017 on the third day of the league year, but his contract states that if he signs with another team in 2017, they'll be off the hook for the amount he signs for." Figures on the Bears' deal have yet to be announced.
In four seasons the 28 year old Howard recorded 7.5 sacks and 122 combined tackles. His best year was in 2015 when the 6-foot-3, 301-pounder had 5.5 sacks. His strength is as a run stopper. Last season Howard regressed some, but was suffering from a hip flexor injury that landed him on injured reserve after week nine.
Pro Football Focus graded him right below former Bears and now Detroit Lions lineman Cornelious Washington and well above Haloti Ngata. Among 3-4 ends, PFF graded Howard among the league's best as a run defender.
Howard is best remembered by Bears fans for sacking Jay Cutler for a safety two seasons ago. You can see that play at the :35 mark of the highlight video posted below.
Howard was originally drafted in the fourth round by the Seattle Seahawks. His former coach Pete Carroll lamented the loss of Howard a little over a year ago, ""He's come on so strong," Carroll said at the 2016 NFL Scouting Combine. "He had good speed, he moved well … we've watched him ever since — he's one of those ones that got away, so we regret that."
What Fangio should find most appealing about Howard is his position flexibility up and down the defensive line. "He's played as a one-technique, he's played as a three-technique and he's played as a five-technique, and he's played all well," said senior NFL Films producer Greg Cosell. "There's not a lot of those guys."
Let's hope Vic Fangio is smiling.
Aldo Gandia
Among my career highlights I have produced two films while in high school that received nationwide attention; leaned out of a helicopter over the Gulf of Suez at the age of 20 to shoot movies of oil rigs; won an Emmy award for a sports special and another for a kid's fitness show; and led a team of very talented creative professionals to produce break-through corporate communications.
---
---