Jay Cutler Era Is Over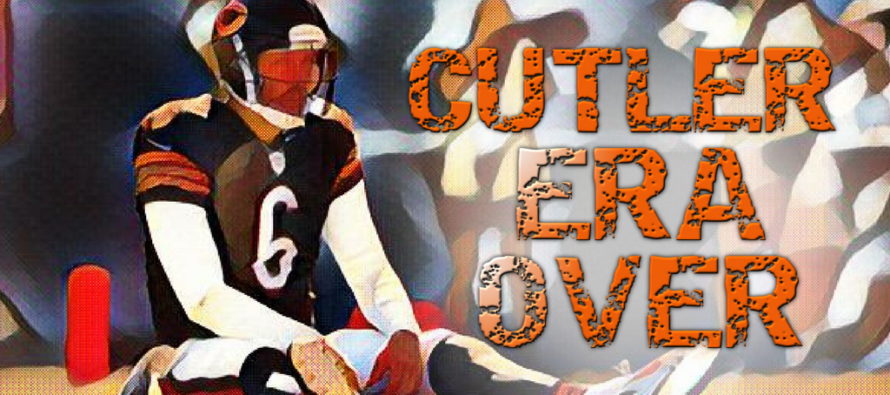 UPDATED: 4/9/17 at 4:51pm
UPDATED: 4/9/17 at 5:12pm
The Jay Cutler era is officially over. The Chicago Bears released him on Thursday morning.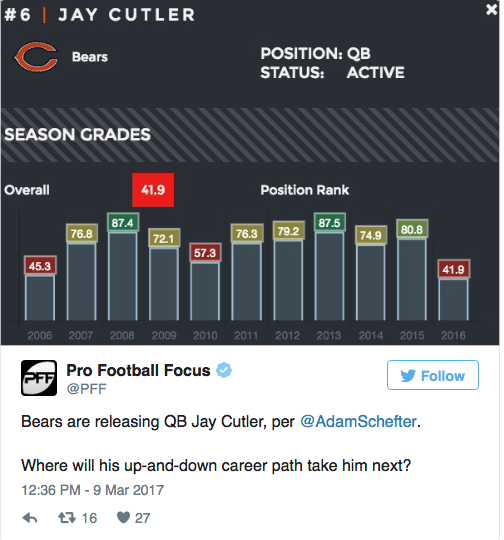 Bears offensive lineman Kyle Long tweeted his farewell to his good friend on Thursday morning after the Glennon announcement was made.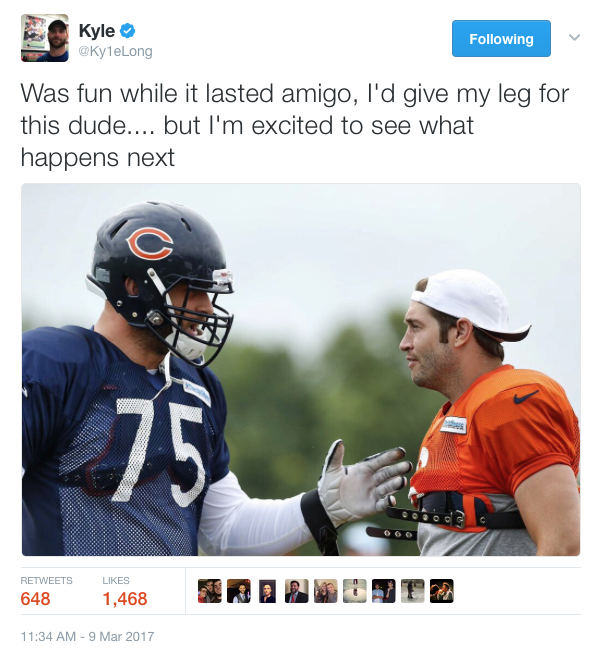 Cutler arrived to Chicago in 2009, the centerpiece of the biggest Bears trade for a quarterback in franchise history. (The trade for Sid Luckman in 1938, was for a draft pick that George Halas used to select the QB who would lead the Bears to four NFL championships.)
Expectations for Cutler were great. At Olivet Nazarene College in Bourbonnais crowds reached levels never before seen at a Bears training camp. All were there to see the most talented quarterback ever on a Bears roster.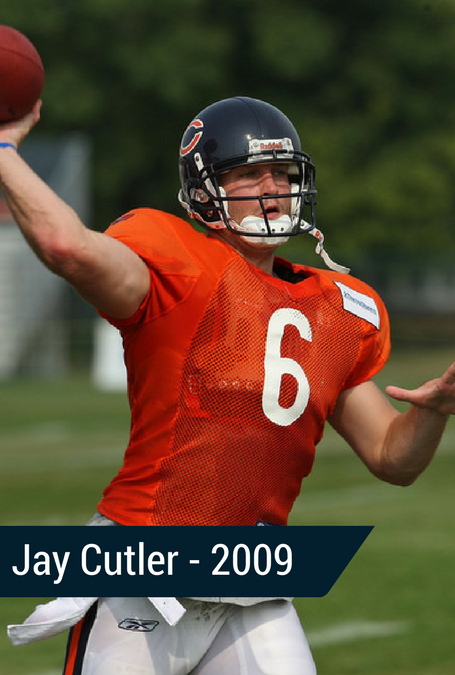 Those expectations were justified. He arrived after breaking the Denver Broncos' single-season franchise records with 4,526 yards and 25 touchdowns. But, there was a cloud over Cutler. Some described him as a malcontent.
His departure from Denver led ESPN SportsCenter broadcasts as he and newly hired Broncos head coach Josh McDaniels clashed. Cutler learned that McDaniels was trying to trade for Matt Cassel. The two had worked together at New England. Cutler, who had just led the Denver offense to the second highest NFL ranking of the year, fumed. An attempt to bury the hatchet failed. Cutler told ESPN.com that a meeting he hoped would be a detente between the two was instead tense, "I thought he was antagonizing me and that was disappointing because I was ready to move on, committed as a Bronco. Really, I figured we'd hash things out, shake hands, laugh a little and move forward." McDaniels recalled things differently, "I don't think anything that happened [at the meeting] was out of the ordinary."
The relationship was irreconcilable. The Bears were moved in and completed a pricey trade. Then Bears GM Jerry Angelo sent quarterback Kyle Orton, two first-round picks and a third-round pick for Cutler and a fifth-round pick.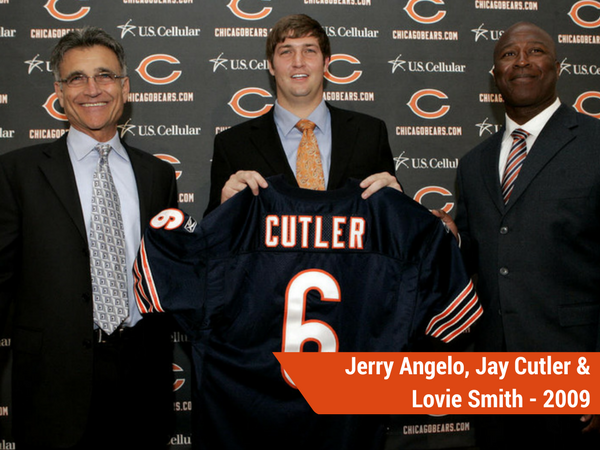 Unfortunately, Angelo did little to help Cutler. The mistakes began by not bringing in an offensive coordinator who could design an offense suitable for his strengths and disguise Cutler's weaknesses. Angelo also failed to bring in a quarterback coach who could enforce mechanics Cutler desperately needed to improve. Those faulty mechanics led to accuracy and ball control issues. (In 2015, after six seasons with the team, then-new general manager Ryan Pace placed Cutler under the tutelage of Adam Gase and the QB looked like a different player.)
Also under Angelo, Cutler did not have the pass protection and wide receiver weapons to consistently play at a high level. But, he did have Lovie Smith's stellar defense. That, more than anything, helped Cutler's achieve a very respectable 36-24 won-loss record (including two playoff games). In 2010, Cutler's best shot at leading the Bears to the Super Bowl, second year wide receiver Johnny Knox was his best pass catching threat. Knox, in his second-season was a speedy, under-sized receiver who had almost 19 yards per catch. Cutler loved his big play ability and compared him to (then) Philadelphia Eagles big play threat DeSean Jackson. But, the truth was that Knox was raw. Scouts routinely noted that he played inconsistently and lacked a sophisticated knowledge of the position after a college career at Division II Abilene Christian.
[graphiq id="NweXhexWbr" title="Jay Cutler Career Passing Stats" width="600″ height="778″ url="https://w.graphiq.com/w/NweXhexWbr" ]
Making matters worse was an offensive line that had Frank Omyale at left tackle, Chris Williams at left guard, Olin Kruetz at center, Roberto Garza at right guard, and J'Marcus Webb at right tackle. Pro Football Focus graded Webb as the worst offensive tackle of the 77 in the NFL. Omyale was close to last; two spots away. Williams was graded 66th of 82 guards. Garza was 61st. Center Olin Kruetz was graded 33rd out of 34 centers.
Jay Cutler was sacked a NFL high 52 times in 2010. Cutler's offensive line was shockingly bad for a team reaching the NFC Championship game.
When the Marc Trestman years ensued there was hope that the so-called quarterback whisperer would guide Cutler to championship level. And, in fact, Trestman's first season as Bears head coach, saw a marked improvement in the Bears offense. The numbers were off the charts for a franchise unaccustomed to throwing the ball with regular success.  General manager Phil Emery helped by trading for Cutler's favorite wide receiver, Brandon Marshall, drafting Alshon Jeffery, and signing tight end Martellus Bennett. Even the offensive line saw a slight improvement, although most of it was the result of Cutler learning to get rid of the ball quickly – a tenet of Trestman's offense.
But, there were problems under Trestman. Big problems. Trestman was unable to gain the respect of aging defensive players unhappy with Lovie Smith's firing and his obsession with the offense. He routinely talked about the quarterback position as if it were a deity. That turned off the defense and it showed. Their play was now among the worst in Bears history.
When Ryan Pace and John Fox arrived the relationship began without much conviction in Cutler. Fox mistakenly called Cutler "Jake" in his opening news conference. Reports came in that Pace was desperately trying to trade Cutler to Tennessee for the No. 2 pick in the 2015 draft. Eventually, both parties were stuck with one another. They said all the right thing in front of the media. But, behind closed doors the love was never really there.
Cutler did have, arguably, his best pro season, under Gase. But, the offensive coordinator left to become head coach in Miami and without him the Bears began the 2016 season with a loss to the Houston Texans that was emblematic of Cutler's stay in Chicago.
Cutler led the Bears into the half with a 14-10 lead throwing for over 150 yards and a touchdown. In the second half he was pressured, threw a costly interception to Kevin White who incorrectly ran his route, was sacked for a total of five times and the Bears were off to one of their most disappointing seasons in their history.
Cutler finishes his record with Chicago at 51-51.
His is the story of good and bad. He leaves Chicago with several franchise records. Some good like (most touchdown passes) and some bad (most interceptions.)  He leaves Chicago with as many detractors as defenders. He leaves Chicago with a sense of… what could have been.
Late Thursday afternoon the team released this statement:
#Bears statement on release of QB Jay Cutler: pic.twitter.com/RJvGMacJRn

— Bob LeGere (@BobLeGere) March 9, 2017
Minutes later Cutler sent out this letter to Bears fans:
"I would like to first thank the city of Chicago and its passionate fans for a memorable eight years. I grew up in Indiana rooting for the Bears as kid, so it was an honor to wear the Bears uniform and play quarterback at Soldier Field for my favorite childhood team.

"I would like to thank Virginia, George and the rest of the McCaskey family for their support over my tenure in Chicago as well as Jerry Angelo, Phil Emery and Ryan Pace. It was a great experience to have played with such a great list of teammates during my time as a Bear. Also, I would like to thank all of the great employees of the Bears from the locker room to the front office.

"Chicago is the city where I met my wonderful wife Kristin. I have been fortunate to have three beautiful children here. Our family will leave Chicago with great memories and relationships on and off the field. We look forward to the next chapter in our lives and wish the best to Bear fans everywhere."
See our latest on new quarterback Mike Glennon…
Aldo Gandia
Among my career highlights I have produced two films while in high school that received nationwide attention; leaned out of a helicopter over the Gulf of Suez at the age of 20 to shoot movies of oil rigs; won an Emmy award for a sports special and another for a kid's fitness show; and led a team of very talented creative professionals to produce break-through corporate communications.
---
---