How Relevant Can Marcus Cooper Become?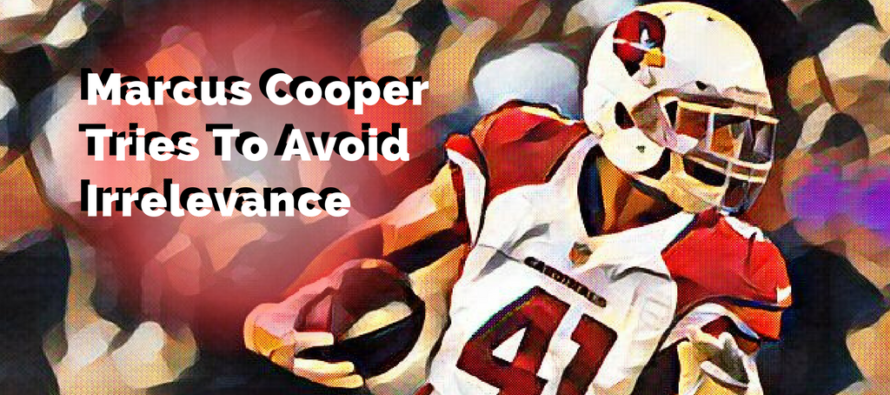 When Marcus Cooper was selected in the 2013 draft he was two picks from being Mr. Irrelevant, the moniker bestowed on the very last selection in the draft. When the team that chose him, the San Francisco 49ers, cut him just prior to the start of that season, it appeared Cooper's football destiny was truly one of irrelevance. But, the Kansas City Chiefs had different thoughts. They picked the 6'2″ 190 pound cornerback off waivers and Cooper proceeded to have an impressive rookie campaign. Cooper started six games and finished the season with 44 tackles, 3 interceptions and 20 pass break-ups.
The following season, Cooper was named the starting corner. Unfortunately he suffered an ankle injury on the final play of practice before the opener and missed the game. Cooper returned for the second game of the season and started games two through five. Cooper's play started to falter by week four. Ironically, it was against the team that waived him, the 49ers, that some of his technique issues were exposed. Cooper was targeted six times by Colin Kaepernick, allowing three catches for 65 yards and a costly touchdown. The following week, Cooper lost his starting job and as the season progressed he was irrelevant.
When the 2015 season began Cooper had fallen to 5th on the Chief's depth chart. The stiff competition on a talented cornerback group, including rookie sensation Marcus Peters, didn't help Cooper's chances of getting back on the field. Neither did a lack of confidence in Cooper by the Chiefs coaching staff. According to ESPN Stats & Information he played a total of 86 snaps in 10 games  – 68 of which came in one game – and finished with two tackles for the season.
Fortunately for Cooper Arizona head coach Bruce Arians had a good impression of him after a preseason game between the Cardinals and Chiefs in 2015. "He's got length. He's a good corner," Arians said (via ESPN). "Kansas City was loaded up with corners so it was a really good job by (general manager) Steve (Keim) getting him."
Keim got Cooper by sending a conditional 2018 seventh round pick to the Chiefs for Cooper on the eve of final roster cutdowns.
In week two of the 2016 season Arians wanted to alternate Cooper and Brandon Williams. On Cooper's second play he intercepted a Jameis Winston pass. Arians decided to scrap his rotating cornerback plan and Cooper played the rest of the game and notched a second interception, off a tipped pass, that he ran back for a 60-yard touchdown.
Interestingly, Cooper was not celebrating after the game, despite a team win and his two interceptions. "My technique and stuff got a little sloppy toward the end of the game," he said. "I'm not too happy about that."
Cooper finished 2016 as Arizona's fourth-leading tackler with 69 (63 solo). He defended 11 passes and finished with four interceptions.
Cooper is expected to compete for a starting cornerback spot opposite Prince Amukamura. With Kyle Fuller still on the roster, a promising rookie season by Cra'von LeBlanc, the potential of long-armed Deiondre' Hall and the likelihood the team will draft another corner in a deep draft the Chicago Bears defensive backfield could become relevant again. It's something that group hasn't been in a long time.
[graphiq id="1mGcTJtvzzD" title="Marcus Cooper Overview" width="640″ height="755″ url="https://w.graphiq.com/w/1mGcTJtvzzD" ]
Aldo Gandia
Among my career highlights I have produced two films while in high school that received nationwide attention; leaned out of a helicopter over the Gulf of Suez at the age of 20 to shoot movies of oil rigs; won an Emmy award for a sports special and another for a kid's fitness show; and led a team of very talented creative professionals to produce break-through corporate communications.
---
---