Horseshoes and Hand Grenades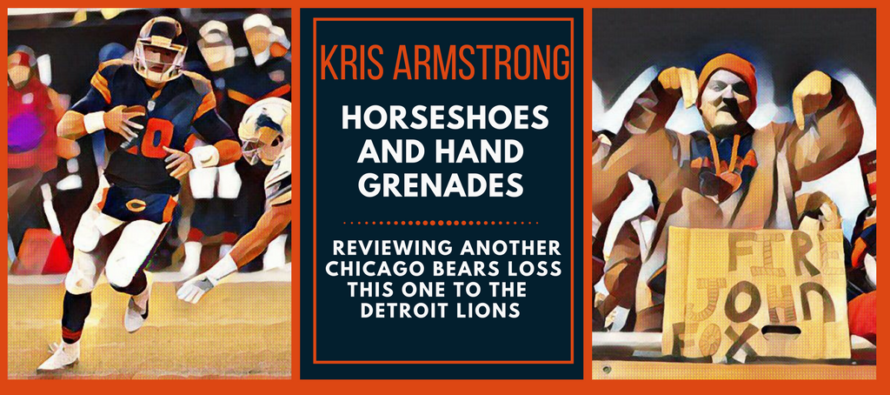 Another week, another loss. But let's start with the positives.
Someone took the handcuffs off of offensive coordinator Dowell Loggains. He called a good game. Loved the RPO and boots which let Mitch use his natural athletic gifts.
Some halftime thoughts #DETvsCHI:
Wonder if Dowell Loggains finally got pissed at John Fox at a coaches meeting and told his head coach, "I'm sick of this shit, I'm going to do it my way!" pic.twitter.com/JEYFiOhXz7

— Bears Barroom (@BearsBarroom) November 19, 2017
The offensive line looks better with Hroniss Grasu on the bench and Cody Whitehair at center with Kyle Long at right guard. The team was much better run blocking, 222 yards rushing for a 7.4 yard average, and pass protection, Trubisky was sacked only once. According to Pro Football Focus, Trubisky was under pressure on seven of his 33 drop backs (21.2 percent), his lowest rate of pressure since taking over as starter. Josh Sitton and Whitehair did not allow a single pressure on 35 pass blocking snaps.
Jordan Howard was patient and hit the holes hard leading all rushers with 125 yards and a touchdown. PFF says he picked up 51 yards after contact while forcing four missed tackles on 15 carries.
First rushing TD for Jordan Howard since 9/28 pic.twitter.com/FdVCYf5JCw

— Bears Barroom (@BearsBarroom) November 19, 2017
After a week of John Fox and Dowell Loggains facing tough questions from the media about Tarik Cohen's snap count the rookie running back saw his snaps almost triple from 13 to 31 from a week ago. It was good to see as he was effective as a decoy opening up running and passing lanes. And the judges gave his gymnastic touchdown a 10, even the Russian and Bulgarian judges.
— Bears Barroom (@BearsBarroom) November 19, 2017
Now this may sound weird, but the best part of the first half was Trubisky's reaction to his fumble. He didn't get down, came right back and looked good. It's trial by fire for rookies and he did a good job in overcoming that mistake. I was impressed by his reads and how he found his downfield targets, especially the tight ends's and Kendall Wright – in particular the slant to Wright early in the second quarter – good call, good read and accurate pass.
But, the offense slowed down in the second half, way down. Trubisky had some inaccurate throws, not setting his feet and missing a couple of open receivers. Finally into the fourth quarter, they got some rhythm back and Jordan Howard was a beast. Yes, Cohen got the game tying touchdown but Howard gained 37 yards on the drive on four carries.
Credit to the offensive players on the game's final series. With the Bears down by three and a minute-and-a-half to go in the game the Lions blitzed but the line held up well. Trubisky showed guts and leadership by scrambling for a 19 yards and first down on a fourth and 13! A play later he threw an impressive pass to Dontrelle Inman to give Connor Barth an opportunity to tie game with a 48 yard field goal. End of story.
You'll note that I have not credited the coaching aside from Loggains improved playcalling – on to the bad stuff.
What the hell is the coaching staff thinking with personnel packages? Take that last series and who's not playing: Howard and Cohen were noticeably absent. Cunningham was in for pass-pro, ok great, but who's going to make a play? Not to mention Shaheen and Inman also not in the game for all of the snaps. That another indictment of this Bears coaching staff.
The defense was not good Sunday. They weren't bad, but they weren't good. Let's give the Lions credit but my goodness, the Bears go into cover-2 and hibernate. Again, several big third down plays were converted due to their soft defense and that's unacceptable. They were playing not to lose. A frequent trait for this team.
PFF states that the Bears' defense blitzed on just three of Stafford's 36 drop backs, sacking him once. On the whole, Chicago pressured him on 11 drop backs, and Stafford was just 3-of-7 for 36 yards and a touchdown under pressure.
As far as players go, don't even get me started on Marcus Cooper. Kyle Fuller didn't have a great game but was not near the train wreck he was last week, but, trust me, he's not getting a pass from me. Catch the damn ball and keep your head up when you tackle! Fuller missed two interceptions and had a missed tackle. These are basic things, Kyle, what has happened to you in the last two weeks? Pull your head out of your butt. I get the concept of benching Fuller for Cooper, but it's a concept not reality.
Amukamara played well aside from the ticky tack pass interference call, I'm coming around on him. I noted that the front seven did not get much pressure unless they blitzed, which is a thing, a bad thing.
Some random notes: McPhee is done. He had zero pressure on 23 pass-rushing snaps… hoping that Leonard Floyd has a clean injury, although coach Fox said after the game it was "a significant knee injury."…  The Bears must draft an Edge in the first or second round; Shaheen is starting to show up, he caught all four of the passes he was targeted with and had the Bears only receding touchdown…
Dynamite throw by Mitch Trubsiky. # Bears up 10-0 pic.twitter.com/AvmpwnCdbr

— Bears Barroom (@BearsBarroom) November 19, 2017
Inman is a keeper…  Howard is a beast… Mitch will be elite; cut Barth already for God's sake and this is on you Ryan Pace for not bringing in another kicker!
Oh, almost forgot: Fire Fox!
A reminder… Bears Hour Live is already available and the guys have moved Bears 100 Proof to Tuesday. A day earlier than normal. We are likely assured a top-ten pick, so be sure to listen to Aldo, Phil & Shayne for their insights. Here's to 2018, Barflies!
Bears Hour Live with Draft Dr. Phil – Breaking Down Bears Loss to Lions
Kris Armstrong
Kris is an ex-jock who became despondent at an early age when she learned that she could not, in fact, become Dick Butkus. She is passionate about Da Beloved, Soroptimist International and her bemused and patient husband. Catch her on Twitter @krisarmstrong1
---
---
Related Articles
If you've never played Fuck, Marry, Kill the rules are pretty simple. You name three people and you determine whether
Cheers Bears fans… this week's Bears 100 Proof is another marathon of analysis and jokes with Draft Dr. Phil Ottochian;
The Minnesota Vikings traded in their bucket hats for shoulder pads on Sunday afternoon, marking the true beginning of what