Addressing Grievance Against the Chicago Bears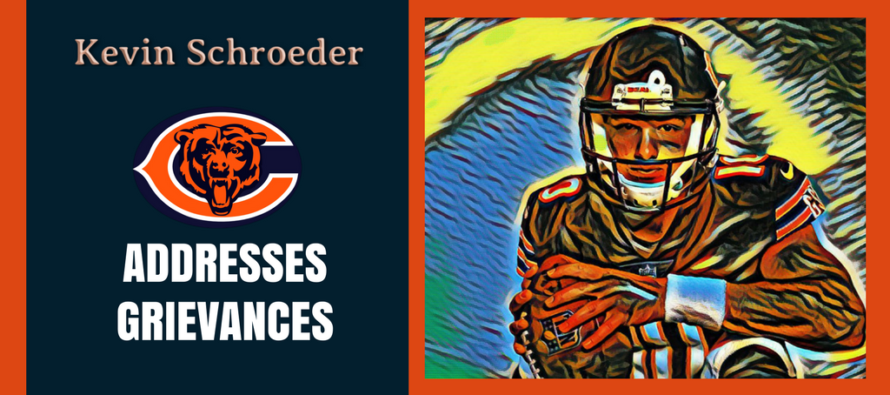 Since there was no game this past Sunday, I'm taking some time to address the problems/complaints that I see the most about this team. Let's dig in.
Trubisky only threw seven passes against Carolina.
You know they won that game, right? Like, convincingly. Moving on.
Trubisky only threw seven passes against Carolina.
Guess that wasn't good enough. Okay, fine. Aldo said on last week's Bears 100 Proof that the number one focus should be on developing Trubisky. I agree with the sentiment, but our opinions differ on how to go about that. I don't think throwing for the sake of throwing is the way to go, especially considering who Trubisky has to throw to. (The routes Loggains has those guys running are absolutely not helping and that's certainly a valid complaint against Loggains. I'm all for his firing and have lyrics for the next Barroom musical hit written to that effect. If you have any musical talent and would like to be the one to record the song, tweet me, Aldo, and/or the Barroom account and I'll send you the lyrics. Just don't forget about us when you reach #1 on the Billboard charts.)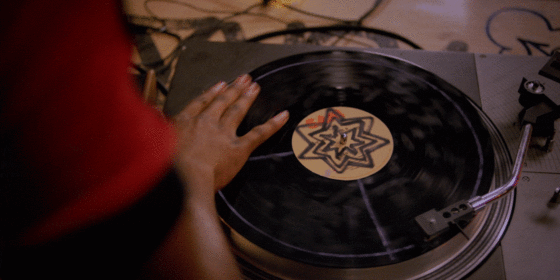 The bottom line here is that there's no really "good" option. Call a ton of pass plays and you're hurting your chances of winning and not setting Trubisky up for success on said plays, unless Dontrelle Inman turns out to be the second coming of Terrell Owens. Call a game more conservative than Ditka and Trubisky's not getting a ton of chances in actual game action, but you're limiting his chances for major screw-ups and focusing on winning games now. I'm for the latter. Like Herm Edwards said, "You play to win the game." I think getting Trubisky experience winning games beats forcing passes to schmoes. Does it set him back in his development? Yeah, probably, at least a little. But any option would.
Mitchell Trubisky vs. Deshaun Watson
Going into the draft, I thought Trubisky was the best quarterback prospect in the class, with Patrick Mahomes second and Deshaun Watson third. I thought Mahomes had the highest ceiling, but the lowest floor, Trubisky was the most sure thing, and Watson was the closest to being a finished product.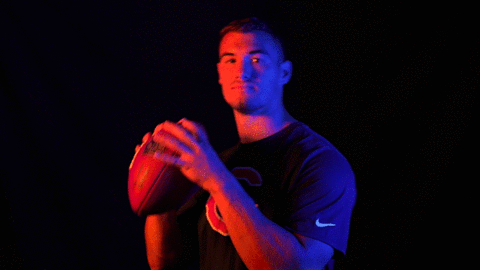 When Watson was playing, he was throwing to Nuk Hopkins and Will Fuller and being coached by Bill O'Brien. We just went over what Trubisky has. Am I surprised Watson's ahead of Trubisky right now? Absolutely not. But we need to wait a few years before we can say whether or not the Bears made the right decision.
Alshon Jeffery wasn't re-signed
The Bears probably should have tagged him again. They had more than enough cap space to do so. But then what? What kind of financial commitment should Ryan Pace have made to him?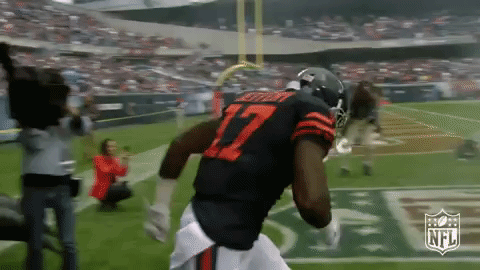 The deal he took in Philadelphia (1 year, $9.5 million, plus up to $4.5 million in incentives) shows Jeffery overplayed his hand. He's on track for just under 900 yards this season and that's while playing in Philadelphia's offense. In hindsight, the best move would have been to trade him last year. Hindsight's easy, though.
Mike Glennon was signed
Signing Glennon wasn't a bad idea. Over the first half of the season, we've seen that there's talent on this team. I think it's very possible that Ryan Pace looked at the team and thought that they were a QB away from being a playoff contender. Glennon had shown flashes in Tampa Bay – maybe there was something there. If the move works, great, there's your QB.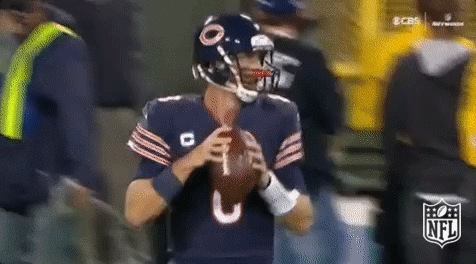 If it doesn't, you cut him after the season and you're in the same position financially you were a year ago. The problem was not having an open competition. Or, if you were concerned about how that might look to future free agents, Glennon should at least have been on a short leash and benched after the debacle in Tampa. I was only at camp one day this summer, but that day, it was pretty clear that Trubisky was the team's best QB. And that Sanchez was second.
The team isn't running from the shotgun much
Draft Dr. Phil talks about this one quite a bit and he's right. I don't understand this one at all. Howard's very good at running from the shotgun and spreading teams out should open up more space for him.
Sitton wasn't traded at the deadline
I don't get this complaint at all. Josh Sitton's been the team's best lineman this year by a decent margin. Whitehair hasn't taken the next step, though being bounced between center and guard and snapping to two different QBs couldn't have been helpful. Kyle Long has been good, but not great since coming back from his injury.
Charles Leno has been okay overall. Bobby Massie is just a guy. Tom Compton has been solid when called upon, but that's the extent of interior line depth here. Hroniss Grasu has a history of injuries and has never looked particularly good when healthy and Eric Kush is out for the season after tearing a hamstring in training camp. Sitton's owed around $7 million next year and 32's not ancient for a lineman. Ideally, you'd want to start planning for the future, but for now, I can't see any reason to get rid of Sitton. All-Pro guards don't grow on trees.
Will Jim Harbaugh be the Bears coach next year?
This isn't a complaint, but Rick Morrissey wrote a column that was utter garbage even by his standard, so I'm going to address it here.
Jim Harbaugh is not coming. Any assertions made to the contrary using standard logic (NFL is a bigger deal, don't have to recruit, etc.) are made by people who don't understand how Harbaugh is wired. He is not a normal person. That should be clear by now. There is no bigger deal to him than Michigan. He loves recruiting – he sleeps over at recruits' houses and climbs trees in their backyards.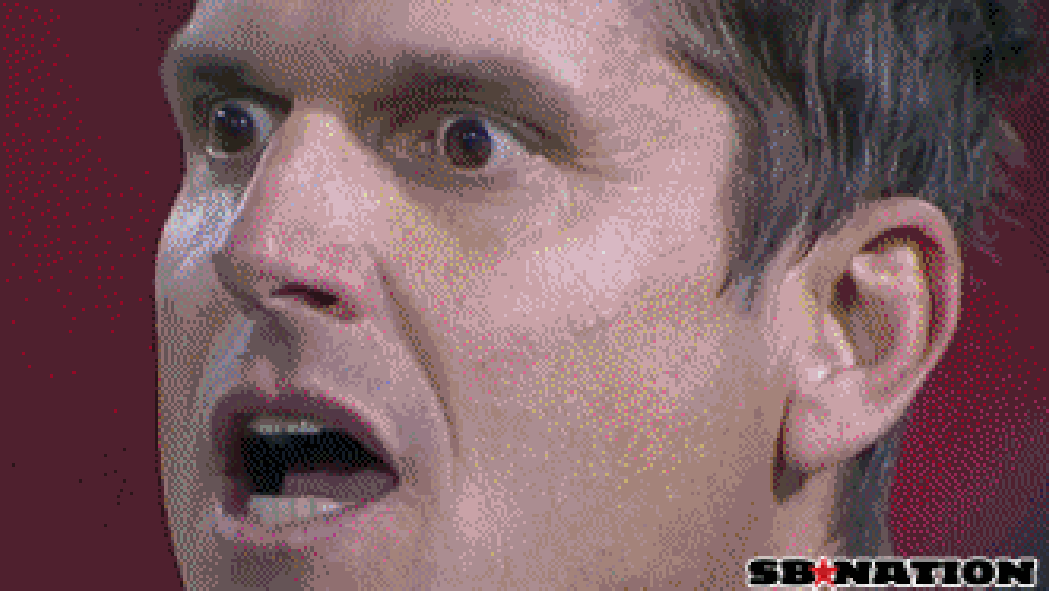 As far as him having itchy feet goes, he left San Diego after three years to go to Stanford . He left Stanford after four years to go to San Francisco. He left San Francisco after four years because Jed York is a dope. Morrissey said the 49ers  were "sick of his act" and that "Harbaugh has a reputation for coming in like a fireball and eventually flaming out." To make those statements and actually believe them means you're a complete idiot and should be ignored or that you have paid no attention to the San Francisco 49ers since Harbaugh was let go. They replaced Harbaugh with a man who I am convinced is literally Carl from Aqua Teen Hungerforce, canned him after a lousy year, replaced him with Chip Kelly, who had just crashed in Philadelphia, canned him after a lousy year, and replaced him with the guy who couldn't figure out to run the ball up 25 points in the Super Bowl, and nine games into his tenure in San Francisco, he has as many wins as head coach of the 49ers as I do.
Harbaugh just had another kid, lives on the same street Bo Schembechler used to live on, and bought his dad a house on the same block. That does not sound like a man in any hurry to leave anytime soon.
Would love to hear your thoughts… hit me up on Twitter @KSchroeder_312
Bear Down!
Kevin Schroeder
Football guy, be it NFL or college, even the CFL. If you take football out of his life, he's not going to function well. Kevin also writes about Michigan football and Blackhawks hockey at goodifitgoes.com. Find him on Twitter @KSchroeder_312.
---
---
Related Articles
Our third NFC North Player of the Week award has been the toughest. The nominees are: DeAndre Levy, Detroit Lions
Updated and amended at 10:30 am CST) Ryan Pace doesn't believe there is a quarterback worthy of the third pick
Week 15 gave us three winning NFCN teams to closely analyze for our Player of the Week honor and one