Media On Glennon Trubisky Controversy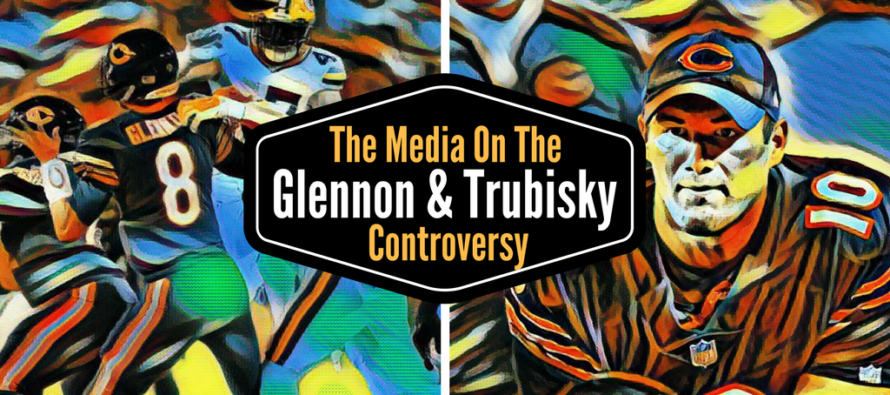 The Chicago Bears got a Wisconsin whipping by the Green Bay Packers on Thursday Night Football. Since then the media has reported and opined on the growing controversy at the quarterback position between Mike Glennon and Mitch Trubisky. What's become clear is that it's very difficult to find supporters for Glennon.
After the game, the Chicago Tribune's Brad Biggs, in his "10 thoughts…" column stressed that Mike Glennon's undoing were his turnovers. He wrote…
"The reality is there isn't a whole heck of a lot they can do besides change the quarterback. It's not like they've got players who have been inactive who are ready to step into major roles. There's no hidden talent stashed on the practice squad that is going to ride to the rescue. Yes, the schedule is frontloaded and the Bears faced a difficult four-game stretch. No, you can't excuse sloppy play that leads to giveaways."
Biggs also went out of his way to cast blame on the Bears' receiving crew and cautioned that Trubisky's chances of success are hampered by the their play…
"… wide receiver position is so undermanned that Trubisky has little chance to be successful…  I think it's fair to say this is the worst crop of receivers the Bears have had in an awfully long time… The absolute worst thing that can happen to the Bears is they send Glennon to the bench because of the turnovers and insert Trubisky and then he struggles badly because, in part, the skill-position talent around him is deficient. That would be disastrous."
Briggs is not the only reporter to claim Bears receivers are ineffective at getting open and therefore add to Glennon's poor play. It's true this edition of Chicago's receiving corp is weak. Especially after injuries to the team's two starters. But, claims that the current crew isn't getting open are simply not true.
Just take a look at these twitter posts from George. He, like those of us at the Barroom, can see that receivers are getting open. Unfortunately, Glennon, Briggs and others in the media can't spot them
3rd and 18, nobody is open though right pic.twitter.com/f1x6ZkeDGA

— george (@thegeorgeyou) October 1, 2017
Once again. Nobody is open, right? @BearsBarroom pic.twitter.com/bNxbvo2RoD

— george (@thegeorgeyou) October 1, 2017
I know who @ZMiller86 wants at QB. It's @Mtrubisky10 pic.twitter.com/uw2Lmyf2kQ

— george (@thegeorgeyou) October 1, 2017

Thanks George for sharing these clips with us.
Former Chicago Bears talent evaluator Greg Gabriel who now works for various media outlets tweeted that Mike Glennon was the worst quarterback in Bears history and then followed that tweet addressing the open receiver issue…
I don't think Glennon could find an open receiver if there was no defense on the field

— Greg Gabriel (@greggabe) September 29, 2017
Gabriel posted his opinions more thoroughly on WSCR Sports Radio's website.
"Not only were the turnovers bad, but his accuracy and ball placement were also well below average. Glennon almost never puts the ball in a place where the receiver can make a play after the catch. Sometimes he gets the receiver clobbered by defenders because the ball was thrown so poorly."
Gabriel warns that inserting Trubisky into the starting lineup won't necessarily mean the team will win instantly or even consistently. But, he knows the QB play will be heightened considerably.
"This Bears team isn't as bad as many believe. It has been the quarterback play that has held them back. A new man under center will give this team a new life, and I have no doubt that even with Trubisky being a rookie, we will see better play and more wins in 2017."
Adam Hoge wrote that "Trubisky Time" should have actually occurred in Tampa Bay and wondered how coach John Fox refuses to see what everyone else sees: Mike Glennon is not a starting NFL quarterback.
"How Glennon lasted a full quarter of the season as the Bears' starter is remarkable when you consider he has eight turnovers in his last 12 quarters. From Fox's standpoint, the stubborness doesn't make a whole lot of sense. From general manager Ryan Pace's standpoint, I can at least understand some of the logic — he guaranteed Glennon $18.5 million and had to be hoping there was something to be salvaged.

But with every snap Glennon takes, the signing looks worse and worse. He's simply not an NFL starter and there's no hope of flipping him for draft picks after the season. Mike Glennon is a sunk cost and it's well past time to move on."
Over at Sun-Times.com Bears beat reporter Adam Jahns preached something Bears Barroom Chief analyst Phil Ottochian has been saying for weeks…
"Maintaining a message of accountability in the locker room starts with benching Glennon."
John Mullin at Comcast Sports net thinks that Trubisky is not ready to start an NFL game so he drew up two scenarios for the Bears moving forward. One is to give Trubisky a certain amount of downs per game and the other is to start Mark Sanchez. Mullin enlisted former Bears' quarterback Jim Miller to explain why Sanchez is a viable starter.
"'Mark is there for a reason,' say Miller. 'You could start Mark and see how it goes. If he doesn't turn over the ball, he cools everybody down, gives everybody some breathing room.

'[The Bears organization] can't give in. They've got to go with their plan, and that plan includes Mark Sanchez as well.'"
Miller has been a stanch supporter of Glennon. Bringing up the possibility of starting Sanchez over Trubisky isn't a surprise.
Jeff Dickerson of ESPN.com compared Jay Cutler's turnovers to Glennon's.
"On Thursday night, Glennon became the only Bears player in the past 40 years to commit three turnovers in one half twice within the first four games of a season, per Elias.

"Remember, the Bears employed Jay Cutler for eight years, and not even he achieved that dubious distinction.

"But Glennon — four turnovers in Chicago's 35-14 loss to the Green Bay Packers — and Cutler do share something thing in common: They are the only Bears players in the past 10 years with eight turnovers in their first four games.

"At least Cutler was a gunslinger. Glennon is a game manager. What's Glennon's excuse?"
It's difficult to find any of Chicago's media advocating for more Glennon. The only problem is … what took them so long?
Aldo Gandia
Among my career highlights I have produced two films while in high school that received nationwide attention; leaned out of a helicopter over the Gulf of Suez at the age of 20 to shoot movies of oil rigs; won an Emmy award for a sports special and another for a kid's fitness show; and led a team of very talented creative professionals to produce break-through corporate communications.
---
---