Frustrating Moments In Bears History – Episode III: The Bears Fail To Re-Sign WR Jeff Graham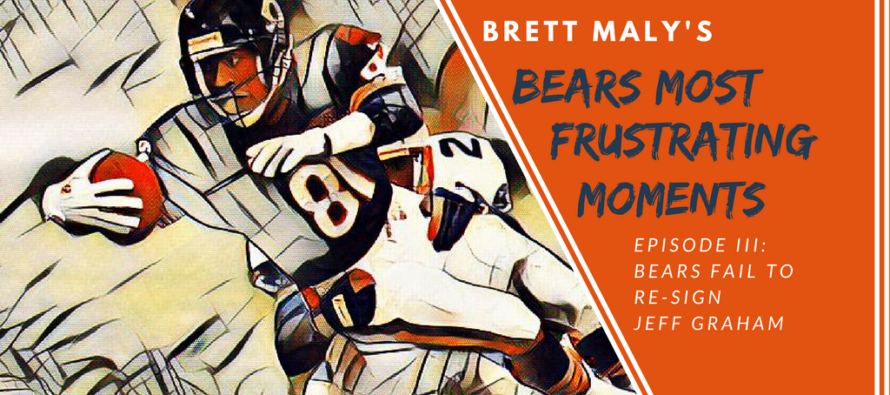 As frustrating as the 1995 season was, I still felt the arrow for the team was pointing up, and that it was just a matter of time until the Bears regained their rightful perch at the top of the NFC Central.
Oh, what a fool I was.
The Bears' failure to re-sign wide receiver Jeff Graham in the offseason was my first reality check. In his two seasons in Chicago, Graham was my favorite Bear, a Keenan Allen-type possession receiver who did the dirty work underneath and opened things up for our big-play threat, Curtis Conway. With apologies to Conway, Graham was the Bears' best receiver and, acquired from the Steelers for a 5th round pick, one of the franchise's very best trade acquisitions.
When Bears fans refer to the McCaskeys as "cheap," its decisions like this that linger in their consciousness. And this wasn't an Alshon Jeffrey-esque he-didn't-want-to-stay-in-Chicago thing. Graham was coming off his best season and had an obvious rapport with Erik Kramer. As far as I know (and I spent hours waiting for ESPNet.SportsZone.com to load on UNLV's library computer to find out) the Bears didn't even attempt to re-sign him. Coach Dave Wannstedt coveted speed at receiver and believed the Bears had a viable alternative in former track star Michael Timpson (best known in the NFL for exposing himself to female reporters and falling down after every reception) already on the roster.
He was wrong.
After one very pedestrian season in Chicago as a starter (zero touchdowns despite starting 15 games), Timpson was gone and the Bears were scrambling at receiver again. Curtis Conway's career hit the skids without a viable foil, and apart from flash-in-the-pan seasons by Marcus Robinson and Marty Booker, the next ten years would lend credence to Mushin Muhammad's 2008 claim that "Chicago is where receivers go to die."
Hope and faith, the ficklest of Bears' mistresses, would soon join Bears' receivers in the casket.
Despite Wannstedt's infamous assurance that "all the pieces were in place" and an opening Monday Night win over the defending champion Dallas Cowboys, the Bears crash-and-burned in 1996. More dubious personnel decisions—including the signing of hot-tempered linebacker Bryan Cox, and cutting the franchise's all-time scoring leader, Kevin Butler, in favor of a less expensive and less proven kicker (sound familiar?) in Canadian league kicker, Carlos Huerta—would further haunt them, and pave the way for increasingly desperate moves by the regime in an attempt to remain relevant.
This would culminate with arguably my most frustrating Bears' moment of all-time–One that would set the franchise back for years and place many Bears' fans into deep hibernation.
Any guesses?
I do not have a public Twitter account so if you'd like to share thoughts feel free to email me at bearndesert@aol.com
Brett Maly
Brett lives in Vegas, baby. Vegas. When he's not appraising and selling fine art in Las Vegas, where he appears as art expert for History Channel's PAWN STARS, Brett's indulging his other passions—his family and Chicago Bears football (not necessarily in that order)! Brett has a private Twitter account so if you want to contact him send an e-mail to bearndesert@aol.com
---
---
Related Articles
What day is it???  It's Thursday, oooooh yeah!  One more day closer to the weekend and of course another edition
If you are a regular listener to Bears Barroom Radio you know that Draft Dr. Phil Ottochian insists the Chicago
Every Monday night Draft Dr. Phil shares his thoughts about the latest Chicago Bears game on Bears Hour Live. The