FRUSTRATING MOMENTS IN BEARS HISTORY – Episode I: Vikings 33, Bears 27 (OT)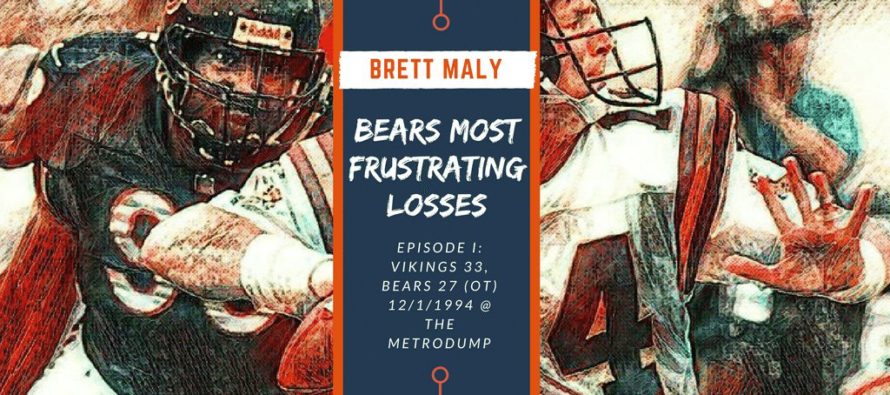 (This is the first in a series of posts dedicated to looking back at the most frustrating moments in the last 30-plus years of Chicago Bears history.)
Episode I: Vikings 33, Bears 27 (OT)
12/1/1994 @ The Metrodump
Now that I've hit my mid-40s, I've been reflecting quite a bit on my life…and that includes my life as a Chicago Bears' fan. I initially planned to document my favorite Bears' moments for the Bears Barroom, but after the most recent debacle against the Green Bay Packers (November 12, 2017), I was instead moved to focus on my most frustrating moments.
Perhaps unsurprisingly, it was a much easier list for me to compile. It was also more interesting. While most Bears' fans of a certain age are likely to have many of the same favorite moments—the 1985-86 Super Bowl run, the comeback win in AZ in 2006, etc. — the Bears have given us literally THOUSANDS of frustrating moments over the last thirty+ years. It's a diverse smorgasbord of ineptitude.
So my picks will probably be different than yours, but I hope they induce some "Oh shit, I forgot about that" moments. Since I'll be focusing on Bears' games and Bears' related events that were frustrating for me, personally, I won't be going back to the leather helmet John Facenda days, and you'll see I was only really frustrated when there were expectations surrounding the team (1997-2000 and 2002-2004 are a complete blur to me).
Apathy is a powerful opiate.
Unfortunately, I was only under the influence of traditional substances when the 8-4 Bears visited the 7-5 Minnesota Vikings in December of 1994 for a prime time division tilt. The Vikings were coming off a demoralizing home loss to the lowly Buccaneers, while the Bears, in the second year of head coach, Dave Wannstedt, were going for their FIFTH win in a row (depressing already, right?) and looked to be well on their way to reclaiming their rightful perch atop the NFC Central.
Some additional context–Before Brett Favre became a huckleberry thorn in the Bears' side for over a decade, Dennis Green was my public enemy #1. He was cocky and boisterous, and had an annoying habit of regularly kicking our asses. (This was back before the Bears were getting their asses kicked by almost everybody.)
Truthfully, as obnoxious as I found Green, I probably would have loved him at the helm of the Bears in the 90s. He was a solid coach and, growing up with Mike Ditka, I have always preferred those with demonstrative personalities (especially over milquetoasts like Dick Jauron and Marc Trestman). Dennis Green made Vince McMahon seem introspective.
Back then; however, I wanted nothing more than for the Bears to humble that smug SOB…and we were well on our way. Up by eight in the 4th quarter, we had the home team on the ropes before the offense went into a shell and a gassed defense started giving up big plays. (Sound familiar?) Still, the Bears intercepted Warren Moon late in the 4th quarter to force overtime and we drove to Minnesota's 22-yard line after winning the coin toss. It seemed things would turn out OK. Then, in the span of about 30 seconds, Kevin Butler shanked the chip-shot and Warren Moon connected on a seventy-yard touchdown bomb to Chris Carter.
What happened next almost cost me my marriage. Unbeknownst to me, my future wife had gotten on the phone with her mother just as Warren Moon completed that fateful, game-winning pass. She was greatly displeased at my ensuing obscenity-laced tirade, and her mother, whom I had not yet met, feared for her daughter's safety from the loon screaming in the background.
It was an awkward Christmas.
My girlfriend ultimately forgave me (as did her Mother…eventually) and the Bears would eek into the playoffs despite the loss. They even dealt coach Green a humiliating home playoff defeat, and would sweep the Vikings the following year.
What they say is true—it's darkest before the dawn. That's important for us Bears' fans to remember during this blackout of a season.
Happy Thanksgiving everyone!
Brett Maly
Brett lives in Vegas, baby. Vegas. When he's not appraising and selling fine art in Las Vegas, where he appears as art expert for History Channel's PAWN STARS, Brett's indulging his other passions—his family and Chicago Bears football (not necessarily in that order)! Brett has a private Twitter account so if you want to contact him send an e-mail to bearndesert@aol.com
---
---
Related Articles
Three things I want you to know: I am Latino Me gusta la cerveza (I LIKE beer) I've lived through
Despite only one NFCN team winning this week, there were several worthy players for consideration for our top ten Player
There's a scene in Black Mass where Whitey Bulger grabs his victim by the neck and chokes the life out