Frustrating Moments In Bears History — Episode IV: The Bears Trade for Rick Mirer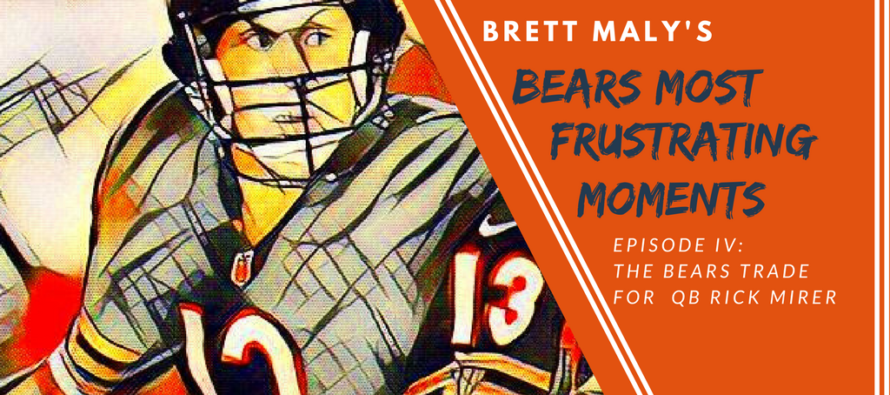 The Chicago Bears have made hundreds of draft picks, trades, and free agent signings in their nearly 100 year history. Some have been good, some have been bad…and a few have been so atrocious that they were almost universally derided the moment they were announced. Plenty of moves look stupid in retrospect (see Glennon, Mike), but it takes a special kind of stupid for a guy like me, who has only played football with buddies at the park, to scream "WTF!" at Bear-related news in February.
Nevertheless, that's what I did on February 18, 1997, when the Bears traded their first round draft pick that year for Seattle quarterback, Rick Mirer.
The Notre Dame star had a moderate amount of success his first couple years, but quickly regressed into a turnover machine and was benched by 1996. In addition to benched, another B-word, "bust," aptly described the fourth-year player and his nearly 2:1 interception-to-TD ratio…yet that didn't stop the Bears from offering not only a first round pick, but a guaranteed starting position.
Why (in God's name)?
First of all, it's never good to negotiate from a place of weakness. Oft-injured Bears' starting QB Erik Kramer was a pending free-agent and his latest injury–two herniated cervical discs—looked to be career-ending. Thirty-eight year-old journeyman QB Dave Krieg, under a one-year deal, finished the 1996 season as starter and played reasonably well; however, rolling with Krieg was a typically shortsighted move by the team. Rather than giving meaningful reps to second-year QB Steve Stenstrom, the only QB under contract for 1997, they allowed Krieg to do what he did most of his career in Seattle–keep the team around .500. As a result, the Bears entered the off-season with one QB under contract with four career pass attempts to his name.
To make matters worse, 1997 was an abysmal year for quarterbacks in free-agency and the draft. Frank Reich and Mark Rypien headlined the free-agent crop, and only two quarterbacks were drafted before the fourth round (with only one, Jake Plummer, ever performing serviceably).
In truth, Mirer was probably worth a flier–somebody like Bill Belichick would have gotten Mirer for a fourth or fifth rounder and had him learn on the bench for awhile—but the Bears didn't look at Mirer as a flier.
They looked at him as a savior.
So, they overpaid and overpromised and, predictably, things went south quickly. Mirer looked awful at training camp and couldn't even outperform a battered and bruised Erik Kramer (who had been re-signed—ostensibly as an experienced back-up—after successful back surgery). As a result, the Bears reneged on their promise to start Mirer and justified it in typical Bears fashion. They acknowledged promising Mirer a starting job…they just never said when.
Oh brother.
Lame-duck QB Erik Kramer played reasonably well, but after an 0-3 start the Bears finally made good on their promise–throwing Mirer to the wolves on the road against the AFC Champion New England Patriots. Thanks, coach!
After getting blown-out 31-3, Mirer would make two more starts…and would get pulled from each one for ineffectiveness. Erik Kramer (who would have been justified telling the Bears to go F-themselves) came on in relief and finished the rest of the season as starter. The Bears total return on their investment in Mirer? Three starts, 420 yards passing, no wins, no TD passes, and 6 interceptions.
Brutal.
The worst part is that everyone could see this coming… except the Bears. It set the franchise back for years and paved the way for further desperate moves. Fans' faith in Dave Wannstedt was already gone, but (just like John Fox) he would go on to wreck another season before eventually being fired on December 28, 1998.
Brett Maly
Brett lives in Vegas, baby. Vegas. When he's not appraising and selling fine art in Las Vegas, where he appears as art expert for History Channel's PAWN STARS, Brett's indulging his other passions—his family and Chicago Bears football (not necessarily in that order)! Brett has a private Twitter account so if you want to contact him send an e-mail to bearndesert@aol.com
---
---
Related Articles
"It" can mean a lot of things. A hot celebrity may be called an It girl. Something trendy may be
SKOL Brew Episode No. 7 — Does this Game Even Count? Vikings Fanalysts Austin Belisle (@austincbelisle) Robert Reidell (@RobertReidellBT)
With the Chicago Bears training camp well underway opinions are starting to brew here at the Bears Barroom. The guys